Panthers quarterback Cam Newton taken to hospital after car accident – Fox News
Posted: Tuesday, December 09, 2014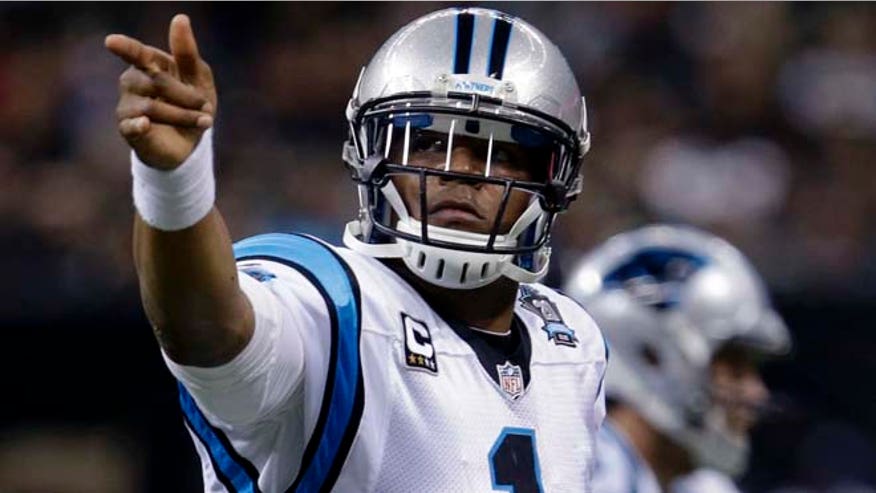 Panthers quarterback Cam Newton was taken to a hospital Tuesday after being involved in an auto accident in Charlotte where doctors discovered fractures to his lower back, The Associated Press reported, citing the team.
Television footage showed Newton on a stretcher being placed in an ambulance Tuesday. The accident happened one block from the Panthers stadium.
"Cam Newton is in fair condition and undergoing tests at Carolinas Medical Center and will remain there overnight for observation," the Panthers said in an earlier statement.
A source with the Charlotte-Mecklenburg Police Department told WBTV.com that Newton was taken to the hospital as a precaution. Photos from the Charlotte Observer showed Newton smiling as he was attended to by an officer on the ground.
A truck that Charlotte Mecklenburg police spokesman Robert Tufano said Newton was driving was overturned on the roadway with debris scattered all over the street. The roof of the truck was caved in. Another car that appeared to be involved in the crash had front end damage.
The police were investigating how the crash happened on a bridge that crosses busy I-277 in the shadow of Bank of America Stadium, where the Panthers play.
Newton has 2,800 yards passing this season with 16 touchdowns and 11 interceptions. He also has rushed for 425 yards and 3 touchdowns to lead the Panthers to a 4-8-1 record.
An Atlanta native, Newton led the Auburn Tigers to a national championship.
As word of the accident spread online, NFL players started sending good wishes on social media. "Praying for (at)CameronNewton," Oakland Raiders defensive end Justin Tuck tweeted.
He threw three touchdown passes in Carolina's 41-10 win over the New Orleans Saints on Sunday, his best game in nearly a month-and-a-half. He also broke a string of eight straight games with an interception.
The win put the Panthers back in the playoff hunt, one-half game behind the Atlanta Falcons and New Orleans Saints (both 5-8).
Newton was the No. 1 overall pick in the 2011 NFL draft and was inserted in as the franchise's starter right away. 
He has only missed one game this season, the opener at Tampa Bay, after he fractured his ribs during a preseason game against the New England Patriots.  Newton has one year left on his rookie contract after the Panthers picked up a $15 million option for 2015.
The Panthers have repeatedly said Newton is a guy they view as their franchise quarterback moving forward.
The Associated Press contributed to this report. 
CommentsWrite a Reply or Comment: