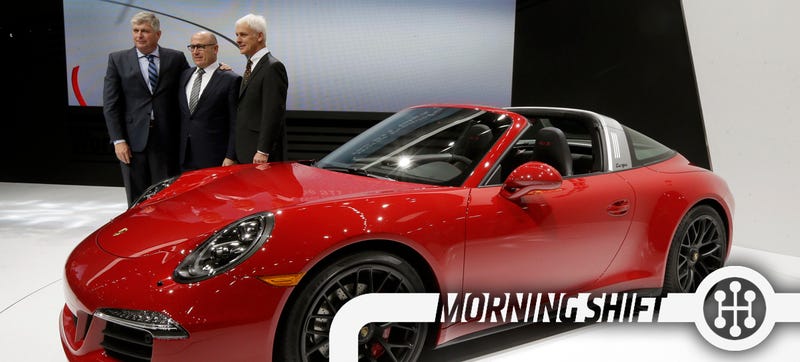 Good Morning! Welcome to The Morning Shift, your roundup of the auto news you crave, all in one place every weekday morning. Here are the important stories you need to know.
1st Gear: Screw This Job
Wolfgang Hatz, Porsche's Executive Vice President for Research and Development (pictured above at left), was one of several Volkswagen Group senior managers suspended since Dieselgate came to light in September. I say "was" because after seven months of being unable to do his job thanks to the ongoing internal investigation into the scandal, Hatz up and quit yesterday, reports Reuters:
Porsche said on Tuesday Hatz had decided to leave because his suspension remained in force more than seven months later.

VW, Europe's largest automaker, said last month an investigation by U.S. law firm Jones Day examining what role if any senior executives played in the scandal was at an advanced stage and due to be completed in the fourth quarter.

Porsche's supervisory board has appointed Michael Steiner, head of quality management and a former manager at Daimler (DAIGn.DE), to succeed Hatz immediately, the Stuttgart-based carmaker said.
Hatz was the former head of group engine development at Volkswagen and Porsche's R&D chief since 2011.
2nd Gear: More Record Car Sales
Last year Americans bought 17.5 million new cars. If April's sales numbers are any indicator, we'll get close to that again—the seasonally adjusted sales rate came in at 17.42 million, according to Automotive News.
Led by gains at Honda, Nissan, Toyota, Fiat Chrysler and Ford, U.S. light-vehicle sales increased 3.5 percent to 1.506 million in April, a record for the month.

After a lackluster March that disappointed some automakers, April produced solid gains across the industry, with fatter deals and light trucks driving volume higher.

[…] "Consumer preference for SUVs and pickup trucks continued unabated in April," said Reid Bigland, FCA's senior vice president for North America sales.
The biggest winners in April? Fiat Chrysler, Ford, Nissan, Honda and Volvo.
3rd Gear: Speaking Of Volvo
The Swedish automaker continued its renaissance in April, driven by explosive sales of the excellent XC90. It's the right car at the right time: a high-tech, good looking luxury SUV with autonomous features, exactly what people are buying right now. Volvo's U.S. sales were up more than 30 percent in April. Profits are good too, reports Reuters (via Automotive News)
Operating earnings rose to 3.1 billion Swedish crowns ($392 million) in the quarter from a year-ago loss of 11 million crowns, Volvo said in a statement today.

Volvo, a small player compared with Daimler's Mercedes-Benz and BMW, has said it must boost profitability to the level of rival premium carmakers in the coming years, targeting an operating margin of around 8 percent as a benchmark level.

While launch costs for its new S90 sedan and V90 station wagon are likely to weigh later this year, Volvo posted an operating margin of 7.5 percent in the quarter as the pricier XC90 lifted both sales and earnings. By comparison, BMW's operating margin was 9.4 percent in the first quarter.
4th Gear: While Volkswagen Slumps
Meanwhile at Volkswagen, a car-heavy lineup and other problems led to 9.7 percent decline in sales for April, continuing a double-digit slump overall in 2016. One more from Automotive News:
Sales of VW's volume leader, the Jetta compact sedan, fell 6.5 percent while the Passat midsize sedan posted a 15 percent decline. Gains for the high-performance Golf R and GTI sporty hatchback failed to make up for other Golf nameplates, and the Golf compact-car family logged a 7.3 percent decline.

The Tiguan compact crossover was once again VW's bright spot, posting a 58 percent gain last month.

"We are pleased with the performance in our retail business, driven by vehicles like the Tiguan, GTI and Golf R," VW of America COO Mark McNabb said in a statement. "While overall sales reflect a decline, this is due in large part to an intentional decrease in fleet sales."
Yeah, the decrease in fleet sales. That was definitely it.
5th Gear: Everybody Wins
The team-up between Fiat Chrysler and Google to create 100 autonomous Chrysler Pacifica minivans for testing has huge benefits for both companies, according to a report in The Detroit Free Press:
The partnership represents the first time Google's team will be sharing some of its secretive technology with a major automaker. Its existing fleet consists of a few dozen Lexus SUVs modified by Google staffers as well as a few two-person prototypes built in-house.

[…] FCA's Marchionne has been vocal about the need for car manufacturers to embrace partnerships in order to survive the ongoing pivot in the transportation space. The company has achieved some sales success after exiting bankruptcy. But in the car technology research race, seen as the next big differentiator for automakers, rivals Ford, Audi, and BMW have made quick progress with driver-assist technology while FCA has kept a lower profile.

For Google, the deal means it will be able to quickly expand its self-driving car testing program because it will not have to modify 100 minivans from scratch. Instead, it will take delivery of a fleet of 2017 Pacificas that have been tweaked to accommodate the array of on-board radar, laser-radar and cameras that allow cars to drive themselves.
Reverse: Pink Cadillac
http://www.history.com/this-day-in-hi…
Neutral: Did You Buy A New Car In April?
If so, what did you buy?