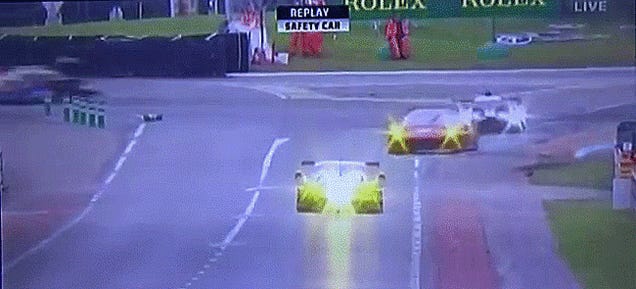 With ten cars retired now out of sixty 24 Hours of Le Mans entrants, it's time for our yearly reminder that Le Mans is an utterly merciless place on cars and drivers alike. Here's how Le Mans is sending teams packing early in 2016.
Here's a quick run-through of the cars that are now marked as "Retired," which won't be getting repaired to go back out for this race.
No. 89 Proton Competition Porsche 911 RSR (LM GTE Am)

Sadly, the first retirement of the race was a team of two drivers looking to beast-mode their way through being one man down. Marc Miller spun into the wall after hitting coolant on the track.
No. 47 KCMG Oreca 05 (LMP2)
Electrical issues forced the team to retire the car, per a team press release. Richard Bradley drove the car into the gravel after experiencing their final race-ending electrical gremlin.
No. 91 Porsche Motorsport 911 RSR (LM GTE Pro)

The No. 91 is the car that dropped the coolant that ultimately caused the No. 89 to retire after the No. 91's radiator was punctured by a rock. Engine problems (read: blowin' up) ultimately forced it to retire.
No. 92 Porsche Motorsport 911 RSR (LM GTE Pro)

The No. 91's sister car joined it in retirement shortly afterwards, leaving no factory Porsches still running in the race. Should've brought four cars, I guess. A broken front right chassis suspension pickup caused the No. 92's retirement.
No. 71 AF Corse Ferrari 488 GTE (LM GTE Pro)

A busted wheel (that "exploded," per Sam Bird's description) took the No. 71 car out of contention while Davide Rigon was behind the wheel.
No. 51 AF Corse Ferrari 488 GTE (LM GTE Pro)

An engine failure took the No. 51 car out. Like Porsche Motorsport, AF Corse is left without any cars running in the LM GTE Pro class.
No. 4 ByKolles Racing Team CLM P1/01 (LMP1 Privateer)

The ByKolles car done blow'd up in spectacular fiery fashion after having caught fire once already in practice.
No. 64 Corvette Racing C7.R (LM GTE Pro)

Retired after a hard hit into the tire wall. Tommy Milner lost control of the car heading into turn 1. Teammate Oliver Gavin tweeted that Milner was on the brakes as he lost the car. Fortunately, Milner was fine following the crash.
No. 35 Baxi DC Racing Alpine A460 (LMP2)

Driver Nelson Panciatici nosed into the barrier, causing heavy damage to the front of the car. Hilariously, he tried to protest when marshals picked the entire car up to move it to safety, as if he thought the heavily damaged car might still be drivable.
No. 46 Thiriet by TDS Racing Oreca 05 (LMP2)

Crashed in spectacular fashion at Mulsanne Corner, causing heavy damage to the front of the car. Sadly, this car was also one of the leaders in LMP2 for a while.
---
So, there you have it. Given that Larbre Competition has whacked the wall twice in the last couple hours and the No. 8 Audi R18 came into the garage with some kind of handling issue, I doubt we've seen the last of Le Mans' carnage just yet. There's just under four hours left, so that's plenty of time for things to happen.