The French probe of Renault SA vehicles' emissions has its roots in the Volkswagen AG diesel scandal that has rocked the car world since September.
Government fraud investigators searched Renault's headquarters and two other offices, sparking fears of scandal contagion and sending the French company's shares down Thursday as much as 23 percent, the most in at least a decade. Environment Minister Segolene Royal said no fraudulent systems have been found in Renault's cars so far.
The timeline began with Volkswagen:
Sept. 18: The U.S. Environmental Protection Agency announces that Volkswagen has admitted to years of systematic cheating on U.S. air pollution tests. The German carmaker installed "defeat device" software to detect when a car's emissions are being assessed and turn off pollution controls when they're not.
Sept. 22: Volkswagen says the software was installed in some 11 million cars worldwide, including vehicles in Europe.
Sept. 30: France says an Economy Ministry body will investigate whether Volkswagen deceived customers in the country and promises to expand the probe to other carmakers including Renault and PSA Peugeot Citroen. A parallel investigation by the Environment Ministry will randomly test about 100 vehicles from all brands sold in France.
Dec. 31: The UTAC, an independent testing body, had inspected 11 of the 100 vehicles chosen for random testing, including four Renault cars, according to the carmaker. The investigation is set to examine a total of 25 Renault vehicles, reflecting the company's market share in France.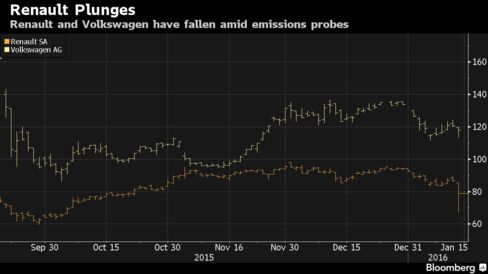 Jan. 7: Agents from the Economy Ministry's fraud office visit Renault sites that have to do with standards testing and engine certification, according to the CGT union. The searches are at Renault's headquarters as well as technical development centers in Lardy and Guyancourt, near Paris.
Jan. 14: Renault discloses the searches, saying it's cooperating fully with the investigation. Environment Ministry officials have signaled that additional testing probably won't "uncover the presence of a 'defeat device' in Renault's vehicles," the company says. Peugeot, meanwhile, said it hasn't been raided and that government tests have shown no pollution anomalies in its vehicles.