Reports: New Orleans airport machete suspect is dead – USA TODAY
Posted: Saturday, March 21, 2015
UP NEXT
03
According to police, the man accused of attacking TSA agents at a New Orleans airport was armed with Molotov cocktails and a barbeque lighter.
VPC
Richard White, 63. the suspect believed to have carried out a machete attack Friday night in New Orleans, is dead, CNN and NBC News reported late Saturday.
White was shot three times at the Louis Armstrong New Orleans International Airport during his horrific attack and was pronounced dead at 5:02 pm Saturday.
Authorities say the suspect in the brazen machete attack may have been planning to bomb the site as well.
Jefferson Parish Sheriff Newell Normand said Richard White, 63, carried a bag with six gasoline-filled Molotov cocktails and a barbecue lighter when he assaulted Transportation Security Administration workers at Louis Armstrong International Airport.
Authorities also found an acetylene tank, smoke bombs and other supplies in his car, Normand said at a news conference Saturday afternoon.
White remained hospitalized after being shot three times by an officer. Police were investigating "a mental illness component" in the attack, Normand said.
"We very much want the opportunity to talk to him — we're not sure that that's actually going to happen," Normand said, without elaborating.
Also speaking at the news conference, New Orleans Mayor Mitch Landrieu called the incident "an unexpected attack by a clearly troubled and disturbed individual."
Police "acted quickly, they acted heroically" and saved lives, he added.
Bystanders caught in the chaos said police quickly fired shots to subdue the alleged attacker, sending passengers fleeing and ducking for cover.
"Mostly everybody was getting down to the ground and trying to hide under chairs," Nicole Danjean told The Times-Picayune. Danjean, who had been traveling from New Orleans to Washington, D.C., said she was at her gate when she heard three or four gunshots, then heard someone yell, "Everybody get down!"
Police said White approached an airport security checkpoint Friday evening, produced a can of wasp killer and began spraying agents and passengers who were standing in line.
Then he drew a large machete from the waistband of his pants and began swinging. A male TSA agent blocked the machete with a piece of luggage as White ran through a metal detector, then chased agent Caroll Richel.
That's when Jefferson Parish Sheriff's Deputy Lt. Heather Slyve drew her weapon, Normand said. White continued to swing the machete as Slyve approached, and she fired three rounds, striking White in the face, chest and leg. Richel, who was hit in the arm by one of the rounds, credited Slyve with saving her life. "Officer Slyve is my hero," she said. Richel's wound wasn't life-threatening.
White was taken into surgery at a hospital overnight, Normand said. He remained unconscious on Saturday.
Investigators were trying to determine what White was doing at the airport. He lives about 2 miles from the airport in nearby Kenner, La., and Normand said it didn't appear as if he was trying to get on a plane.
A neighbor, Donna Jackson, told the Times-Picayune that White was a former Army serviceman, long since retired and living off Social Security and disability checks. He was a deeply religious man, she said, a Jehovah's Witness who shunned Western medicine and encouraged Jackson to use herbal remedies, even to treat her diabetes.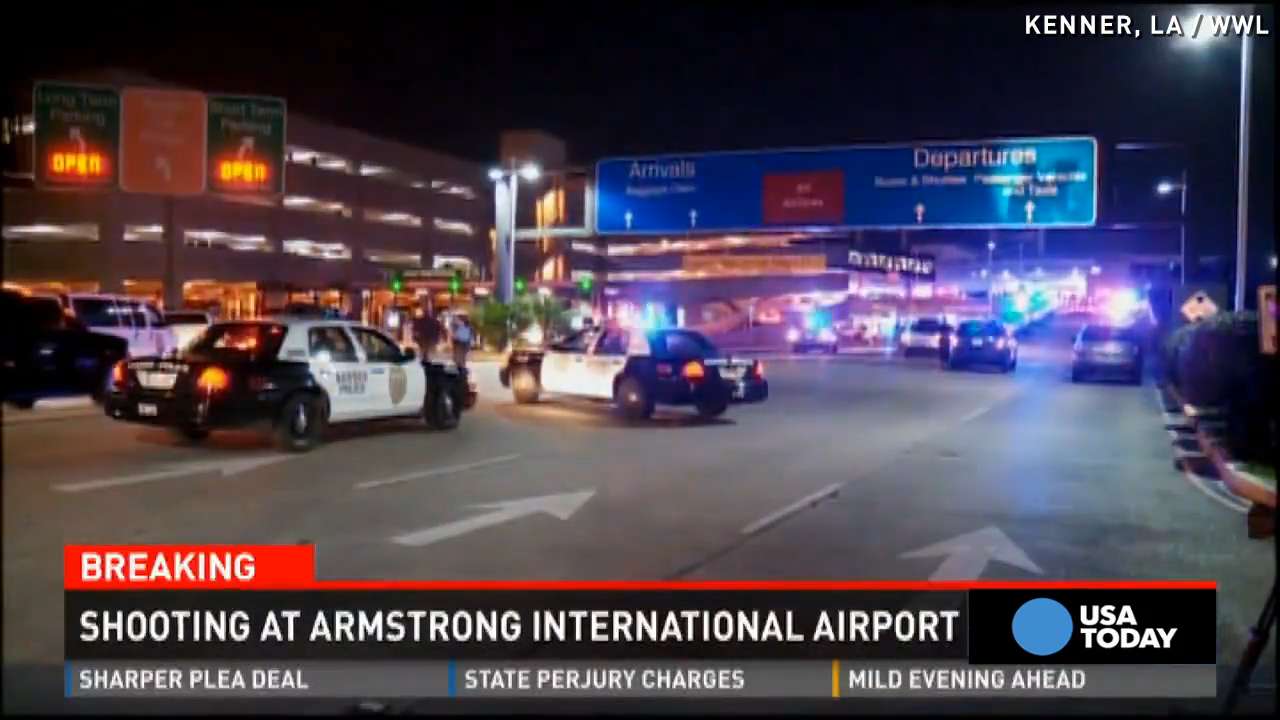 UP NEXT
03
Police are still investigating why 63-year-old Richard White attacked two federal officers with wasp spray and a machete at Louis Armstrong New Orleans International Airport.
VPC
The sheriff's office said White had been arrested several times for minor violations.
Bystanders described panic and chaos after Slyve fired the shots. "Everyone was ducking for cover," Garret Laborde, 31, who was flying to Houston, told the Associated Press.
"I knew they (the gunshots) were coming from the security checkpoint area," he said. "I immediately ducked down."
He called the scene "instant chaos" with "lots of females screaming." He remained down for several minutes and soon sirens went off, along with announcements ordering passengers to evacuate.
Jeremy Didier of Kansas City was returning from a trip in Florida with her 14-year-old daughter when she heard screaming. "I saw a man jumping over people" at the security line, she told the Times-Picayune. Didier said she heard shots and "everyone hit the floor."
Logan Tucker, 26, of Meridian, Miss., and Phillip Green, 33, of Houston, both headed to Houston for work as deckhands on a tugboat, said they were about 25 yards from where the attack unfolded. "I heard the gunshots," Tucker told the Associated Press.
"It was pandemonium after that," Green said. "I took cover. I didn't want to become part of the story."
Green said they saw the machete and the suspect on the ground as they were leaving. The knife was about 14 inches long, he said. He saw a TSA agent with an injury to her arm. "It was not something you expect in an airport, and I've traveled a lot," Tucker said.
Travelers clapped for the TSA agent as they passed her, witnesses said. The agent seemed to be in good spirits — she smiled and waved to passengers as they walked by.
UP NEXT
03
Ron Hicks was standing in front of alleged attacker Richard White in the TSA line at Armstrong International Airport. Hear him describe the scene and what he saw unfold right in front of him.
VPC
0) { %>
0) { %>
<!–
CommentsWrite a Reply or Comment: