Rumble in Salt Lake: Romney to take on Holyfield in charity boxing event, report … – Fox News
Posted: Tuesday, March 17, 2015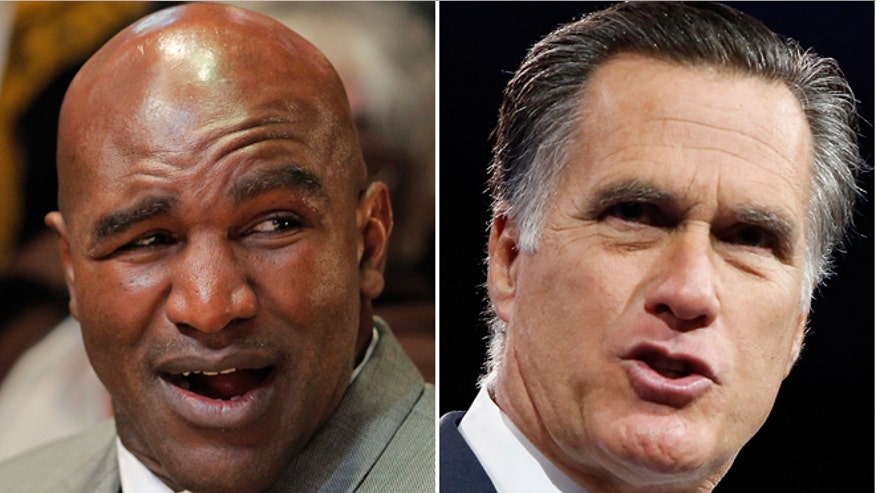 It's a title fight for the ages, the contender versus the candidate, the Olympian versus The Man Who Saved the Olympics.
Boxing fans and political observers of all ages, get ready: Mitt Romney is going to "fight" Evander Holyfield.
And you thought Mayweather vs. Pacquiao was highly anticipated.
The 2012 presidential candidate will spar with the former heavyweight champion of the world at the Union Pacific Depot in Salt Lake City on May 15 to raise money for charity, the Salt Lake Tribune reported Monday.
The bout, one of several slated to take place that night, will raise money for Charity Vision, a humanitarian organization founded by retired Salt Lake physician Bill Jackson to provide medical equipment for poorer areas around the world. Like Romney, Jackson is a Mormon, and served as a mission president in the Philippines for The Church of Jesus Christ of Latter-day Saints.
The details of the article were confirmed to FoxNews.com Monday night by a close aide to the former Massachusetts governor, who declined further comment.
"It will either be a very short fight, or I will be knocked unconscious," Romney told the paper. "It won't be much of a fight. We'll both suit up and get in the ring and spar around a little bit."
Romney, of course, is best known for his sparring inside the political arena, and he most notably squared off with President Obama three years ago in the 2012 presidential race. He also served as the governor of Massachusetts from 2003 to 2007 and the chief executive officer of the 2002 Winter Olympics in Salt Lake City, and is widely regarded as having turned around the financially-troubled Games.
Holyfield first captured the heavyweight crown in 1990 and went on to regain the title on four more occasions. After capturing the bronze medal in the 1984 Olympic Games, he compiled a lifetime professional record of 44-10-2, with 29 wins by knockout. Since retiring from boxing last year, Holyfield appeared in the boxing documentary "Champs," which was released earlier this year, and reportedly will play a part in the upcoming "Terminator" movie alongside Arnold Schwarzenegger.
TALE OF THE TAPE
NAME: Evander Holyfield
AGE: 52
HEIGHT: 6-foot-2
WEIGHT: 226 pounds
REACH: 78 inches
STANCE: Orthodox
QUOTE: "I had my ear chewed off and spat on the ground in front of me. I've seen everything it is possible to see in boxing. I know this business better than anyone. So I live and die by my own decisions."
NAME: Mitt Romney
AGE: 68
HEIGHT: 6-foot-1
WEIGHT: 185 pounds
REACH: Unknown
STANCE: Unknown
QUOTE: "I've always been a rodent and rabbit hunter — small varmints, if you will. I began when I was 15 or so and I have hunted those kinds of varmints since then."
FoxNews.com's Karl de Vries contributed to this report.
CommentsWrite a Reply or Comment: