The 'world's craziest, beautiful cars' – CNN
Posted: Monday, May 26, 2014
Atlanta, Georgia (CNN) — Italy has David, Paris has the Mona Lisa and now, Atlanta has the Firebird I XP-21.
Don't laugh gallery snobs and car-haters: The automobile has vaulted from the streets to the lofty art world.
Even if automobiles aren't your thing, the Firebird's bizarre wings and bubble cockpit are worth a peek. It's among 17 "concept cars" on exhibit at Atlanta, Georgia's High Museum of Art. Many of these are one-of-a-kind.
When you first walk into the exhibit, it's clear these cars aren't designed for mere mortals. Every car has a price, and these are worth millions. But in reality, the unique nature of this collection makes them priceless in a growing market. Collectible car sales last year in the U.S. topped $1 billion.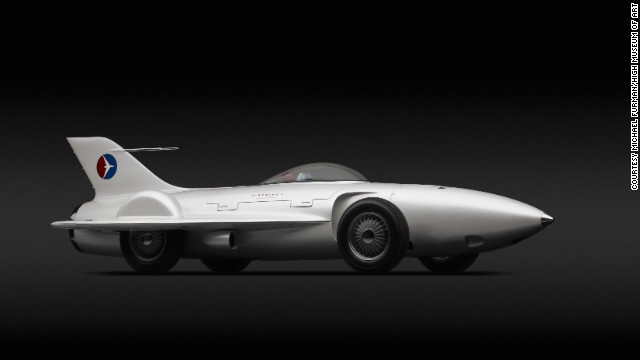 The 1953 Firebird I XP-21 is among the spectacular concept cars featured at an Atlanta's High Museum of Art exhibit titled, "Dream Cars." This one-of-a-kind, plane-like automobile was created by legendary General Motors designer Harley Earl. Curators describe it as a "rolling rocket." Click through the gallery to see more of the exhibit.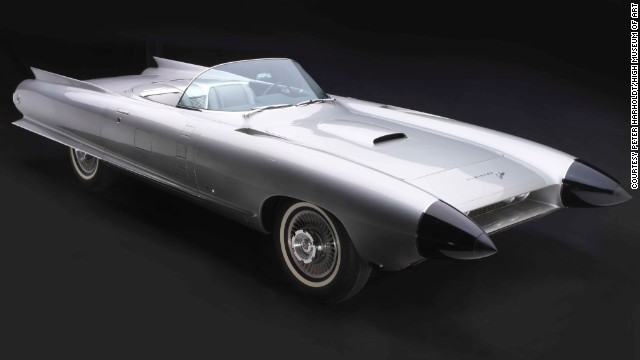 The 1959 Cadillac Cyclone XP-74 stops you cold when you see it in person. It looks like a silver rocket from a 1950s B movie. And it has futuristic safety features too. A radar-based anti-collision system is tucked inside the Caddy's cone-shaped so-called "dagmar" headlights.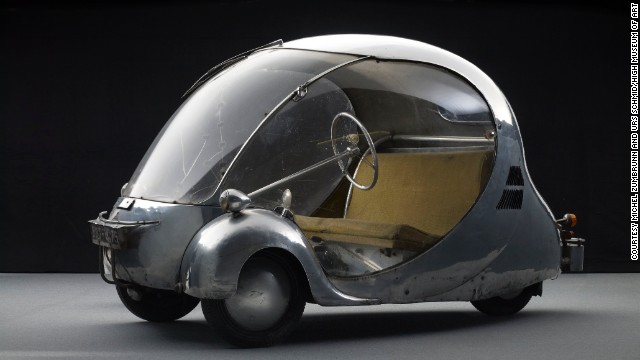 In 1942 Nazi-occupied Paris, French artist, industrial designer, and engineer Paul Arzens created this tiny, electric-powered, Plexiglas, bubble-on-wheels. On a single battery charge, it ran for 60 miles, up to 37 mph.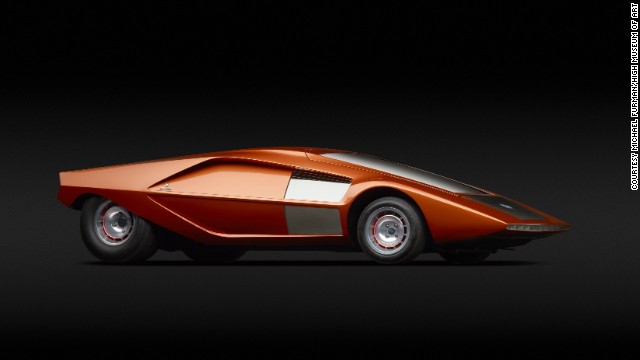 The 1970 Lancia (Bertone) Stratos HF Zero measures only 33 inches from its rooftop to the floor. Its twin seats are positioned so far forward they're located between the front wheels. Climbing inside is a challenge because there are no doors. As the steering column simultaneously moves forward, its windshield, which is made of Perspex, raises up to allow entry.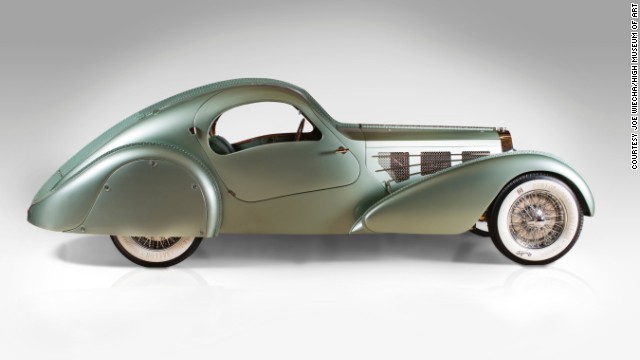 This is a replica of the 1935 Bugatti Type 57S Compétition Coupé Aerolithe. The original was designed by Jean Bugatti himself. Steampunk fans will dig this elegant machine. It looks like something out of Disney's "20,000 Leagues Under the Sea."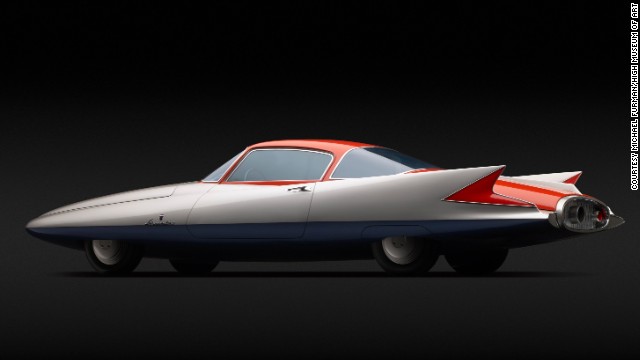 "People were more interested in their cars looking fast than actually being fast," said exhibit curator Sarah Schleuning. For this car, Chrysler partnered with Italian firm Carrozzeria Ghia and desiger Giovanni Savonuzzi, who nicknamed it "Gilda" after actress Rita Hayworth's character in the famous 1946 film.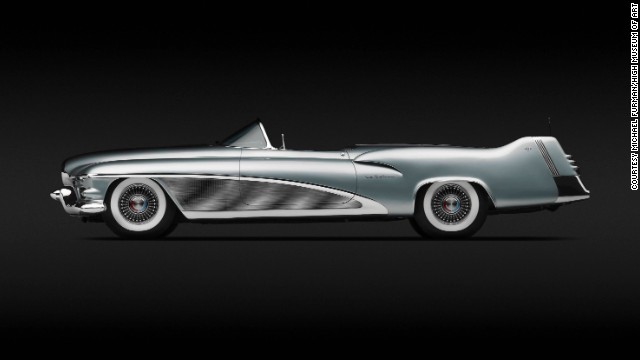 This 1951 GM LeSabre XP-8 was the personal car of legendary GM designer Harley Earl. Innovations included a "rain sensor, which could activate the disappearing power top," according to the museum.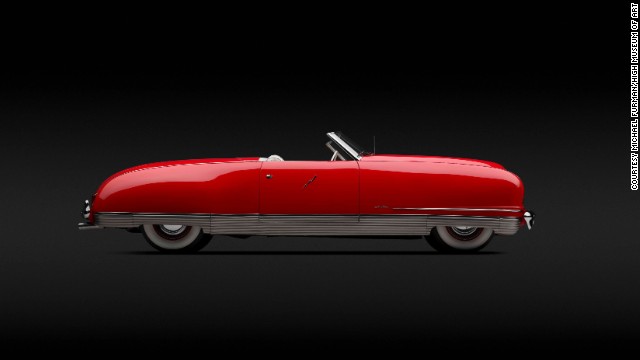 Designed by Ralph Roberts, the Chrysler Thunderbolt was "the first American car to feature an electrically operated, retractable hardtop and disappearing headlights, which were controlled by push buttons on a leather-covered dashboard," according to the museum.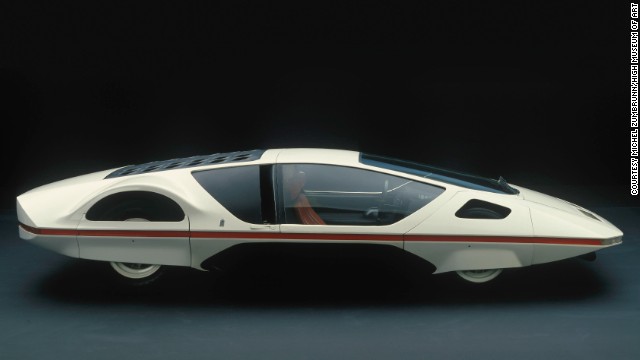 In the late 1960s, designer Carrozzeria Pininfarina joined the industry trend to create the "ultimate wedge." His creation measures 37 inches high.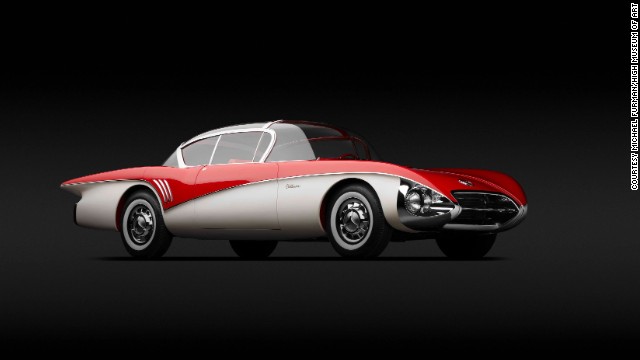 Buick unveiled its Centurion XP-301 at the 1956 Motorama car show. It sports a rear-mounted safety camera for backing up. Inside, the camera can be monitored on a 4-by-6-inch dashboard screen.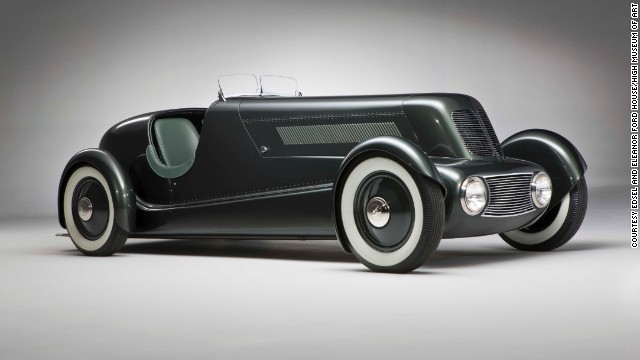 This Edsel Ford Model 40 Special Speedster debuted in 1934. Designed by Henry Ford's son Edsel
Ford and Eugene T. "Bob" Gregorie, it features a "shapely alligator-style hood with louvered side panels," according to the High Museum.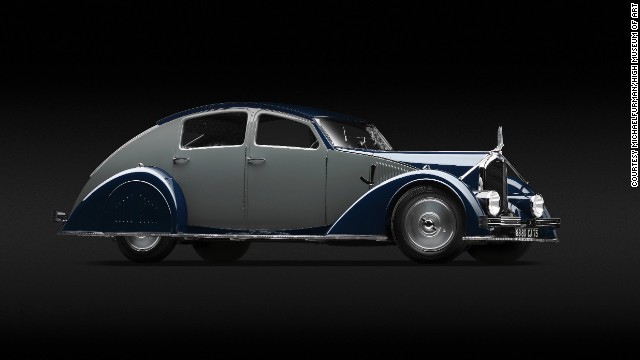 A Voisin C-25 Aérodyne was named for its designer, Gabriel Voisin, who was also a pioneer French aeronautical engineer. "He was not interested in bowing to popular aesthetics, particularly the American streamlined look of the late 1920s and early 1930s," the museum said. That's quite a hood ornament there.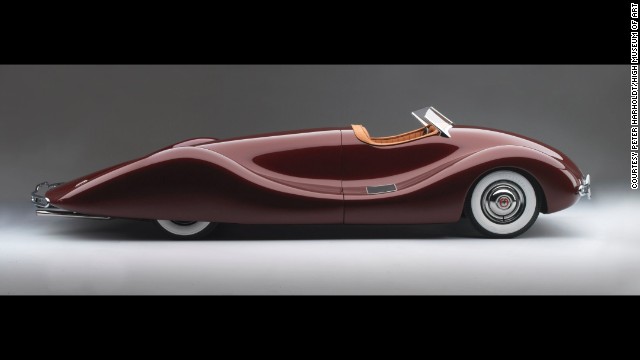 Here's what happens when a mechanical engineer designs a car. Norman Timbs created this vehicle for his personal use, the museum said. Have fun trying to get in the driver's seat. This thing has no doors. It's made from two hand-formed aluminum shapes.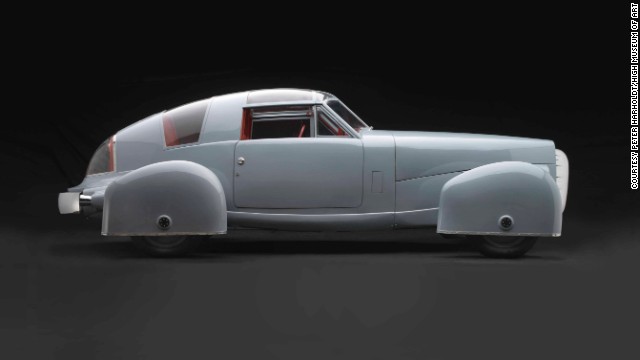 Tasco stands for The American Sports Car Company, which built it. Designed by Gordon M. Buehrig, its front fenders turned with the car's wheels. Its T-top roof design with removable panels was the first of its kind. The Tasco's roof eventually influenced the design of the 1968 Corvette.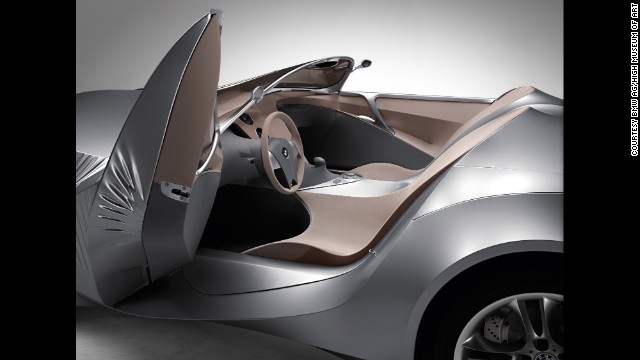 This BMW GINA — designed by Christopher Bangle features an exterior made from "flexible tensile fabric stretched over a moveable body frame of aluminum and flexible carbon fiber," the museum said. "The fabric comprised two layers: an under layer of wire mesh and an outer layer of polyurethane-coated Lycra that was resistant to water, heat, and cold."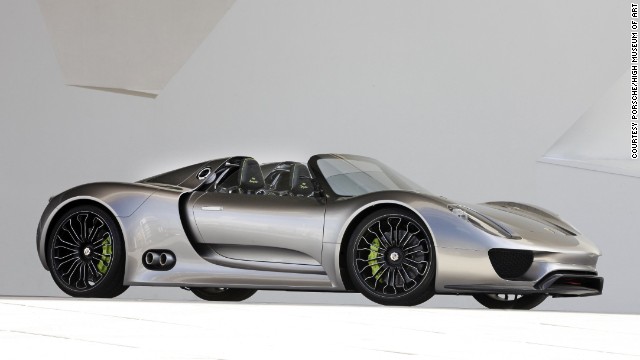 The Porsche 918 Spyder Concept Car, designed by Michael Maurer, is the fastest car of the exhibit, said consulting curator Ken Gross. "It combines high-tech racing features with electric mobility options selected by a push-button control on the steering wheel," the museum said. "The driver chooses between the four options, — from the fully electric — to the maximum, which uses all systems for optimum performance."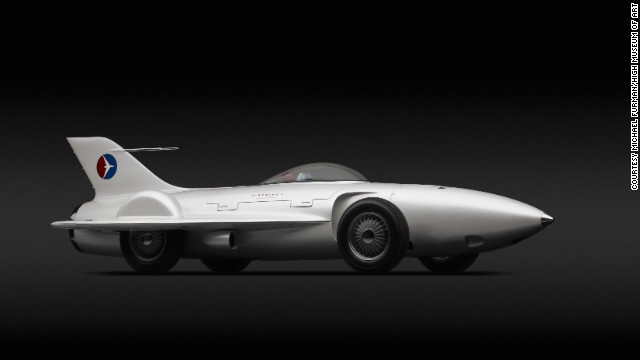 Gallery: Concept 'Dream Cars' on display
Money aside, this exhibit really exemplifies America's long and fiery hot love affair with cars.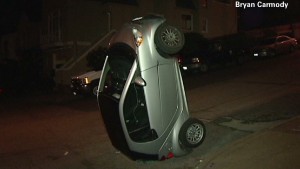 Vandals flip smart cars upside down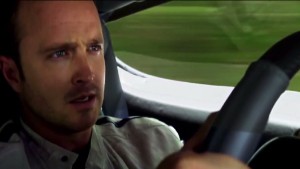 Why Aaron Paul is smashing $300K cars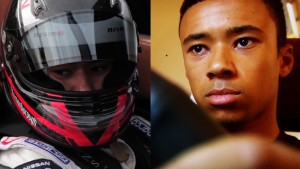 Video gamer turned race car driver
These rolling masterpieces were never intended to be mass produced. They were meant to be romanced, idolized, even worshipped.
Concept cars are marketing tools designed to trigger buzz and spur sales. You can be sure the Da Vinci of General Motors — legendary designer Harley Earl — put just as much imagination into his jet-plane-looking Firebird as old Leonardo did with that smirking Mona.
"These have got to be some of the world's craziest, beautiful cars," a visitor says to me with a grin as big as the grill-work on a stunning '51 GM LeSabre XP-8 sitting a few feet away.
Beautiful, yes. Crazy? VERY.
A few examples:
— Not a clown car: The 1970 Lancia Stratos HF Zero measures only 33 inches from its rooftop to the floor.
— Electric Egg: A tiny electric-powered, plastic, bubble-on-wheels was created in Nazi-occupied Paris in 1942.
— Fabric exterior: A 2001 BMW Gina wrinkles when you open its doors.
See photos of these sweet cars
Parked against a wall in another exhibit room sits a green replica 1935 Bugatti Type 57S. Steampunk fans will dig this elegant machine. It looks like something out of Disney's "20,000 Leagues Under the Sea."
"You can fetishize just about any detail on the Bugatti you like, from the grill to every bolt," a man standing nearby says to me.
This guy gets it! We're like kids in a candy store — but nobody's letting us have any candy.
Instead we're hypnotized by the cars and their dramatic, sweeping lines and their chrome-spangled cockpits.
Related: Gorgeous art cars auctioned
Days of future past
These vehicles were designed to look like the future. Take for example the '59 Cadillac Cyclone XP-74. It stops you cold.
The thing looks like a silver rocket from a 1950s B movie.
And it has futuristic safety features too. A radar-based anti-collision system is tucked inside the Caddy's cone-shaped so-called "dagmar" headlights.
Two of the exhibit's creators — Ken Gross and Sarah Schleuning — showed me around a little. "In the past, the future was really cool," joked Gross, who's also been Playboy Magazine's car writer for more than 25 years.
Gross, the exhibit's consulting curator, says these vehicles were imagined and built by designers with one goal: to get attention. Harley Earl's been dead for 45 years and and he's still turning heads. That's called being way ahead of your time. As Gross puts it: "Car designers are the rock stars of the automobile industry and they always have been."
When it came to car design, Earl pushed the industry to put style as a top priority, says Schleuning, the museum's curator of decorative arts and design. "It wasn't just about the cars' technological marvels, but also about their aesthetic appeal."
Related: Teeny cars worth big bucks
The rolling rocket
The rule breaker — the bad boy of this bunch — Gross says, is the Firebird. This rolling rocket gets its own chamber in the exhibit.
And it's no wonder.
— It's the first two-section gas turbine powered car to be built and tested in the U.S.
— It's one of the first cars with four-wheel disc brakes.
— Its body is made mostly of expensive and super strong titanium.
In 1954 GM toted the Firebird around the country as part of a traveling car show called the Motorama.
The car "was so fast they only had one or two engineers who drove it at the proving grounds," Gross says. "They used Mauri Rose, who was an Indy 500 winner, to test it — and even he never took it to its full potential."
It's been suggested that America's century-long obsession with driving may die with the aging Baby Boomer generation. Some experts say that Millennials now in their 20s and 30s have little interest in owning cars, although sales among that group shot up in 2012.
Are we falling out of love with our cars?
The Atlanta museum is by no means the first to celebrate automobile design. Back in 1951, New York's Museum of Modern Art opened an exhibit featuring eight cars described as elegant and exotic. More recently, Gross says, the idea has become a national trend, taking hold in places like Nashville, Tennessee, and Raleigh, North Carolina.
Maybe increased interest within America's art community will stoke the fire, and keep the romance burning a little longer.
CommentsWrite a Reply or Comment: