Thursday's Morning Email: Behind The US-Cuba Deal – Huffington Post
Posted: Thursday, December 18, 2014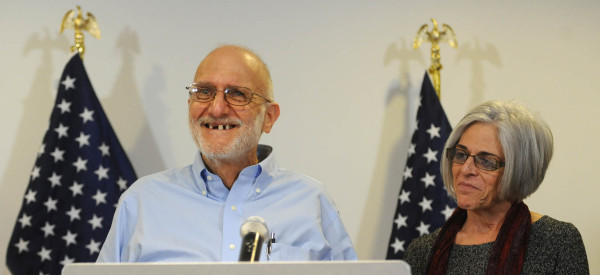 TOP STORIES
A POPE, THE PRESIDENT, AND CUBA "The deal that freed an American jailed in Cuba and ended 53 years of diplomatic estrangement between the United States and Cuba was blessed at the highest levels of the Holy See but cut in the shadowy netherworld of espionage. A personal appeal from Pope Francis, American officials said, was critical in persuading Cuba's president, Raúl Castro, to agree to a prisoner swap and the freeing of the American aid worker Alan P. Gross. The pope, officials said, acted as a 'guarantor' that both sides would live up to the terms of a deal reached in secret." [NYT]
U.S. LINKS NORTH KOREA TO SONY HACK The U.S. has linked North Korea to the hack at Sony, and White House officials are weighing whether or not to publicly accuse the country of cyber terrorism. Sony canceled the theaterical release of "The Interview" after all the major movie theater chains decided not to air the film. [NYT]
PUTIN SAYS ECONOMIC WOES WILL BE SHORT-LIVED "President Vladimir Putin sought to reassure Russians on Thursday that the country's economic troubles will pass in no more than two years, saying at his annual news conference that the government and central bank are responding appropriately, though a bit belatedly. Asked about the tensions with the West, Mr. Putin struck a harsh tone, accusing the West of seeking to subdue and disarm Russia to gain control over its natural resources. Acknowledging that Western sanctions were biting, he said the current economic troubles 'are payment for our independence, our sovereignty.'" [WSJ]
BOSTON UBER DRIVER ACCUSED OF RAPING PASSENGER Following accusations in Chicago and Los Angeles, the report adds to worldwide criticism of Uber's lax background checks. [HuffPost]
GOV. CUOMO BANS FRACKING IN NEW YORK Citing health reasons, Governor Andrew Cuomo put a statewide moratorium on hydraulic fracturing, which is more commonly known as fracking. [NYT]
IN PAKISTAN SLAUGHTER, A TALIBAN TRADEMARK OF BARBARITY "It's tempting to dismiss the people who plan in cold blood the execution of 132 schoolchildren as sick, twisted minds beyond the pale of human comprehension. But, dishearteningly, the Pakistani Taliban's attack Tuesday on a Peshawar school—one of their bloodiest atrocities—was likely the result of a rational cost-benefit analysis. Its bottom line: in this business, barbarism pays." [WSJ]
BOKO HARAM KIDNAPS 185 IN NORTHERN NIGERIA "Boko Haram insurgents kidnapped at least 185 women and children, and killed 32 people in a raid in northeastern Nigeria this week, local officials and residents said." [CNN]
GLOBAL LIFE EXPECTANCY JUMPS SIX YEARS The increase is due primarily to the dramatic improvement of health care globally. [WSJ]
WHAT'S BREWING
WITH CUBA, A NEW INFLUX OF BASEBALL STARS? "When Castro took power in 1959, Cuba's pool of talented baseball players — one of the largest outside the United States — became off limits to major league teams, except for the stream of players who escaped the island and defected. The 19 Cuban-born players who were major leaguers in all or part of the 2014 season — like Los Angeles Dodgers outfielder Yasiel Puig — made up the highest number since 1967, when there were 30. But scouts and general managers have said it would be far higher if teams could send representatives to Cuba and sign players, and then develop them." [NYT]
OFFLINE NETFLIX A PIPEDREAM Sorry, Amtrak users. [Ars Technica]
VANITY FAIR'S 2014 GUIDE TO FASHION Cutouts and crop tops ruled 2014. [Vanity Fair]
STEPHEN COLLINS CONFESSES TO MOLESTATION The former star of "7th Heaven" detailed his inappropriate sexual contact with three minors and apologized for his actions. [HuffPost]
THE MORE YOU USE YOUR PHONE, THE LESS FUN YOU WILL HAVE Stop scrolling through your Insta feed. [HuffPost]
THE ELF ON THE SHELF AND THE POLICE STATE "For some, the Elf on the Shelf doll, with its doe-eyed gaze and cherubic face, has become a whimsical holiday tradition — one that helpfully reminds children to stay out of trouble in the lead-up to Christmas. For others — like, say, digital technology professor Laura Pinto — the Elf on the Shelf is 'a capillary form of power that normalizes the voluntary surrender of privacy, teaching young people to blindly accept panoptic surveillance and [deep breath] reify hegemonic power.'" [WaPo]
ON THE BLOG
SURVIVING FLU SEASON "Flu spreads by person-to-person contact. Wash your hands frequently during the day and always before eating. As you make direct physical contact with other people, by shaking hands, or indirect contact, such as through public transportation, make sure to wash your hands or use a sanitary gel containing alcohol to remove virus particles from your hands. Good, old-fashioned hand washing still remains the best way to prevent the spread of the flu and to maintain your own health." [HuffPost]
BEFORE YOU GO
~ Listen to Kendrick Lamar's new track.
~ Blue Ivy looks so old!
~ Bourbon, chocolate, and avocados are going to cost you more money next year.
~ Obama's favorite movie of 2014 is…
~ Chris Martin likes making up crazy stories about Angelina Jolie kidnapping him.
~ Meet Celtuce, the new kale.
~ Taylor Swift's birthday photo featuring a poop emoji mask has resulted in a 315% spike in sales for the mask.
Send tips/quips/quotes/stories/photos/events/scoops to Lauren Weber at lauren.weber@huffingtonpost.com. Follow us on Twitter @LaurenWeberHP. And like what you're reading? Sign up here to get The Morning Email delivered to you.
CommentsWrite a Reply or Comment: