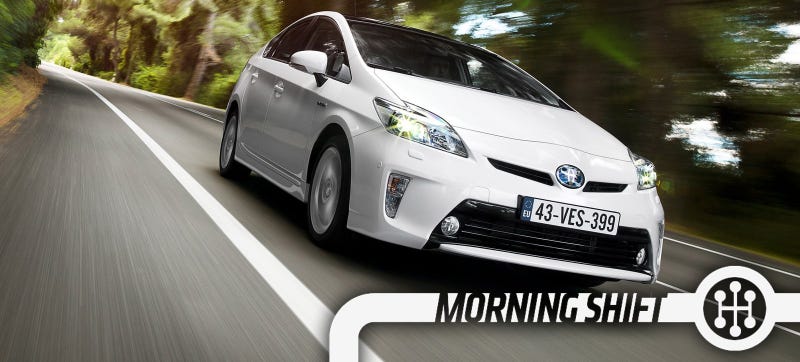 Good Morning! Welcome to The Morning Shift, your roundup of the auto news you crave, all in one place every weekday morning. Here are the important stories you need to know.
1st Gear: And It's Not Even For Takata This Time
Hey everyone, it's huge recall time once again! Today it's the folks at Toyota, recalling 3.4 million cars globally over Autoliv-supplied airbags and faulty fuel tanks.
It's nice that it's not a Takata recall for a change. Maybe they've recalled all of those that can be recalled. Anyway, from Bloomberg:
The larger fuel tank recall affects 2.87 million vehicles worldwide, including Prius hybrids and Corolla compacts, the company said in an e-mail. Toyota said fuel emissions control canisters could crack and result in leaks when the vehicles have full tanks of gas.

The other global recall of 1.43 million Prius hybrids and Lexus CT compact cars is to repair Autoliv Inc.-supplied curtain airbags that have cracked and partially inflated in parked vehicles.

About 932,000 vehicles are involved in both recalls, Toyota said.
2nd Gear: Panamera Should Put Some Numbers On The Board
I like Porsche—who doesn't, right?—but I have never ever been a fan of the Panamera. The performance was impressive but I couldn't get past the styling. That changes with the 2017 Panamera, which turns the car from ugly duckling into beautiful sedan-swan.
Porsche's hoping the restyled car will be much more of a sales success this time too. Via Automotive News:
The Volkswagen Group subsidiary is targeting luxury-car buyers with a sportier, sleeker version of the four-door coupe-styled sedan that is due to arrive at European showrooms in November and Chinese dealerships early next year.

"We're aiming it at people that want to drive sporty, in particular we want to reach out to young entrepreneurs that founded their own companies and startups," Blume said.

Forecasts by research firm IHS Automotive suggest the CEO could be more upbeat about sales of the Panamera, which saves costs by sharing a platform with models from sister brands Audi and Bentley. IHS sees Panamera sales rising to 35,444 units by 2020. By comparison, BMW's 7-series model may increase 30 percent to 51,825 cars while sales of Mercedes-Benz's S class may decline 21 percent to 79,044 units, according to IHS.

Over the past seven years, the combined volume for the fastback-styled sedan amounted to nearly 150,000, which is 21,150 sales a year on average. That met Porsche's original volume target, but it was not comparable with the Macan or Cayenne SUVs, which that have substantially exceeded sales expectations.
At least part of that decline was the sedanocalypse, but the car's looks probably didn't help at all. Also with the comments about tech startup people, and that interior, I bet they're gunning for some Tesla Model S hype this time too.
3rd Gear: European VW Owners Get Screwed
You know the fancy buyback and compensation offers American Volkswagen owners are getting? Europeans are getting none of that. Instead, they get "an hour-long visit to the dealer to have their engines repaired with a tube that regulates air flow or a software update," reports Bloomberg:
The reasons for the wide disparity between the proposals stems from equally large differences in legal and regulatory structures in each region.

The tab on the eastern side of the Atlantic has been held in check by factors ranging from the lack of U.S.-style class-action lawsuits to regulators who have approved repairs that were insufficient for their American counterparts.

"U.S. legal principles are very different from ours," said Laurent Mercie, a French lawyer who has filed individual civil claims against VW. "There's a natural tendency to want to transpose what happens there to here. Unfortunately, it's not possible."
Naturally, European customers and consumer groups are pissed, and can you blame them?
4th Gear: But VW's Feeling Good About Things
Meanwhile, Volkswagen managers are optimistic. From Reuters:
"We are firmly convinced that Volkswagen (VW) has long-term potential to gain in value," Hans Dieter Poetsch, chief executive of Porsche SE (PSHG_p.DE), which owns 52 percent of VW's voting shares, said on Wednesday.

The German carmaker, in a U.S. deal announced on Tuesday, will pay up to $15.3 billion after admitting it cheated on U.S. diesel emissions tests for years, agreeing to buy back vehicles from consumers and provide funding that could benefit makers of cleaner technologies.

"Despite all difficulties that VW is currently facing in the wake of the diesel issue, we should always bear in mind that its core business is healthy and robust," Poetsch said at Porsche SE's annual shareholder meeting.
5th Gear: Karma Reborn
The LA Times has a rundown of what's going on at Karma Automotive, formerly Fisker, and the challenges representing EVs in general:
When they're done, the Reveros will look and drive a lot like their predecessor Karmas. Though the new car will have its own front and rear fascia design, it will be powered by the same engine and same A123 battery, and contain many of the Karma's interior and exterior design elements, as the car built by honored designer Henrik Fisker.

That car had a combined 400-plus horsepower and 960 pound feet of torque, and a top speed of 125 miles per hour. It could travel about 50 miles on electric charge alone, and 230 miles using its combined gasoline and electric power trains.

Sleek and low-slung, the Karma won Automobile Magazine's Design of the Year award in 2011, and was named Luxury Car of the Year for 2011 by Top Gear Magazine.

"The Karma was loved and revered," said Jim Taylor, the energetic auto veteran who, after decades with General Motors, is now Karma's chief marketing officer. "They nailed the design. You'd be crazy to change it."
Was it loved and revered? I can't say, but I wish them luck this time around.
Reverse: RIP
Neutral: Do European VW Owners Deserve The Same Settlement?
Considering also the rate at which Europeans buy diesel Volkswagens over us Americans, that would probably put the company out of business.