Typhoon batters Philippines, sends thousands scrambling for shelter – Fox News
Posted: Sunday, December 07, 2014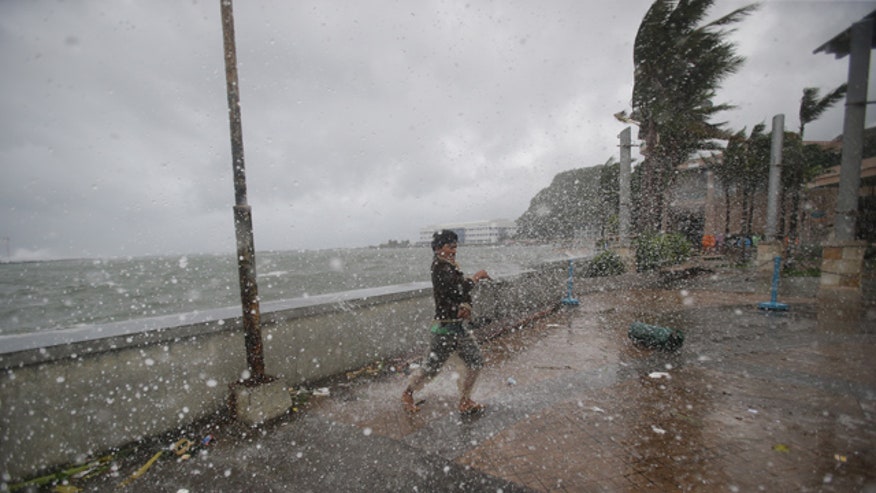 LEGAZPI, Philippines –  Typhoon Hagupit knocked out power in entire coastal provinces, mowed down trees and sent more than 650,000 people into shelters, but no major damage or casualties have been reported as the storm weakened Sunday.
Hagupit slammed into Eastern Samar province in the central Philippines late Saturday and lost strength as it barreled westward across a string of island provinces. It was packing maximum sustained winds of 87 miles per hour and gusts of 106 mph, considerably weaker from its peak power but still a potentially deadly storm, according to forecasters.
Traumatized by Typhoon Haiyan's massive death and destruction last year in the central region that's being partly whipped by Hagupit, more than 650,000 people readily fled to about 1,000 emergency shelters and safer ground. The government, backed by the 120,000-strong military, launched massive preparations to attain a zero-casualty target.
Nearly a dozen countries led by the United States and the European Union have pledged to help in case of a major disaster, disaster-response agency chief Alexander Pama said.
Authorities were verifying reports of some deaths but none has been confirmed so far, Pama told a news conference.
While authorities have expressed relief so far, they were quick to warn that Hagupit — Filipino for "smash" or "lash" — was still on course to barrel across three major central islands before starting to blow away Tuesday into the South China Sea.
Several typhoon-lashed eastern villages isolated by downed telephone and power lines were out of contact, Welfare Secretary Dinky Soliman said.
"It's too early to tell," Philippine Red Cross Secretary-General Gwendolyn Pang told The Associated Press. "Let's cross our fingers that it will stay that way. It's too close to Christmas."
In Tacloban city, where Haiyan's tsunami-like storm surges and killer winds left thousands of people dead and leveled entire villages, no deaths have been reported after it was grazed by Hagupit.
Television footage showed shallow floods, damaged shanties and ripped off store signs and tin roofs Sunday, but the city of more than 200,000 people, which earned the pity of the world after  last year's devastation, appeared to have escaped any major damage.
Rhea Estuna, a 29-year-old mother of one, fled to a Tacloban evacuation center as early as Thursday and waited in fear as Hagupit's wind and rains lashed the school, where she and her family sought refuge. When she peered outside Sunday, she said she saw a starkly different aftermath compared to the horror of Haiyan's aftermath.
"There were no bodies scattered on the road, no big mounds of debris," Estuna told AP by cellphone. "Thanks to God this typhoon wasn't as violent."
Army troops deployed to supermarkets and major roads in provinces in the typhoon's path to prevent looting and chaos and clear debris, all of which slowed the government's response last year.
Unlike in past years, many people readily left high-risk communities now, Soliman said.
"Haiyan was the best teacher of all," Soliman said. "People did not need much convincing to move to safety. In fact many of them volunteered to go."
CommentsWrite a Reply or Comment: