Price: from £17,370
Top speed: 126mph
0-62mph: 8.7 seconds
MPG: up to 65.7
CO2: 132g/km
For anyone born before the end of the last century, VW's Beetle will hold a special place in their affections. It's a car garlanded in nostalgia, and every panel reveals another colourful milestone on its long journey from people's wagon to hippy transporter to pseudo-retro city slicker. However, if you were born in this century, like my teenage daughter and members of her netball team, then it's just "a bit of a crap car that's a weird shape".
When they delivered their withering verdict (Wing Defence was particularly damning), it knocked the breath out of me. How could they be so disrespectful? Did they know nothing? Incredulously, I started reeling off facts: "This car is famous. It was first built in 1938. It's nearly 80 years old – and in that time it's only had one substantive redesign…" They glazed over. I'd lost them.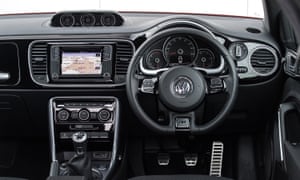 But this is what I'd like them to know. More than 22.5m Beetles have been sold, making it the second most successful car of all time. The Toyota Corolla is in first place with more than 40m, while Ford's Model T takes bronze with 16.5m (though remarkably it achieved that in just 20 years). The original Beetle was reborn in 1998 as the New Beetle, which brought more than 1m further sales. In 2011 the "New" bit was dropped and the new New Beetle became the Beetle. Now that Beetle has been relaunched once more.
This latest iteration is front-wheeled drive and front-engined. It has three doors and four seats. Lovers of the original Bug will be disappointed to hear that the gloriously rorty note of the engine will no longer drown out your conversation and make your fillings rattle when you top 20mph. The power plant has been replaced with a range of smooth new units, from a 1.2-litre turbo petrol right the way up to a 2-litre TDI 150 PS diesel with more than twice the power. Refinement is good and handling fine, though not exceptional. It's still quite noisy at speed. You'd never call the Beetle a driver's car, but it gets the job done efficiently and reliably.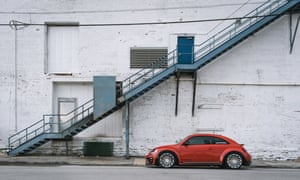 Inside, there are still so many reference points to bring a Proustian smile to your face. There's the flat, colour-coded dashboard and centrally mounted controls to lend a playful air (though that idiotic flower vase has gone, thank goodness). The bottom-hinged glove compartment is still there – as it has been for 79 years. The bonnet is longer and the windscreen steeper, both also design touches which reference the 1938 model. The Beetle is a funky modern reincarnation. Buy one, if only to remind our children that we were young once, too.
Parking made easy
Looking for a space could be about to get a whole lot less stressful. EasyPark, Europe's largest parking app, has developed the first truly predictive parking technology. With the average motorist wasting more than 2,500 hours of their life searching for a space, parking is a huge challenge. Studies show that 30% of traffic in congested cities is caused by people searching for parking, and that this could contribute as much as 50m tonnes of pollution across Europe.
A team of technologists at EasyPark has invested 10 years of R&D and over €10m to develop Find & Pay. It uses big data, predictive analytics and machine learning to reduce the time it takes to find a spot. The app creates an accurate parking probability map of every city block for any given hour of the day. Using this information, Find & Pay then gives users a route to their destination that passes along streets with the highest probability of parking – constantly balancing time in-car against walking distance to the destination to find the optimal route.
Find & Pay is currently undergoing final testing using over 500 testers across 31 cities. It will be launched in Stockholm in September followed by rollout across over 30 major European cities during the autumn. London and New York will follow next year. For more information, go to easyparkgroup.com
Bizarre responses given after an accident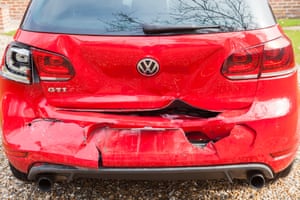 Research by Scrapcarcomparison.co.uk, the UK's biggest scrap car comparison website, has revealed some shocking quotes given by drivers after crashing their cars, says Dean Adams. Somebody's pride and joy one minute could become a crumpled piece of metal the next. And that's sad and unsettling for many as shock sets in on the realisation of what has happened. Cue the non-thinking excuses.
Here's the top 10 bizarre responses given by a driver when discussing the condition of their vehicle:
1. Leaving my house I drove out of my drive and straight into a bus – the bus was five minutes early.
2. The woman behind me struck me on the backside. She then went to rest in a bush with just her rear end showing.
3. The accident was caused by me waving to the lady I hit last week.
4. After work, I pulled into the wrong house and hit a tree I haven't got.
5. I had been driving for 45 years when I fell asleep at the wheel and had an accident.
6. I don't know if I was to blame for the accident. I wasn't looking, so I can't say.
7. I drove along the road, looked at my mother-in-law, and headed over the embankment.
8. I had one eye on a parked car, another on cars passing me by, and another on the woman behind.
9. As I pulled up at the junction, a stop sign suddenly appeared in a place where no stop sign had ever appeared before. I was unable to stop in time to avoid the accident.
10. I had been shopping for plants all day and was on my way home. As I reached a junction, a hedge sprang up obscuring my vision and I did not see the other car.
Email Martin at martin.love@observer.co.uk or follow him on Twitter @MartinLove166