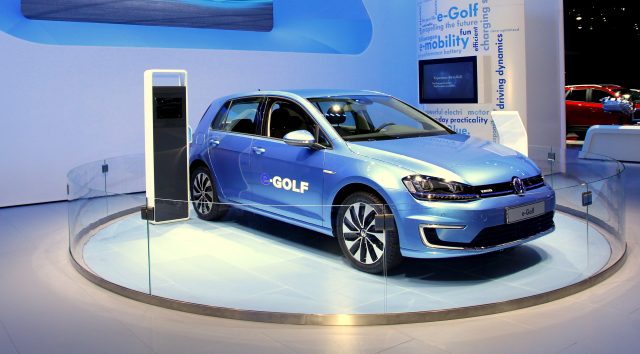 Volkswagen will recall the 5,561 e-Golf electric vehicles that it's sold in the US since November 2014 due to a battery software problem, the National Highway Traffic Safety Administration (NTHSA) said today. Customers will have to bring their cars to dealerships to get a software update.
According to an NTHSA report (PDF), the e-Golf's battery management software is at risk of stalling the car if the system detects a power surge. Specifically, the administration writes, "Oversensitive diagnostics for the high-voltage battery management system may falsely detect an electrical surge resulting in the vehicle's electric drive motor shutting down unexpectedly." The NTHSA report noted that power steering, anti-lock brakes, lights, and airbags on the e-Golf were unaffected by the high-voltage battery glitch because they're powered by a separate 12V battery system.
The recall was initiated by Volkswagen, rather than a US regulator, and the fix for the problem involves a software update made at a Volkswagen dealer. Mark Gillies, Volkswagen spokesperson, confirmed to Ars that "the software reflash is very simple to enact at the dealership."
VW Group is currently under investigation in the US and in international markets for selling diesel-fueled vehicles equipped with illegal "defeat device" software, which made the cars perform better on emissions tests in laboratory settings while polluting at a higher rate under normal driving conditions. Currently, the company is in negotiations with the Environmental Protection Agency (EPA) to bring the 600,000 polluting vehicles into compliance with Clean Air Act requirements.
Earlier reports from German media suggested that part of VW Group's restitution for the damage done by the defeat devices could involve a commitment to building electric vehicles in the US and building electric charging stations around the nation. Just a month after the scandal broke, VW Group's board vaguely promised that the automaker's future would be electric- and hybrid-focused. By January, the company was promising to start production on a next generation of electric vehicles by 2019.
According to the NTHSA document, Volkswagen received a report of a single instance in which the e-Golf stalled in the US. "Analysis was initiated, but failures could not be reproduced," the NTHSA wrote. In June 2015 one of Volkswagen's internal test vehicles experienced the malfunction and the company started to test the vehicle to reproduce the stalling problem in fall 2015.
"During December 2015 and January 2016, Volkswagen started to receive additional complaints about stalling events from the US market," the NTHSA report claims. "On February 26, 2016, the matter was brought to Volkswagen's product safety committee and a determination of defect was made."
According to Reuters, VW sold 357 e-Golfs in 2014; 4,232 in 2015; and 526 in the first two months of 2016.