Volkswagen AG's European first-quarter market share reached a five-year low as auto buyers snubbed the German carmaker's efforts to resolve its emissions-cheating scandal and turned to models from BMW AG, Fiat Chrysler Automobiles NV and Daimler AG.
Volkswagen's brands, including mass-market Skoda and up-market Audi, accounted for 23.4 percent of new registrations in the three months ended March versus 24.4 percent a year earlier, the European Automobile Manufacturers' Association said Friday in a statement. That was Volkswagen's worst showing for the period since 2011. Industrywide demand in the region rose 5.7 percent to 1.74 million cars in March, the 31st consecutive month of growth, and jumped 8.1 percent in the quarter to 3.93 million.
The German company has struggled to regain customers' trust after admitting in mid-September to rigging exhaust systems on 11 million diesel-powered cars worldwide to falsely pass official emissions tests. Its biggest-selling brands have also lacked new sport utility vehicles in their lineups, enabling Fiat Chrysler's Jeep unit, Daimler's Mercedes-Benz and BMW to gain buyers as the models become more popular.
Premium carmakers are taking a bigger role in Europe's market by offering "more entry-level products and compact cars that attract customers who were not able to buy their products before," Arndt Ellinghorst, head of automotive research at Evercore ISI, said by phone. Regarding VW's market share, "I'm surprised it's not even lower."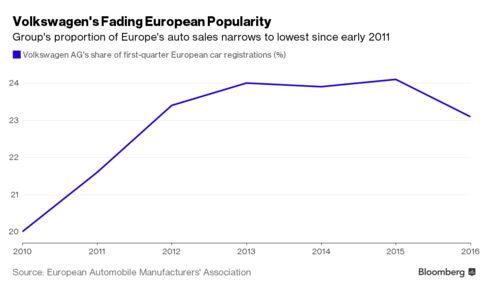 European sales by the Volkswagen group rose 2.3 percent in March, held back by a 1.6 percent drop at the VW nameplate. In its German home market, the division's sales dropped 6.3 percent last month while industrywide demand held steady. Group first-quarter registrations in Europe increased 3.5 percent, despite the brand's 0.5 percent decline.
Volkswagen fell as much as 1.3 percent and was trading down 1.1 percent at 111.05 euros as of 9:03 in Frankfurt. The manufacturer said separately Friday that the VW marque's global first-quarter sales fell 1.3 percent to 1.46 million vehicles, burdened by declines in Europe, the U.S. and Brazil. The drop accelerated to 2.7 percent in March.
The strongest industrywide sales gains in Europe last month included 15 percent at BMW, which is luring drivers with the X3 and coupe-like X6 SUVs, and 13 percent at Fiat Chrysler, bolstered by Jeep's Grand Cherokee and compact Renegade and the Fiat marque's 500X SUV. Daimler's March registrations jumped 11 percent as Mercedes, which overtook BMW's namesake brand to lead the global luxury-car market in the quarter, won buyers with a new version of its E-Class sedan as well as the GLE and coupe-style GLC SUVs.
The SUV segment may expand to 25 percent of Europe's market by the end of this year from 23 percent now, Roelant de Waard, Ford Motor Co.'s head of sales in the region, told journalists on a conference call Thursday. Growing demand has helped keep pricing stronger for those models, he said. That contrasts with discounts of about 25 percent on subcompacts in France reported by data-analysis firm JATO.
The ACEA compiles figures from 27 of the 28 European Union countries, as well as Switzerland, Norway and Iceland. Among the 10 biggest-selling carmakers in the region last month, only Nissan Motor Co. posted a decline, with a 3.5 percent drop. Outside the top 10, the steepest gains included a 30 percent surge at U.K. luxury-car producer Jaguar Land Rover, and a 16 percent jump Japanese automaker Mazda Motor Corp.