When Ashley Scarpa, a Lakeland, Florida, restaurateur and environmental volunteer, bought a Volkswagen Passat diesel last year she thought she was doing her bit for the planet. Now she feels like a jilted lover.
After revelations that VW gamed its emissions monitors to make 11m of its cars seem greener than they were – a move that may be responsible for adding nearly 1m tonnes of air pollution every year – she is understandably upset.
"I was partial to VW, and they had a little bit of an edge in the buying process, but that's all changed," Scarpa said. "It's like we're breaking up. We can either be friends or hate each other. Maybe we'll even get back together, but not right now."
"I hope they make a decision quickly and figure out what to do to make this right," she said. "In my opinion, that will make or break our relationship."
In the meantime, she has no choice but to keep driving the car she thought was an environmentally sound choice when she chose it over hybrid models.
"Lowering my carbon footprint was major for me and was a selling point, so I'm really upset," she said, adding that she would have to drive to do volunteer work with an organization that helps sea turtles on Florida's Gulf Coast. "I'm disgusted that I have to drive my polluting vehicle two hours on the freeway to get there."
Scarpa is not alone. Volkswagen is still a niche player in the US, where it has done much to promote its image as a green company. Until the scandal broke the company was running ads that depicted Tanner Foust, a Volkswagen rally driver and host on Top Gear USA, driving elderly women around in a TDI Volkswagen. The spots were meant to dispel myths about diesel, that they were dirty and loud. All of VW's clean diesel ads have now been removed from the automaker's official YouTube channel.
On VW's Facebook page and on other online forums that cater to Volkswagen fans, there have been numerous comments posted by people angry about the automaker's dishonesty. "As a someone who has owned, driven and loved Volkswagens for more than 40 years, because of your criminal actions, I will probably NEVER buy another. #BoycottVW Shame on you," Gary Oliver posted.
Marciamallow, a user on the Volkswagen Owner's Club forum, said: "I can't believe Volkswagen pulled this stunt. Very disappointed."
The disappointment is understandable. Volkswagen's green push went beyond mere advertising. In a sustainability report it released last year, the automaker pledged that by 2018 it would be "the world's most environmentally compatible automaker". In the report's environmental section, it says: "The Volkswagen Group has a long tradition of resolute commitment to environmental protection."
"Knowing what we now know, every other sentence is cringeworthy," Linda Greer, director of the National Resources Defense Council's (NRDC) health and environment program, said. "The basic upshot of this 156-page report is how much they care and how much they're doing for the environment."
Greer, who owned a succession of three Volkswagens – including her first car – over two decades before switching to a Toyota Prius, called VW's intentional shirking of emissions rules unforgivable. But she also said it was a window into the sometimes shadowy world of corporate social responsibility reports. The reports, which can be light on facts and numbers, can be used to greenwash a company's reputation.
"Not every company that does social responsibility reporting does this, but it really casts a shadow on the voluntary corporate social responsibility movement," she said, adding that Volkswagen's report read like an extended infomercial. "Putting myself in the shoes of all those VW diesel owners, I would feel utterly deceived. A lot of people bought those cars because of their fuel economy and emissions."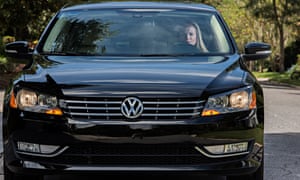 NRDC also said this week that US taxpayers also have reason to feel betrayed, alleging that Volkswagen accepted tens of millions in clean energy subsidies from the federal government for promises it failed to keep.
Another trial the VW diesel crowd faces is in the coming weeks and months is what will become of their cars' resale values. But it may not be the time to seek out screaming deals on used Volkswagen diesels. Matt DeLorenzo, from Kelley Blue Book, said that it will take a while for the issue to sort itself out, both in terms of resale value and what the EPA will expect for emissions testing.
The long-term impact of the Volkswagen scandal remains to be seen but diesel, which has struggled to gain the market share it has in Europe, is likely to take another hit. General Motors is often credited for turning an entire generation sour on diesel engines after cranking out a number of its notoriously underpowered and unreliable Oldsmobile diesels between 1978 and 1985. DeLorenzo doesn't think the Volkswagen fiasco will have as much negative punch but it won't help.
"It'll certainly have people looking less favorably at diesels than they were two weeks ago," he said, adding that the diesel pickup truck crowd was unlikely to be fazed.
DeLorenzo predicted that many brand loyalists would stick with Volkswagen as the scandal played out but that the newer converts would be most turned off by the whole affair. The real impact the automaker, he said, was in terms of development funds.
"The money they're going to be spending on recalls and litigation should be going toward product," he said. "That's going to put them at a competitive disadvantage when other automakers are spending money on product and moving forward."
Regardless of the manufacturer's woes, many customers are left with the blue funk of betrayal, and cars of uncertain future.