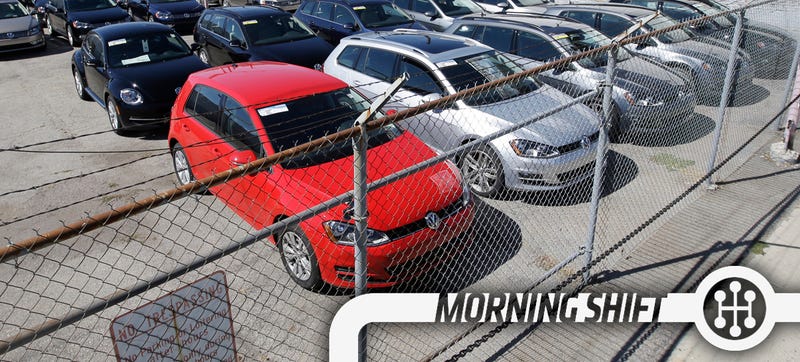 Good Morning! Welcome to The Morning Shift, your roundup of the auto news you crave, all in one place every weekday morning. Here are the important stories you need to know.
1st Gear: Sucks To Be A VW Dealer Right Now
It's not often we feel bad for car dealers, but it's hard not to feel really bad for the people who sell Volkswagens in the U.S. They didn't exactly have the most desirable lineup for Americans before Dieselgate happened, and now scores of their most desirable products sit on lots, unable to be sold until an emissions fix happens.
While dealers wait on that, here's what VW is telling them to do, reports Bloomberg:
The company is offering cash and no-interest loans to its roughly 650 dealerships that are stuck with cars that can't be sold but are taking up precious space in their lots. It is also encouraging dealers to offer pre-scandal prices on trade-ins and promising to make up the difference in value.

"They have to keep those dealers on board, afloat and as happy as they can, because the dealers are going to be on the front line whenever there's a fix for this problem," said Michelle Krebs, an analyst with Autotrader.com, an online auto dealer marketplace. "Dealers are absolutely critical when these bad things happen."
And then there's this:
One of the biggest concerns dealers had was the cost of housing 2015 diesels that could no longer be sold, Brown, the Texas dealer, said. Dealers usually have to pay finance charges on vehicles between the time they're delivered by VW to the dealer, and the time the cars are sold to customers.

On the diesels that are part of the EPA investigation, VW is helping retailers cover the finance charges. The difficulty is that a lot of dealers don't have enough storage capacity, so the models under the stop-sale order are taking up space.

"The cars are taking up valuable parking spaces," Brown said.
Ouch.
2nd Gear: CARB Says Only VW Cheated So Far
But what about other carmakers? Aren't they cheating on emissions too, and so far only VW has been caught? Maybe. (Most likely, yes.) But the California Air Resources Board said they've been testing other cars and so far they've only found evidence of cheating on VW's cars, reports Reuters citing a German magazine:
Volkswagen (VOWG_p.DE) is the only carmaker whose diesel engines have been found so far by a U.S. regulator to be using illicit emissions-control software, German magazine Wirtschaftswoche reported.

"Up until now we have found no fraudulent defeat device in vehicles of other brands," the magazine quoted Mary Nichols, chair of the California Air Resources Board (CARB), as saying in an interview published on Tuesday.
3rd Gear: A Bigger Subaru SUV At Last
Remember the Subaru Tribeca? (It's OK if you don't.) That hasn't been around in a while, but Subaru's sales have hardly suffered with their smaller SUVs—though customers and dealers alike have been screaming for a bigger three-row SUV for America.
Finally, one is coming in 2018, reports Automotive News:
Subaru says the new three-row crossover planned to enter production in 2018 will be bigger than the outgoing Tribeca crossover it is replacing in the U.S. lineup.

The new vehicle will be manufactured at Subaru of Indiana Automotive Inc., the company's assembly plant in Lafayette, Ind.

Subaru hasn't disclosed a name, but it won't be Tribeca. Instead, the crossover will likely carry a name "synonymous with outdoor adventure" in the vein of the Outback, Forester and Crosstrek crossovers, Subaru said Monday.
"Synonymous with outdoor adventure"! My god, how thrilling.
4th Gear: GM Maybe Not Off The Hook Yet
With the American Outrage Cycle having moved on to Volkswagen's diesel cheating, it would appear everyone has forgotten that General Motors' cars killed nearly 130 people. But Reuters reports the automaker could still face punitive damages over the ignition switch, maybe:
The decision from U.S. Bankruptcy Judge Robert Gerber in Manhattan could increase GM's financial exposure to claims for injuries, deaths or loss of vehicle value stemming from the 2014 recall.

Unlike compensatory damages, which are meant to make up for plaintiffs' losses, punitive damages are designed to punish defendants for egregious or negligent conduct, and to deter future misbehavior.

However, while his ruling leaves punitive damages available in some cases, Gerber said plaintiffs could not argue that post-bankruptcy "New GM" was liable for what pre-bankruptcy "Old GM" "knew or did."
This again!
5th Gear: Is Ford Getting A Good Deal With The UAW?
It would seem that they are. Here's The Detroit Free Press on the proposal that now goes to workers for ratification:
If the pact is ratified, 353 workers will immediately be moved to the top wage scale. That means almost 1,300 workers will have been boosted to the top rate since the start of the year.

"Anybody hired as of Oct. 23, 2011, will be making the traditional wage — the top wage — if this contract is ratified," Settles said.

But a priority was jobs, especially since Ford announced earlier this year that production of the Focus and C-Max is leaving the U.S.

Production of the Bronco is expected to start after the Ranger and no later than 2020, according to a person briefed on the agreement who was not authorized to speak publicly. The Ranger for North America was discontinued in 2011 when Ford closed the plant in Minnesota — something the union fought.

"We thought there was a market for that and it was lost," Settles said. He is excited Michigan Assembly now will gain a product.
Who wins? We do, because Bronco and Ranger.
Reverse: Those Are Useful
http://www.history.com/this-day-in-hi…
Neutral: Did Only VW Cheat?
I find that very hard to believe.
Photo credit AP
---
Contact the author at patrick@jalopnik.com.