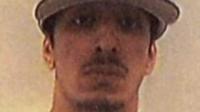 For months, he's been known as 'Jihadi John'. The IS fighter in a series of gruesome videos showing western hostages being killed.
He's now been named as Mohammed Emwazi.
Some people who have had contact with him describe him as a "beautiful young man".
But the daughter of one murdered hostage says she wants to see a "bullet between his eyes."
So what exactly have we learnt about him?
Early Life
Mohammed Emwazi was born in Kuwait in 1988. He came to the UK when he was six years old.
He went to school in St John's Wood, north London. One teacher has told the BBC that he got into fights in his first year of secondary school, and needed anger management therapy.
She has asked to stay anonymous, but said "We'd find that he'd get very angry and worked up and it would take him a long time to calm himself down, so we did a lot of work as a school to help him with his anger and to control his emotions."
But she said that after the therapy, he was seen as a "success story".
He went on to the University of Westminster, and graduated in computing.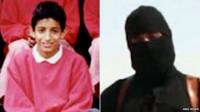 When did security services notice him?
Around the time he graduated, MI5 and other agencies looked into him as part of investigations into foreign fighters who might end up going to Somalia to fight with militant group al-Shabab.
It's come out that in 2009, he went on a trip to Tanzania, apparently to go on safari. He was going under a false name, Muhammad ibn Muazzam.
Local security services stopped him getting into the country, and he was sent back to the UK.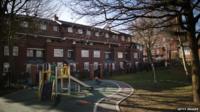 "Dead man walking"
The Mail on Sunday says it had email conversations with Mohammed Emwazi in 2010, where he said he thought about suicide to "get away" from MI5.
In one, he apparently wrote "Sometimes feel like a dead man walking."
A lot of the information we have about him at this time comes from a campaign group called Cage. It represents people who it says have been abused by security services.
There's no way for us to check their side of the story – security services won't comment, and we obviously can't ask him directly.
In a news conference, Asim Qureshi from Cage said the group had been in contact with Mohammed Emwazi for years.
He described him as "extremely kind, gentle and soft-spoken, the most humble young person I knew".
Cage says he told them that around this time he had a fiancee, but that MI5 spoke to her and scared her off.
They also say that in September 2009, he went to stay with family in Kuwait, and got engaged to a different woman.
Apparently he came back to the UK to sort out his wedding plans. Cage claims he was stopped from leaving the country, and was interrogated for six hours at Heathrow.
Mohammed Emwazi told Cage that he was assaulted by an officer during that interrogation. Cage says this whole episode changed the course of his life.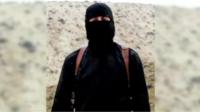 Reaction to Cage's story
The campaign group has come under a lot of criticism recently.
Downing Street describes some of its claims as "completely reprehensible" and London mayor Boris Johnson says some comments are just an "apology for terror".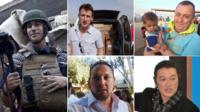 Joining IS
His parents reported him missing in August 2013. A few months later, it's thought police told his family that he was in Syria.
In August 2014 he appeared in the video showing the murder of American journalist James Foley. Over the next few months he was in several other films, where Steve Sotloff, David Haines and Alan Henning were killed.
He was a masked man, holding a knife, but in these videos it isn't clear if he actually carries out the beheadings.
More recently, he has appeared in a video killing Japanese hostage, Kenji Goto.
Follow @BBCNewsbeat on Twitter, BBCNewsbeat on Instagram and Radio1Newsbeat on YouTube.