Why It Should Bother Everyone That The Oscars Are So White – Huffington Post
Posted: Sunday, February 22, 2015
#OscarsSoWhite that if Common and John Legend win an Academy Award for Best Original Song this Sunday, it will be only the 32nd time in 87 years that a black person has held a competitive Oscar on Hollywood's biggest stage. That's 32 times out of more than 2,900 winners.
"It's a white industry. Just as the NBA is a black industry. I'm not even saying it's a bad thing. It just is," Chris Rock wrote last year in a thoughtful op-ed for The Hollywood Reporter. Rock's piece went viral because of how clearly he laid out the problems in Hollywood: It's a place where at every level, from the top on down, diversity is lagging behind society.
Except here's where Rock was wrong: It is a "bad thing." Last year, 43 million people watched the Academy Awards. This year's ceremony will reach more than 200 countries around the globe. For 87 years, the Oscars have been a celebration of filmmaking. And the message it puts across, however unintentionally, is hard to miss: Certain voices matter more than others.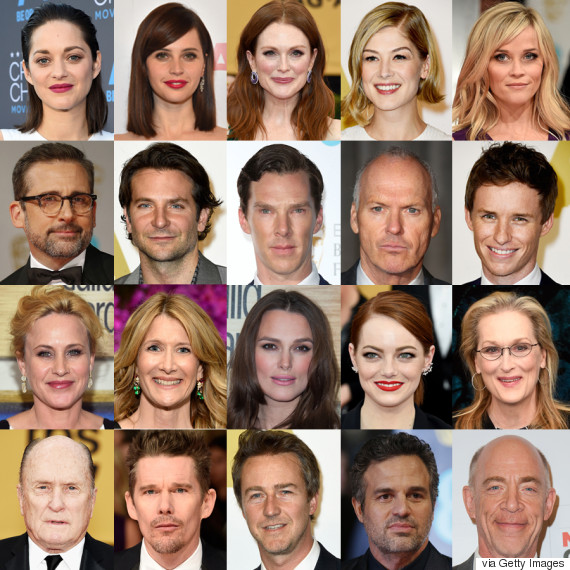 This year's Oscar nominees in the four acting categories, the least diverse group of contenders since 1998.
As with other high-profile awards shows in recent years, the Oscars have faced their share of scrutiny over why some demographics are so poorly represented. To understand the Oscars, it's best to dive into how the organization works. "Academy membership is limited to film artists working in the production of theatrically-released motion pictures," reads the Academy of Motion Picture Arts and Sciences website. "The Academy has 17 branches, for the crafts ranging from Actors to Writers, and two categories, Members-at-Large and Associates to accommodate individuals who work in motion picture production but do not fit into one of the branches."
Anyone who wants to become a member of the academy needs to meet one of two criteria before they can be considered. Either they must be sponsored by two current academy members from within their own branch (for example, a director would need two other directors to vouch for him or her), or be nominated for an Oscar, which automatically puts them up for membership consideration.
But even that doesn't guarantee entry. "Nominees and sponsored candidates are reviewed by branch committees and recommendations for membership are considered by the Academy's Board of Governors," the site reads. "The Board decides which individuals will receive invitations."
As for the Oscars themselves, academy members vote along professional lines: People in the actors' branch vote for actors, members of the directors' branch vote for directors and so on. Every member of the academy is allowed to vote for Best Picture.
And who's in the academy? White people. As the Los Angeles Times reported in 2012, the Academy of Motion Picture Arts and Sciences is predominantly white (94 percent of membership as of 2012) and predominantly male (77 percent of membership as of 2012). At the time, black members accounted for just 3 percent of the group.
Since that story appeared, the president of the academy — Cheryl Boone Isaacs, who is black — has spoken about diversifying the institution's ranks.
"In the last two years, we've made greater strides than we ever have in the past toward becoming a more diverse and inclusive organization through admitting new members and more inclusive classes of members," Boone Isaacs said in an Associated Press interview last month, after this year's nominations were announced. "And, personally, I would love to see and look forward to see a greater cultural diversity among all our nominees in all of our categories." (The Huffington Post contacted academy representatives to see if Boone Isaacs could provide any more information about what the organization is doing to diversify, but did not immediately receive a response.)
Boone Isaacs' comments are promising, but the way the nomination process works is still a problem for people like Ava DuVernay, who did not receive a Best Director nomination this year for "Selma." Many consider DuVernay's exclusion one of the year's most egregious snubs. It may have happened for any number of reasons — maybe academy voters just didn't like "Selma" as much as critics and moviegoers have. DuVernay, though, has said that her own low name recognition within the directors' branch of the academy almost certainly played a role. According to The Wrap, there are 377 members of the directors' branch. "I know not one person in my branch," DuVernay told Entertainment Weekly prior to the nominations' announcement. She had anticipated her snub because of what she called "math."
"You know what? Fuck 'em. You made a very good film, so feel good about that and start working on the next one."
And while that could get chalked up to the fact that DuVernay is a relative newcomer in the filmmaking world — her first feature, "I Will Follow," came out just five years ago — it also points to a larger diversity issue.
"Here's the deal: Most of us in the film community, across the board, work with people who we know, who we consider friends and family. If you use that as a barometer to look at the film world, it just shows you how segregated, xenophobic, sexist, racist and backwards we are as Americans in terms of how we deal with one another," cinematographer Bradford Young, another snubbed member of Team "Selma," told The Huffington Post in an interview earlier this year. "I'm not throwing anybody under the bus for hiring who they hire, but if we're honest with ourselves — for whatever it's worth for the person who could actually admit it to themselves — we have a lot of work to do. If film sets are representations of the American public as a whole, which they're supposed to be, then film crews haven't moved out of the era that we see Martin Luther King fighting in during 'Selma.'"
If white people are the overwhelming majority of an entire industry, and the awards created to honor that industry are decided on mainly by white people, how could anyone say this is a level playing field? "This is not me being humble," DuVernay told Entertainment Weekly when she predicted she'd be shut out of the nominations. Rather, she said, she was just looking at the surroundings.
"The question is: Why was 'Selma' the only film that was even in the running with people of color for the award? You know what I mean? I mean, why are there not — not just black, brown people? You know what I mean? Asian people, indigenous people, representations that are more than just one voice, just one face, just one gaze?" DuVernay said during an interview on "Democracy Now!" after the Oscar nominations were announced. "So, for me, it's much less about the awards and the accolades, because, literally, next year no one cares. Right? I can't even tell you who won the award for whatever three years ago. I don't know."
"You know what? Fuck 'em. You made a very good film, so feel good about that and start working on the next one," director Spike Lee said last month during a candid interview with The Daily Beast in response to DuVernay's omission from the Best Director category.
Lee's own unfavorable experience with the organization's voting body appears to have bolstered his cynicism about the Oscars, at least where black films and their casts are concerned.
"Anyone who thinks this year was gonna be like last year is retarded," Lee told The Daily Beast. "There were a lot of black folks up there with '12 Years a Slave,' Steve [McQueen], Lupita [Nyong'o], Pharrell. It's in cycles of every 10 years. Once every 10 years or so I get calls from journalists about how people are finally accepting black films."
As though to illustrate Lee's point, 2015 marks 10 years since the Oscars held a record-setting five out of 20 nominations for black actors. That was the year Jamie Foxx took home the Best Actor award for his performance in "Ray," and Morgan Freeman won Best Supporting Actor for his role in "Million Dollar Baby."
This year, by contrast, all 20 people nominated in the four acting categories are white. Critics had singled out David Oyelowo for his role in "Selma" and Gugu Mbatha-Raw for her performance in "Beyond the Lights," but neither star received an Oscar nod — although if statistics are any guide, neither one would have had much chance of winning anyway.
Since the first Academy Awards were held in 1929, just 7 percent of winners in the Best Actor category have been black men. Halle Berry's 2002 win for her performance in "Monster's Ball" made her the first black woman to win the Best Actress award. There has not yet been a second.
The same night that Berry won for Best Actress, Denzel Washington received the Best Actor award for his role in "Training Day." Up until then, the only other black actor to have won the top award was Sidney Poitier, for the 1963 film "Lilies of the Field." As it happens, Poitier received a special Honorary Award at the 2002 Oscars in recognition of his remarkable career.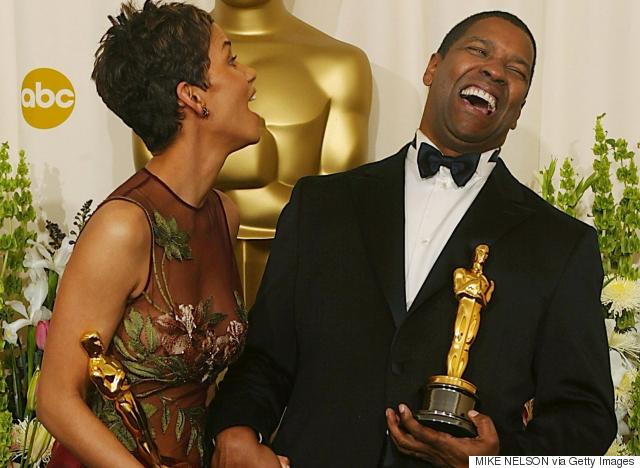 Denzel Washington and Halle Berry share a laugh while holding their Oscar statues after winning the awards for Best Actor ("Training Day") and Best Actress ("Monster's Ball"), respectively, at the 74th Academy Awards at the Kodak Theater in Hollywood, California.
"Forty years I've been chasing Sidney, they finally give it to me, what'd they do? They give it to him the same night," Washington said during his acceptance speech that evening. "I'll always be chasing you, Sidney. I'll always be following in your footsteps. There's nothing I would rather do, sir."
Washington, of course, is far from the only person who's seen somebody up on a screen and taken lifelong inspiration from it. People want to see themselves reflected in films and on television. It's something two-time Oscar nominee Viola Davis said just last month, when she accepted an award for Outstanding Performance by a Female Actor in a Drama Series at the Screen Actors Guild Awards, for her work on "How to Get Away With Murder."
"When I tell my daughter stories at night, inevitably, a few things happen," Davis said. "Number one, I use my imagination. I always start with life, and then I build from there. And then the other thing that happens is she always says, 'Mommy, can you put me in the story?' And you know, it starts from the top up."
Video produced by Irina Dvalidze and Lilly Workneh.
CommentsWrite a Reply or Comment: