Why Singapore Will Get Self-Driving Cars First – CityLab
Posted: Wednesday, August 03, 2016
The idea of a self-driving car has long held great fascination. In the 1920s and 1930s, "phantom autos" were driven for spectacle in demos across the United States. The cars—often Pontiacs—were not truly "driverless," as they were operated by remote control rather than computers.
Today, honest-to-goodness self-driving cars are becoming a reality, and not just in the United States. This week, Delphi Automotive announced that it will launch a fleet of six automated taxis in Singapore next year.
At first, the cars will only travel on designated routes in one district, and a driver will be present to step in if problems arise. But by 2019, the company plans to eliminate drivers as well as steering wheels and pedals, and envisions a fleet of 50 taxis that users can hail via an app and travel in beyond the original area. The first taxis will be Audis, while the expanded group will consist of electric cars.
Though Delphi already has self-driving cars operating in Silicon Valley and is working on more pilot programs in North America and Europe, Singapore makes a particularly good testing ground for automated vehicles. Its manageable size (it's about three-and-a-half Districts of Columbia), flat terrain, warm weather, and well-kept roads provide about as simple of an urban landscape as one could ask for. And its government is supportive of such technology, having formed an Autonomous Vehicle Initiative to oversee research in 2014. This week, the city-state even launched a Center of Excellence for Testing and Research of Autonomous Vehicles, in partnership with a Singaporean university.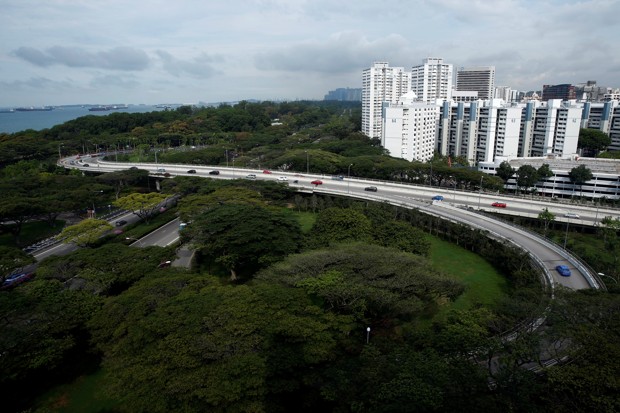 Only around 15 percent of Singapore residents own a car, in large part owing to the high taxes and pricey fees that make car ownership in the city-state wildly expensive. The population thus needs—and is clamoring for—more effective and inexpensive public transportation options. A jaunt in a self-driving taxi is projected to cost about a third of a regular cab ride.
Some transportation experts at Singapore universities are questioning whether Delphi will be able to launch its services in such a short time. They cite the need to resolve issues such as a lack of legislation regarding responsibility for collisions and violations, the need for even more advanced technology for the cars to really work, and safety concerns.
Still, eventually the taxis will be shuttling people around, and with any luck they'll be doing it both safely and for a low price. Perhaps they'll also help with the Singaporean phenomenon of the seeming complete disappearance of taxis when it rains—an almost daily occurrence in the tropical clime.   
CommentsWrite a Reply or Comment: