With no clear winner yet, Netanyahu and chief opponent both vow to form next … – Fox News
Posted: Wednesday, March 18, 2015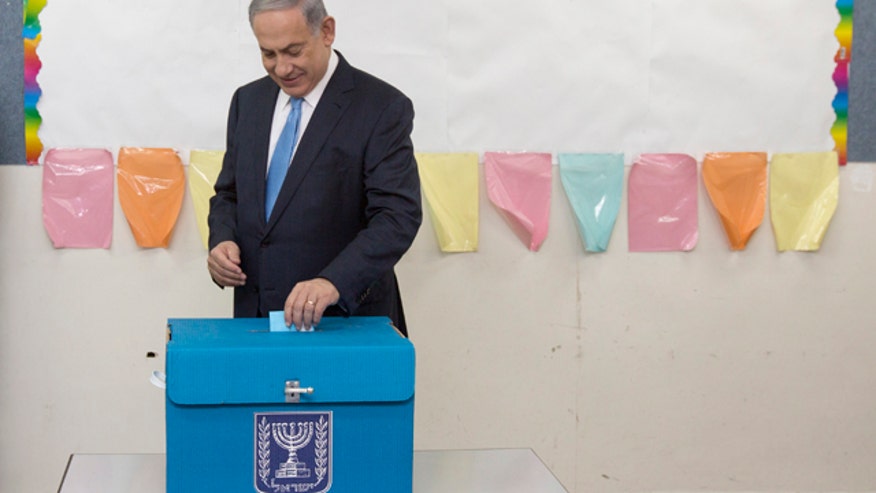 With no clear winner yet declared in Israel's parliamentary elections, Prime Minister Benjamin Netanyahu claimed victory for his Likud Party early Wednesday, while his chief rival said he would make "every effort" to form the next government.
Exit polls conducted by the country's three major TV stations late Tuesday showed  mixed results in the acrimonious race between the Likud Party and opposition leader Isaac Herzog's Zionist Union.
Two polls showed the parties deadlocked with 27 seats each in the 120-member Knesset, and a third gave Likud a slight lead of 28-27. 
Netanyahu appeared to have fended off Herzog's strong challenge, the Associated Press reported, but his victory was not guaranteed.
The prime minister said he had invited other rightist politicians to join him in a coalition government "without delay," according to Reuters.
In an interview published Monday on the NRG news website, Netahyahu said withdrawing from occupied areas to make way for a Palestinian state would only ensure that territory will be taken over by Islamic extremists. When asked if that means a Palestinian state will not be established if he is elected, Netanyahu said "indeed."
The prime minister doubled down on his remarks in a phone interview with Israel's Channel 10 television after casting his ballot Tuesday, saying that any state established alongside Israel would "attack us with rockets … Who wants such a thing?"
The statements marked a reversal for Netanyahu, who laid out his support for Palestinian independence in a landmark 2009 speech, shortly after his return to the premiership after a decade away. In the intervening period, two rounds of peace talks have failed and Netanyahu has continued to expand Jewish settlements while portraying Palestinian President Mahmoud Abbas as the main obstacle to a peace deal.
Elections day is a public holiday in Israel. Most people don't go to work, beaches and restaurants fill up, and stores advertise election-day sales.
Israeli election officials said 26.5 percent of eligible voters had voted by midday, a rate similar to previous years. Facebook featured a special "I voted" button in Hebrew, as it has during elections in other countries, in an effort to get out the vote.
Israelis cast ballots for a party list, rather than individual candidates. After an election, it typically takes weeks of negotiation to form a governing coalition and determine who will be prime minister.
Several smaller centrist and religious parties that have not pledged support for either Netanyahu or Herzog will likely tip the scales to determine who will become prime minister.
Polls have consistently show Netanyahu's conservative Likud party slightly trailing the centrist Zionist Union in the race for the most seats in Israel's 120-member Knesset. In response, Netanyahu has appealed to Likud's staunchest supporters to "close the gap" and warned about the consequences of what he termed as a "left-wing government" coming to power. He has also talked about an international conspiracy funded by wealthy foreigners to oust him.
Netanyahu's opponents have attacked him for what they call his inattention to Israel's high cost of living and growing income inequality. Reports of the extravagant spending habits of the Prime Minister and his wife have done little to endear them to the public, and an expected bump from Netanyahu's address to Congress about Iran's nuclear program earlier this month failed to materialize. 
Isaac Herzog of the Zionist Union has said he would revive peace efforts with the Palestinians, repair ties with the U.S. and reduce the growing gaps between rich and poor.
"Whoever wants to follow Bibi's path of despair and disappointment will vote for him," Herzog said after casting his vote, using a popular nickname for Netanyahu. "But whoever wants change, hope, and really a better future for Israel, will vote the Zionist Camp lead by me."
That call resonated with 51-year-old businessman Ofer Benishti, who voted at a polling station in Kfar Saba in central Israel. He said he was a lifelong Likud voter but was now casting his ballot for the Zionist Union.
"I have had enough," said Benishti.  "Bibi tried and tried and tried, but it just hasn't worked. It's time to give someone else a chance. It can't get worse than this," he said, using Netanyahu's nickname.
But Meshy Alon, 22, said she was sticking with the prime minister. "He is not great, but he is better than anything else out there," she said. "I can't vote for the left … It's a Jewish country, not a Palestinian one."
In his interview with Channel 10, Netanyahu ruled out a coalition with Herzog and said he would seek an alliance with the ultra-national Jewish Home party, which also opposes Palestinian statehood.
Netanyahu portrayed Herzog as someone who would easily give up territory for a Palestinian state. The Palestinians want to establish a state in the West Bank, Gaza Strip and east Jerusalem, lands Israel captured in the 1967 Six Day War.
"We have a different approach," Netanyahu said. "They (the Zionist Union) want to withdraw. I don't want to withdraw. If I put together the government, it will be a nationalist government."
Herzog, meanwhile, signaled he is going back on what had been perceived as an unpopular power-sharing deal with the co-leader of the Zionist Union, former Foreign Minister Tzipi Livni.
Under that deal, Herzog and Livni would each have served as prime minister for two years if they won the elections.
Meanwhile, police said they arrested an Israeli soldier on suspicion of incitement of violence. The soldier wrote on Facebook that if a leftist were to rise to power, the soldier would follow in the footsteps of Israeli extremist Yigal Amir, who assassinated dovish Prime Minister Yitzhak Rabin in 1995.
The Associated Press contributed to this report.
CommentsWrite a Reply or Comment: