Witness who took video: Man killed by LAPD didn't reach for officer's gun – CNN
Posted: Tuesday, March 03, 2015
Los Angeles (CNN)The bystander who caught dramatic video of a fatal shooting by police in Los Angeles said Monday he didn't see the man reach for an officer's gun — the explanation for the shooting given by police.
Anthony Blackburn said he was perplexed that four officers could not subdue the man but instead shot and killed him during the incident on Sunday.
Why didn't they simply "shoot the man in the leg?" Blackburn asked. "He's already on the ground."
Los Angeles Police Chief Charlie Beck defended the officers' actions.
"I think that this is an awful tragedy, but the officers took — on the face of it — reasonable steps to avoid it. Had the individual not grabbed the officer's pistol, certainly we would not be having this discussion," he told reporters.
Beck pointed to two pieces of potential evidence to support his statement that the man reached for the officer's gun.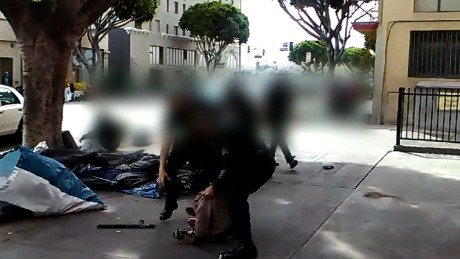 First, he showed photos of the pistol. The slide is partially engaged, and the magazine is dislodged — both of which indicate a struggle over the weapon — the chief said.
He also showed a screen grab from a privately taken video that appears to show the man's hand reaching for the officer's waistband, where his pistol would be.
Beck said that two of the officers involved in the incident sustained injuries. They were treated and released from area hospitals.
Also, two of the officers involved were wearing and had activated body cameras, the chief said.
"This is an extreme tragedy. We feel great compassion in the LAPD for people who live in conditions of homelessness, and often mental illness, with no treatment.
"We prepare our officers to deal as best they can with them, but the reality is this is much more than a problem that the police alone can solve," Beck said.
'Why did y'all shoot that man?'
The shooting is the latest high-profile incident involving lethal force by police, in the wake of officer-involved killings in Ferguson, Missouri, and New York last year.
Blackburn's video from Sunday already has been watched millions of times. It starts with a man swinging his arms at police officers near the Union Rescue Mission in Los Angeles' Skid Row, a neighborhood rife with poverty.
One officer tackles him, and three others try to subdue him. At least one pulls out a stun gun and tries to shock the man.
"Drop the gun!" a man yells.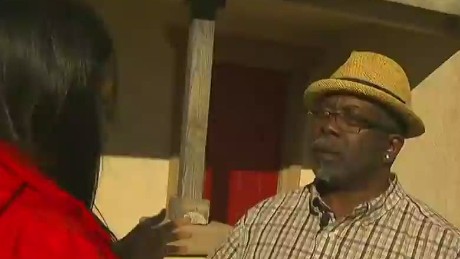 Seconds later, five gunshots ring out, prompting shock and screams from bystanders.
"Why did y'all shoot that man?" one witness yells. "Y'all got (him) tased. Why did y'all shoot that man?"
LAPD Cmdr. Andrew Smith said the man was suspected of robbery. When officers tried to arrest him, he started fighting with them.
Smith said police tried to shock him with a Taser, but that didn't work. After the man reached for an officer's gun, three officers fired at him, he said.
"I don't know what they found on this individual," Smith told CNN. "Obviously he didn't have a firearm."
In addition to the video that went viral, CNN obtained surveillance footage from a nearby building. It shows what happened before the shooting.
The man appears to get in a fight with another man in an orange tent, violently tipping the tent and kicking the man. About 25 minutes later, a number of officers arrive.
At first, they appear to talk calmly to the man. When he dives into his tent, officers draw their weapons. When the man comes out again, he swings at police.
'The system is really failing the mentally ill'
Blackburn said he began filming the incident when police threatened to use their Tasers on the man.
He said he was standing about 20 feet away as the incident unfolded. He said the man was flailing from being repeatedly hit with the police stun guns, but said he never saw him reaching for a gun.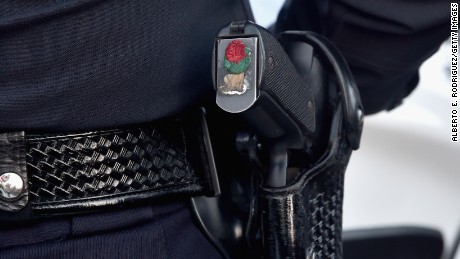 Another witness, Yolanda Young, told KTLA the man had been struck by three Tasers.
"He was down, but then he jumped up, like he was juiced up, and then he started swinging at the police and they were fighting him back. … They shot him five times," Young said.
While police struggled with the man, another tussle broke out when one officer lost his baton. A bystander picked it up.
"Get my stick! Get my stick!" the officer yelled as other officers tackled the woman.
Witness Tonya Edwards told CNN affiliate KTLA-TV she knew the man who was shot, describing him as a homeless person who had "a lot of mental issues."
Late Sunday, a crowd gathered at Los Angeles' Pershing Square to remember the man, known as "Africa" and "Brother Africa."
A friend of the man spoke to CNN, saying "Africa" was from Africa and had wanted to go back home.
"He was very depressed, very very depressed, very depressed. But he had a good side to him, a good heart," a man who goes by Nick G. said, adding that he'd never known "Africa" to be violent.
Los Angeles police said they will review video from various sources during their investigation of the shooting. The Los Angeles County district attorney's office will also launch an investigation, police said.
Los Angeles Mayor Eric Garcetti urged everyone to avoid rushing to judgment.
"This was a fast-moving situation," he said. "I don't think you or I should judge whether tactics, whether a situation was done right or wrong, before an investigation is done."
Los Angeles police senior lead officer Deon Joseph, a longtime Skid Row patrol officer profiled by CNN in January, wasn't working when the shooting happened. But he said, "It looks like the officers had to make a tough call."
"The system is really failing the mentally ill, as well as the cops who have to contact them," he told CNN's Ann O'Neill through Facebook. "I'm seeing so many more new faces in Skid Row. And many of them have serious issues. It's really tough out there."
CommentsWrite a Reply or Comment: