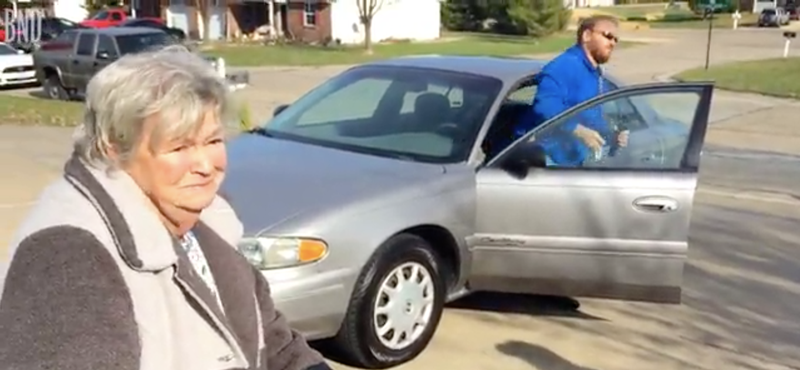 Stanford and Patty Kipping had a hard choice to make: keep making the $95 monthly payments on their 1998 Buick, or pay for the increased costs of their prescription medicines. They couldn't do both. So the couple, 82 and 70, were ready to lose their Buick to the bank—until one very kind repo man stepped up to save the day.
The Thanksgiving story you need to read comes from the Belleville News-Democrat in Illinois. It tells the tale of repo man Jim Ford, a guy who's been shot at in the course of repossessing cars but approaches his job with a little more kindness than most, and how he tried to work out a deal with the bank for the Kippings to keep their car.
When that didn't work, the newspaper reports, he took matters into his own hands:
"When I got home that night, I said to myself, 'They are a real nice elderly couple. I gotta do something. I can't just take their car,'" Ford said.

Then he did something that surely broke the hard code of ethics for repo men; he decided that he would pay off the Kippings' debt and return their car to their driveway.

Using the online service "GoFundMe" and depending on his friends in the repo business, Ford said he raised more than $3,500 in one night. After the fee for the service and after paying the $2,501 to the bank owed on the Buick, Ford tucked $1,000 in cash into an envelope. A co-worker at his business bought a frozen Thanksgiving turkey and Ford put it in the cab of his tow truck.

On Monday, he and Tom Williams, a friend, fixed the Buick's headlights, topped off the radiator and changed the engine oil. Then they hooked the car up for a return trip.
The story says Stanford Kipping is a retired dock worker who had to stop working at a local market due to poor eyesight, and he and his wife are both on fixed incomes. And while it may be hard to believe that the couple was making payments on a nearly 20-year-old Buick, it shows the hard choices some folks have to make when they need a car to get around and don't have a lot of money.
The newspaper reports the Kippings said they didn't know what they were going to do without the car, and when they took it back paid off—along with the turkey—they described it as "a miracle come true."
Hat tip to Paulo!