2015 Honda Fit: The secret star of the Detroit auto show – Fortune
Posted: Monday, January 27, 2014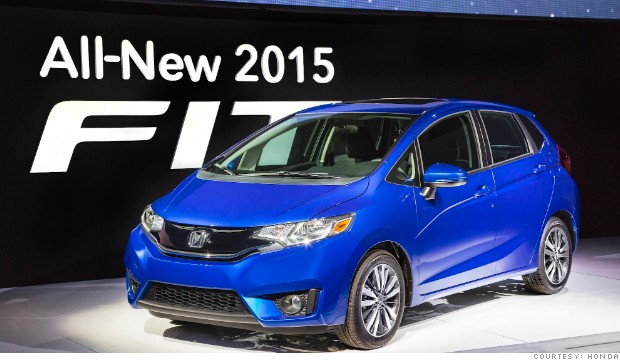 The 2015 Honda Fit
On the podium at this year's Detroit auto show, the 2015 Honda Fit got lost among the displays of massive Ford pickup trucks, 600-horsepower Corvettes, and Alfa Romeo-based Chryslers. That shouldn't be surprising. The Detroit show tilts domestic, and
Honda

(HMC) doesn't count, despite having assembled cars in the U.S. for more than three decades.

As for the Fit, it is a four-door subcompact hatchback in a market that reserves its enthusiasm for big displacement engines and sport coupe styling. Americans bought only 53,513 in 2013 (Ford (F, Fortune 500) sold more than 763,000 F-series trucks during the same time), making the Fit little more than a niche model in a small and profit-challenged segment.

But competitors take note. Overlooking the new Fit will be a big mistake. Consider:

• In a remarkable achievement in packaging, the 2015 Fit is smaller on the outside but significantly larger on the inside. Offering the interior room of a compact-size car in a subcompact body will boost Honda's fuel economy and give it a leg up in the mileage wars.

• The Fit represents a spirited return by Honda to its sporty small car roots with edgier styling, peppier powertrains, and greater functionality. It is the first tangible evidence that the Japanese manufacturer has shucked off its recession-driven, cheap-and-cheerful mindset and recaptured the energy that has made it the U.S.'s fourth bestselling brand.

• When Honda starts producing the Fit in North America later this year, it will nearly quadruple the supply of available vehicles, making Fit the spearhead of Honda's drive to boost U.S. sales.

Too much corporate and reputational baggage to pile on to a tiny car? Not at all.

The new Fit is faster, smarter, and thriftier. With its new 1.5-liter engine, the Fit will generate 130 horsepower, an increase of 13 hp over the engine of the 2014 car, while reducing weight and improving efficiency.

MORE: 14 auto predictions for 2014

The combination of the new powertrain with a new chassis is expected to enable the Fit to have class-leading EPA-estimated fuel economy ratings of up to 36 miles per gallon combined — 33 mpg city and 41 mpg highway. That will get Honda far down the road toward meeting 2025 CAFE standards that dictate a stiff 54.5 mpg fleet average

Electronics play a leading role in the new Fit: Bluetooth provides smartphone connectivity, a multi-view rear camera improves visibility, and a blind-spot camera is available, along with keyless entry and start — all this in a car that will likely have a starting price around $16,000.

Best of all, in a feat akin to stuffing dozens of circus clowns into a Volkswagen Beetle, Honda has shrunk the overall length of the 2015 Fit by 1.6 inches and at the same time created more space inside. Even though its width is up by a scant 0.3 inches, and its height remains unchanged at 60 inches, the Fit's rear-seat legroom has been increased by nearly five inches, and overall passenger volume has gained 5%.

The extra room comes partly from stretching the wheelbase by 1.2 inches and stealing some space from the cargo area, but otherwise Honda engineers have been closemouthed about how else they got there. All they acknowledge at this point, according to published sources, is a 57-pound reduction in the weight of the basic floor pan attributable to more extensive use of high-strength steel. The improved structural stiffness should benefit both ride and handling.

In the race for greater fuel economy, boosting the usable interior space while making the car smaller overall is like drawing to an inside straight in Texas hold 'em. As traffic tightens and electronics connect more cars, drivers will spend more time behind the wheel, making the quality of their accommodations more important.

MORE: The next thin slice of luxury from Ford

Safety is an issue too, and Honda engineers claim to have improved the dismal performance of the second-generation Fit in crash tests performed by the Insurance Institute for Highway Safety. The 2013 Fit was the only vehicle that ranked "poor" in both categories of lower-body injuries, prompting Consumer Reports to yank its "recommended" rating. Honda says the 2015 car will attain a "good" rating for all IIHS test modes.

The Fit is that rare automobile whose U.S. sales potential is untested. The car has been made in Japan since it was launched in 2001 (it came to the U.S. in 2006), and production limits have caused its U.S sales to be rationed. That will change in February when Honda starts up operations at a new plant in Celaya, Mexico for the U.S. market. The additional capacity comes just in time. The new Fit became the bestselling car in Japan during its first full month on sale, beating out the Toyota Prius (TM).

Once it is running at full capacity, the Mexico plant will be capable of building 200,000 Fits and a Fit-based crossover annually. Their success in the showroom will be key to Honda reaching its goal of selling 1.8 million to 2 million cars, crossovers, and SUVs in the U.S. by 2017. Right now, that target looks far away. In 2013, Honda-brand sales amounted to just 1.36 million units. But Honda's ability to move the metal should not be underestimated. It isn't widely appreciated, but of the seven bestselling passenger vehicles in the U.S. last year, three are made by Honda: the Accord, Civic, and CR-V crossover. The new Fit will find itself in rarefied company.

CommentsWrite a Reply or Comment: