2017 Chevrolet Bolt: Big Promises – Huffington Post
Posted: Wednesday, January 20, 2016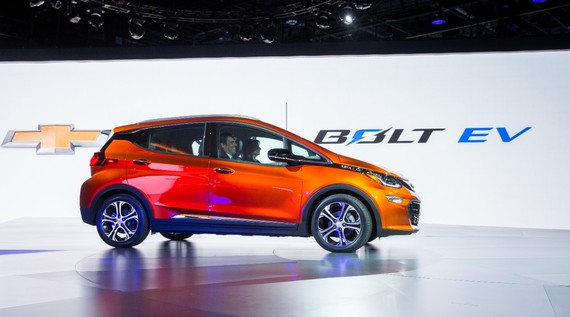 I don't like jumping on any kind of bandwagon. I don't know why, but there's just something disconcerting about the high-fivers and fist-bumpers who yell "Roll Tide" but can't find Tuscaloosa on a map. Equally concerning are fanboys who automatically queue up overnight for anything with an Apple logo on it. It's a part of American society that I don't trust — somehow, it all seems fake. I think it's because I simply cannot go along with the crowd unless I see a good, solid reason. It's like my body physically resists. As a result, I'm often skeptical about big, new product claims and can usually spot right away a person who is angling only for their own personal benefit. You know who you are … and so do I.
2016 Detroit Auto Show
So imagine my skepticism at a major auto show — a world filled with great intentions, rosy predictions and hard promises. After all, this is an entire ecosystem filled with people who get paid good money to angle, convince and cajole every day — and some are quite good at it.
Whenever a new car or truck is introduced, say the 2017 GMC Acadia, new Chrysler Pacifica or reworked Honda Ridgeline pickup, inevitably there are buzzwords, talking points and catchphrases that advertisers, marketers and public relations folks spend plenty of time and money perfecting.
Chevrolet Bolt Generates Buzz
At the recent 2016 North American International Auto Show in Detroit, one car generating lots of buzz was the 2017 Chevrolet Bolt. Well, it wasn't literally buzzing, but it was attracting a lot of attention. It's an all-electric vehicle (EV) designed to go about 200 miles on a single charge and will cost approximately $30,000 after federal tax credits (assuming you qualify). That's roughly the same price as a Nissan Leaf or an all-electric Ford Focus.
Here are just a few of the buzzwords I noticed surrounding the new Bolt. Chevy officials say they've finally "cracked the code" on a long-range EV battery, and the car will "revolutionize mobility" as an "electric vehicle for the masses."
Truth in Advertising
In all fairness, buzzwords don't have to be untrue. BMW says its cars are "Ultimate Driving Machines." I'm not sure how you calculate "ultimate," but BMW does go out of its way to build cars and SUVs that focus more on sharp handling, efficient power and a sporting driving experience versus, say, Toyota.
On the other hand, Toyota's tag line is "Let's Go Places," a phrase that hints at the affordability and longevity of Toyota vehicles. "Let's Go Places" implies everyone can "go" with a Toyota.
So what about cars like the Chevrolet Bolt? As much as I hate to say it, all the buzzwords and catchphrases surrounding the new Bolt seem to be true, assuming the price and range claims hold up — and Chevy spokespeople are adamant that the price and range are the real thing. Today, if you want to get a pure electric vehicle that can go 200 miles or more on a single charge without using gasoline, you're going to be paying a visit to your local Tesla store.
Juuust Right
But the Chevy Bolt looks to be more than just a one-trick pony. The packaging, price, features and range of the car add up to something that really can revolutionize transportation, catchphrase or not.
Here are just a few of the Bolt's features that should work well in the real world: a 10.2-inch color touchscreen, EV-specific navigation that helps maximize range and find charging stations, and a MyChevrolet app that informs the driver about vehicle-charging status, allows for remote starting and cabin preconditioning and includes an electronic owner's manual. There's also a 360-degree parking camera (Chevrolet calls this Surround Vision) and 4G LTE Wi-Fi (yes, the car creates its own hot spot).
The real question: How does Chevy get 200 miles from a battery and only charge $30,000 after federal tax credits? The short answer is science. The longer answer is Chevy is probably taking a loss on each Bolt they sell, but an even better answer is partly found on Chevrolet's media site which says:
"Inside the battery pack — which spans the entire floor from the front footwell to the back of the rear seat — is a new cell design and chemistry. The nickel-rich lithium-ion chemistry provides improved thermal operating performance over other chemistries, which requires a smaller active cooling system for more efficient packaging. The chemistry allows the Bolt EV to maintain peak performance in varying climates and driver demands."
We also know the batteries were developed with the help of LG Electronics, and the battery pack is comprised of 288 lithium-ion cells and weighs just under 1,000 pounds — like I said, science.
Promises, Promises
In all fairness, I haven't driven the car. I expect it will feel very similar to cars such as the Chevy Volt, and I'm hoping it will have a tiny bit more off-the-line thrust than a Nissan Leaf. Either way, anyone who can live with a Nissan Leaf, Honda Fit, FIAT 500X, Ford C-MAX, Ford Focus, MINI Clubman or Chevy Trax should be able to fit the Bolt into their life without much sacrifice.
If you're anything like me, you're going to take a "let's just see" attitude and reserve judgment until you can experience the Bolt for yourself. You might even think I'm a high-fiver in disguise. I don't blame you; I occasionally high-five my 9-year-old daughter after she's pulled off an especially difficult gymnastics stunt.
Either way, the Chevy Bolt is likely everything Chevrolet says it is. My guess is that the Chevrolet Bolt is the car that will convince average middle-class families that an electric car is good for more than just suburban errand-running and can truly take the place of their gasoline-powered car. For some families, the Bolt might even work as their only car. Now if only I could fit all that into a buzzword….
CommentsWrite a Reply or Comment: