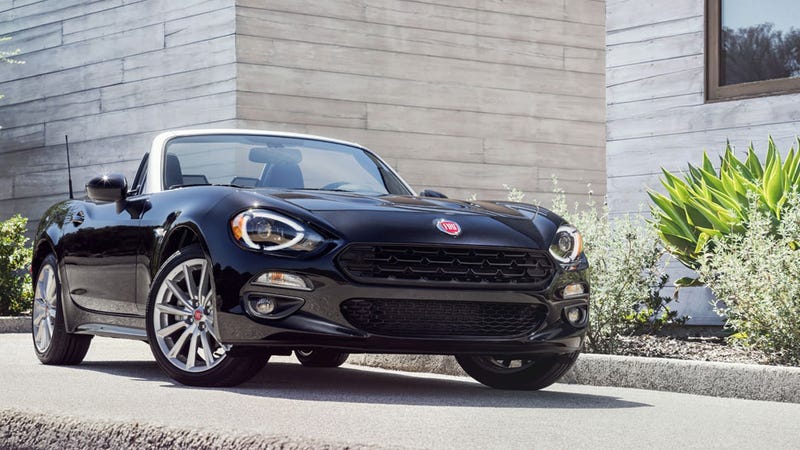 We've known pretty much what the newly-reborn Fiat 124 Spider is going to look like ever since we got those spy photos back in September. We've known basically what it's going to be like, dynamically, since we drove the new Miata, because, well, it pretty much is one. But now we really, really know what it's like, because Fiat's finally showing us.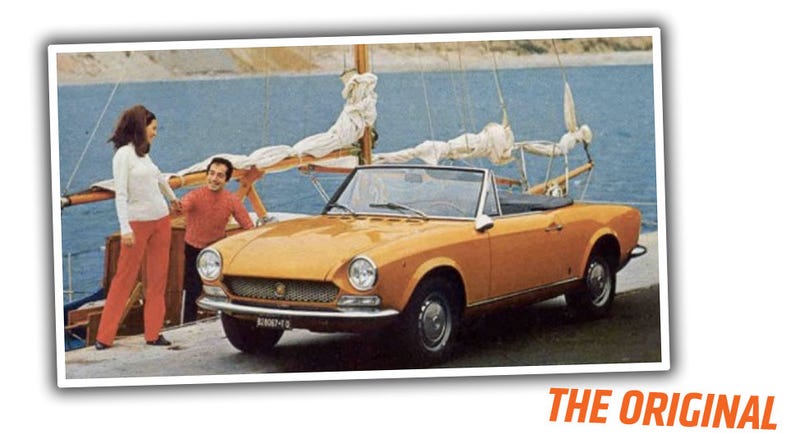 Now that we get to see it all nice and clear, I'm happy to say I think it worked out quite well. There's some nice references to the original, especially in the general shape of the grille and the rectangular taillight shape, along with the crisp lines, especially when compared to the Miata from whence it came.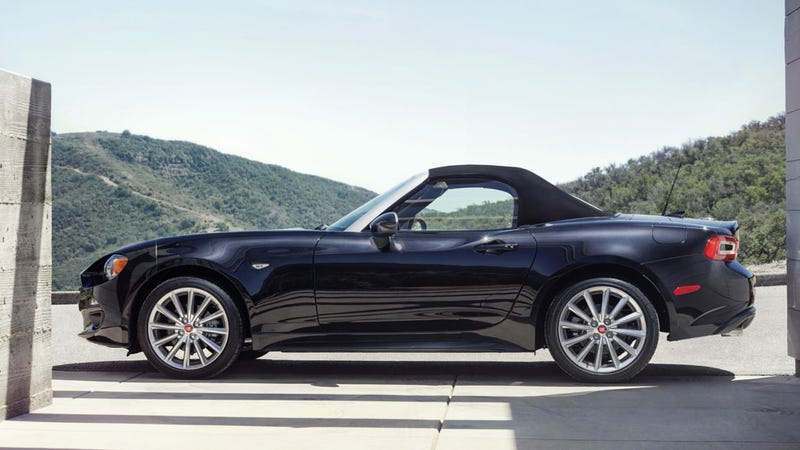 Here's what Fiat's Press release says:
"There's no better way to celebrate 50 years of the Fiat 124 Spider than to bring back this iconic roadster, pairing its Italian styling of the past with all of the modern performance and technology of today," said Olivier François, Head of FIAT Brand, FCA – Global. "The 124 Spider expands the FIAT family, bringing to market yet another head-turning, fun-to-drive vehicle for our customers."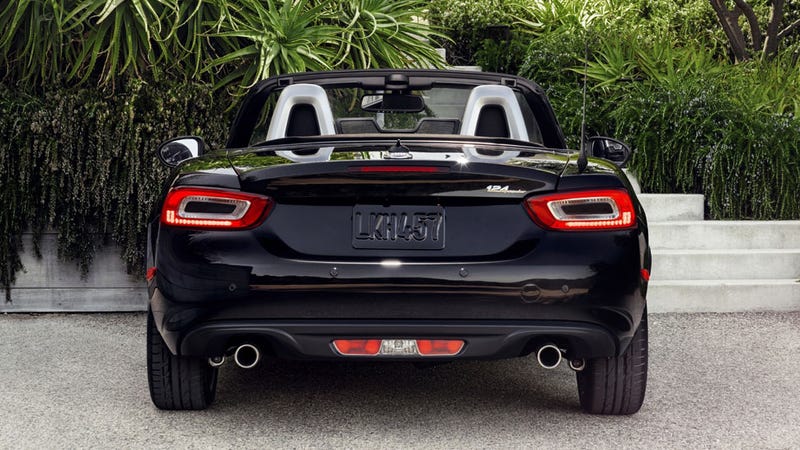 The 124 Spider has the same engine as the 500 Abarth under the hood — a 1.4-liter MultiAir making 160 HP and 184 lb-ft of torque. That seems like a reasonable amount for the car, and it's more than the Miata gets. Plus, if they can make it sound as good as it does in the 500 Abarth, that will be fantastic, because that little 1.4 lump sounds incredible in there.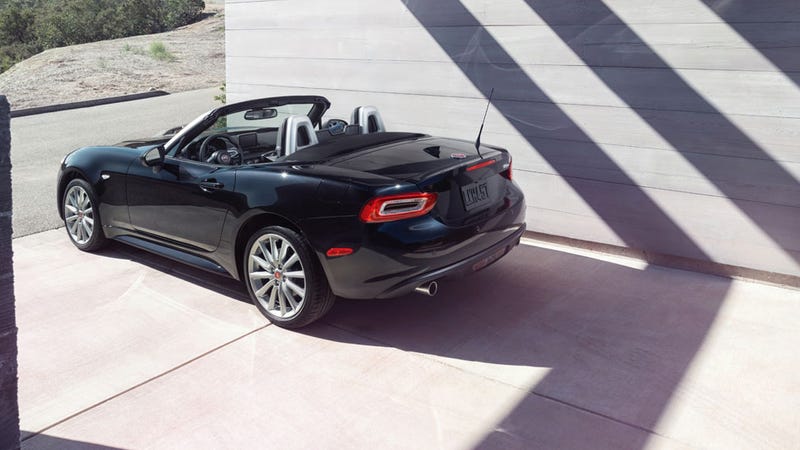 The interior seems quite close to the Miata, possibly only differing in badging and some details, which is sort of disappointing, but only because of a desire for novelty and some sort of Italian-inspired flair rather than there actually being any issue with the design or layout of the Miata interior.
The press release offers a few other hints about the interior's design:
The interior is crafted and designed to focus on the occupants, with premium soft-touch materials throughout. Ergonomics were applied to emphasize the driving experience and ensure easy operation of the steering wheel, pedals and shifter while driving.
An interior designed to focus on the occupants? Holy shit, Fiat, that's brilliant! I'm so sick of car interiors designed for the needs of drivers in other cars, pedestrians, and other passers-by. That's goddamn revolutionary.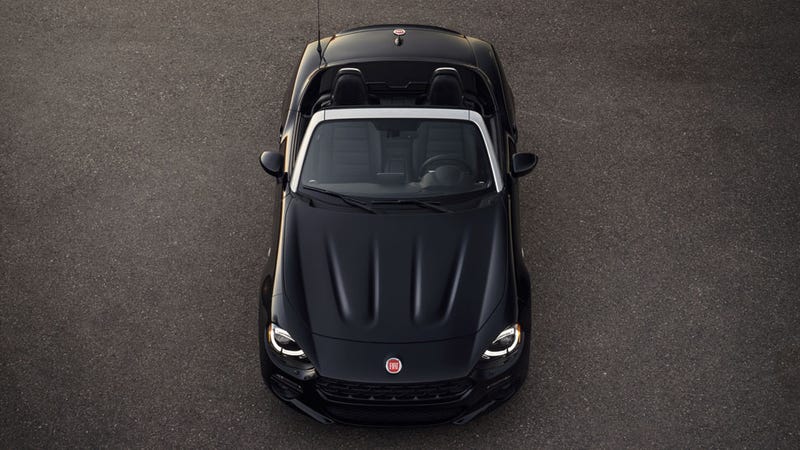 One detail I especially like are the inclusion of the pair of elongated, rounded humps on the hood that are a direct carry-over from the original, which I think were supposed to remind everyone that there were twin overhead cams under that hood.
And look, if you buy one soon, you get a special edition one!
To celebrate the return of the classic nameplate, the first 124 vehicles will be offered as a limited-edition Prima Edizione Lusso, as shown at the 2015 Los Angeles Auto Show. Each will be individually numbered with a commemorative badge and available in exclusive Azzurro Italia (Blue) exterior paint with premium leather seats in Saddle. Owners who purchase a Prima Edizione will also receive limited-edition items, including wearables and a poster. For more information about ordering a Fiat 124 Spider Prima Edizione, interested customers can sign up for updates at http://www.fiatusa.com.
I'm impressed overall. I've driven the new Miata and found it to be extremely enjoyable, and I think the 124 has even better looks (I prefer the front end to the Miata considerably), and the 160 HP MultiAir is an engine I've grown fond of in the 500 Abarth. It all feels like a pretty compelling combination to me.
This Italian-Japanese fusion is looking like a great idea, like a calzone stuffed with sushi-grade tuna or something.