3 Reasons The Market Is Dead Wrong About Ford – Seeking Alpha
Posted: Monday, February 27, 2017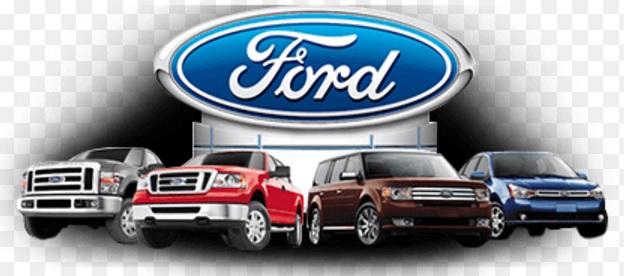 With the stock market hitting new record highs every day, many investors are naturally nervous about where to put new money today. Fortunately, for value dividend investors such as myself, something is always on sale, which is the case with Ford Motor (NYSE:F).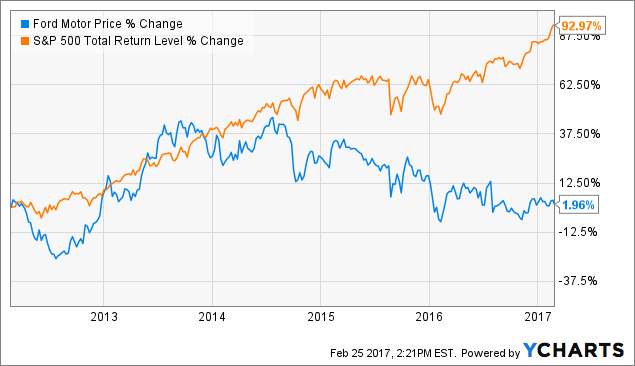 That's because, despite one of the most astounding corporate turnarounds in corporate America, the stock market has refused to reward Ford shares with a commensurate increase in price over the years.
However, while that may have greatly disappointed long-term investors, the fact is that going forward, Ford is making all the right moves to become one of the best performing stocks over the next few years, and more importantly the next decade.
Let's take a closer look at just why Ford Motor should be on every dividend investor's radar, and likely, in their portfolio as well; especially at today's rock bottom share price.
2016 Results Appear Disappointing… Until You Consider Them In Context
Source: Earnings Release
At first glance, Ford's 2016 results seem terrible. After all, top line growth was flat while EPS fell off a cliff. However, you need to keep a few things in mind.
Most notably, car manufacturer profits are highly volatile, due to the need to invest in product launches, and legacy costs such as pension obligations.
In fact, the reason that Ford's 2016 GAAP profits fell so much was due to three factors. First, the company had to invest more heavily into new product launches. Specifically the launch of 11 new or redesigned models including the new Ford Super Duty, and Lincoln Continental. This increased costs by almost $1.5 billion.
Next, the company faced a $692 million increase in taxes, to $2.2 billion. If the Trump administration makes good on its promised corporate tax cuts (from 35% to 20%), this would boost Ford's bottom line by $820 million a year. That would translate to EPS growth of $0.21/share or 18.3%.
Finally, an accounting change on how Ford measures its pension obligations resulted in a $3 billion special charge. All told, Ford's operating or adjusted EPS ended up being $0.61/share better than its GAAP results. While that still represents a decrease in adjusted EPS (from which management bases the dividend payments), when you consider the lumpy nature of new model launches, Ford's 2016 results appear far better than the headline figures.
And when you look at the operating results, i.e. adjusted pre-tax income, you can see that Ford basically had a pretty flat year.


Source: Ford investor presentation
And on the plus side, the company continues to benefit from its market leading position in highly profitable trucks, which helped to drive average vehicles prices to all-time highs, and significantly above the industry average. For a no-moat industry such as autos, that's very impressive indeed.
Similarly, Ford's average incentives, i.e. discounts, per vehicles was about half that of its peers.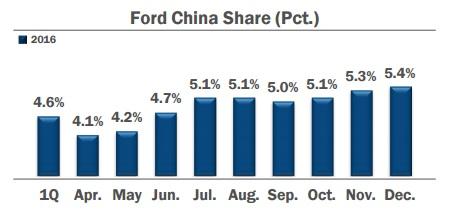 Meanwhile Ford continues to make steady headway in gaining market share in China, the world's largest auto market. That's partially due to massive sales growth in Chinese Lincoln sales, which were up nearly 200% in 2016. Better yet? The growth of higher-margin luxury cars helped to generate double digit operating margins in China.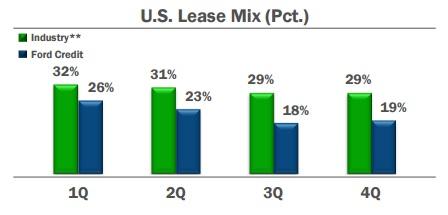 Further improvements came in the form of decreased reliance on both rental fleets (which are lower margin), and lower leased vehicles. This is a plus because leased vehicles have to be sold (except when the lessee chooses to buy the vehicle), and that creates increased earnings volatility based on the cyclical nature of the resale, i.e. used car market.
Dividend Profile Continues To Point To Great Potential Future Returns
Sources: Earning Release, Morningstar, Fastgraphs, Factset Research, Multpl.com, Moneychimp.com
At the end of the day, the biggest reason to own Ford is the strong dividend profile. Specifically the 2017 yield of 5.2% is fantastic. Better yet, with management's new hybrid payout model, in which it pays out 40% to 50% of adjusted EPS via a combination of $0.60/share annual regular dividend, plus an annual special dividend, the payout is safe. That's despite the highly cyclical nature of the automotive industry.
But don't take my word for it, management has stated that it's done stress tests against an even sharper industry downturn than the Great Recession and believes the base dividend (yield of 4.8%) should be sustainable for the foreseeable future.
That's in large part thanks to the massive strengthening of the balance sheet in recent years, as well as massive cost cutting efforts, such as a move towards just a few global platforms. All told, with Ford claiming it can remain profitable as long as US auto sales stay above 10.5 million (a 40% decrease from 2016's levels), and a total liquidity war chest of $38.3 billion, I consider Ford's dividend highly secure.
Meanwhile, the company's future dividend growth is going to come from its ongoing evolution from a mere commodity maker of vehicles into a high tech mobility company.
That's courtesy of such investments as the recently announced $1 billion purchase of Argo AI. This company, founded by CEO Bryan Salesky, and CFO Peter Rander, (formerly head of hardware for Alphabet's Waymo, i.e. Google's (NASDAQ:GOOG) self driving car division, and Uber's (Private:UBER) Autonomous Car division, respectively), is part of Ford's big push into VMAAS or Vehicle Management As A Service.
In other words, the company is investing heavily into becoming a fleet manager for future autonomous cars, including the Autonomous EV it's planning on launching in 2021. Management believes that VMAAS has the potential to become a $400 billion global market, with operating margins of "at least 20%."
Which means that if Ford is able to capture just 10% to 20% of global market share, at 20% to 25% operating margins, that could boost its operating profits by as much as $8 billion to $20 billion per year; or 77% to 192%.
Or to put it another way, Ford is a safe, high-yield, long-term bet on the future of autonomous, electric cars. Better yet? At the current price, it remains one of the most undervalued dividend blue chips you can buy in this overheated market.
Shares Continue To Trade At Fire Sale Prices
Source: Gurufocus
At first glance, Ford, while much cheaper than its industry peers, may not appear that undervalued, at least from a trailing PE perspective. However, as a dividend investor what I care more about is the yield, which is trading at a huge discount to its historical levels, and over 150% above its industry median. In fact, Ford's current yield is higher than 92% of global automakers.
Source: Earnings Release, Gurufocus, Fastgraphs
However, where Ford's undervaluation really shines is when we consider the fair value, i.e. tangible book value plus 20-year discounted cash flow. Now personally, I consider the current analyst estimated 10-year EPS growth of 15.9% to be a best case scenario, assuming that Ford's mobility ambitions come to full fruition.
BUT even if you assume a far more conservative 5.3% growth rate, or what I consider most likely, a 10.6% growth rate, what matters is that the market is currently pricing in a ridiculously pessimistic -20.7% 10-year adjusted EPS growth rate.
In other words, Ford's bar is so low, that barring a complete company implosion, it won't be able to help but beat low expectations, making for one of the highest margins of safety you can find on Wall Street today.
Risks To Keep In Mind
In the short term, there are several key risks for Ford investors to consider.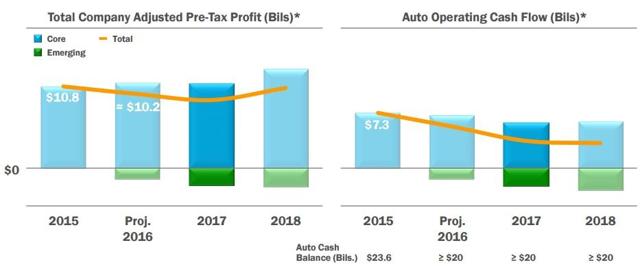 First, management's guidance for 2017 isn't exactly thrilling. In fact, management warned investors that earnings and cash flow for this year will be lower or flat, compared to 2016.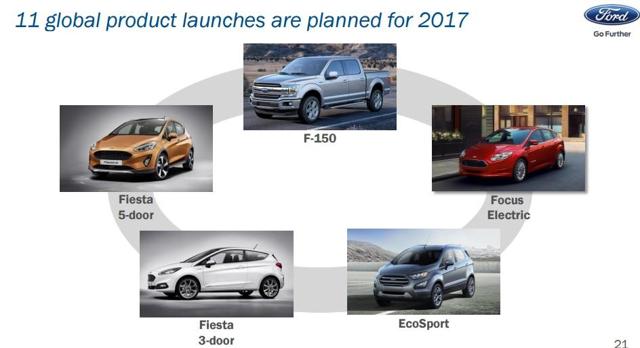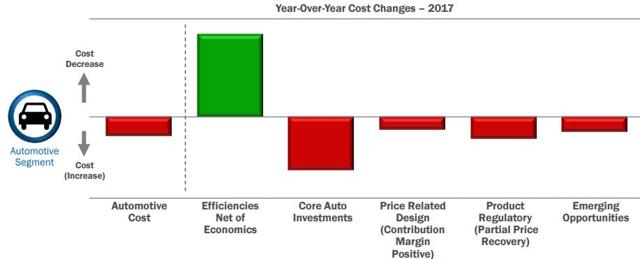 Again, the reason for that is higher capital spending due to the launching of 11 new or redesigned models, which combined with further investments into emerging opportunities, (i.e. mobility) will offset the $3 billion in cost savings management expects this year.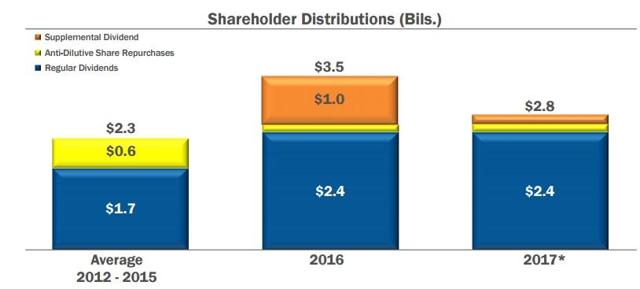 And with lower earnings, that means that investors need to expect lower capital returns, most notably in the form of a smaller special dividend.
Specifically, 2017's special dividend of $0.05/share is 80% smaller than 2016's, meaning that Ford's 2017 dividend payment will only come in at $0.65/share. Then again, with Ford shares just 8% off a 52-week low, that comes to a forward yield of 5.2%; one of the most generous payouts offered by a non-REIT or MLP.
However, because Ford is likely to report slightly worse results this year, investors need to be prepared for the stock to potentially continue to languish. On the other hand, that means an entire year in which one could potentially continue to accumulate dirt cheap shares.
Next, we have longer-term threats to Ford's investment thesis. For example, while Ford's pivot to becoming a mobility company could potentially mean VERY strong earnings growth in the future, keep in mind that this huge bet on future tech is one that's also being pursued by its rivals, such as General Motors (NYSE:GM).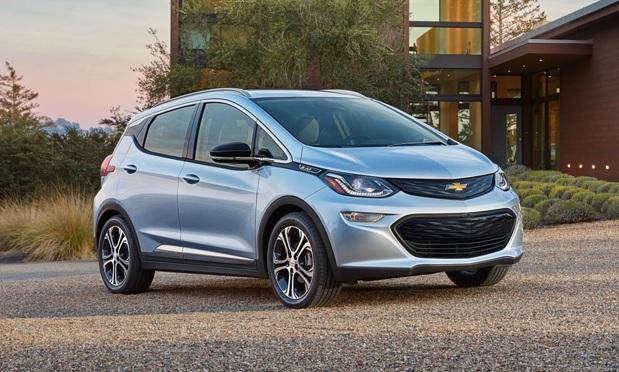 2017 Chevy Bolt (North American Car Of The Year)
I'm referring of course to GM's 2016 $500 million investment in Lyft (Private:LYFT), as well as the launch of its own ride sharing service, Maven. In addition, while Ford is investing heavily into EVs, the ultimate long-term future of automobiles (currently working on 13 electric models), GM has a strong head start in that category with the launch of its highly praised Chevy Bolt EV.
In other words, while the future of the industry, most notably VMAAS represents a huge potential investment opportunity for Ford, it will have to compete against numerous other well capitalized and equally hungry rivals.
Finally, we can't forget the ongoing threat of a strong and rising dollar. Specifically, the proposed border adjustment tax or BAT, has the potential to cause a 15% to 25% appreciation in the dollar; which is up 26% in the last two years and trading at 15-year highs.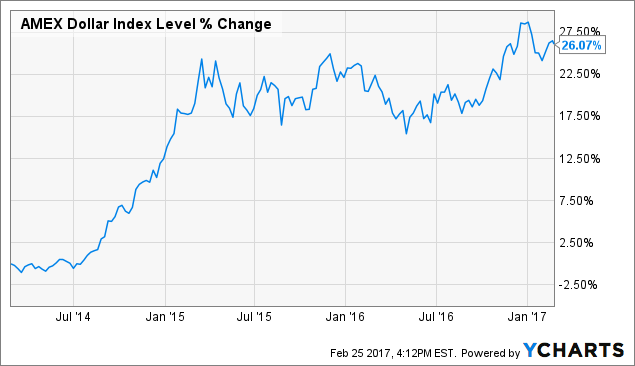 Combined with a potential acceleration of rising US interest rates, which tends to attract foreign capital to the US and further strengthen the dollar, Ford could face strong global growth headwinds for years from negative currency effects.
Bottom Line: Ford Has Transformed Itself Into A Much Better Company; AND An excellent Long-Term Income Investment
Don't misunderstand me. I'm not predicting that Ford's share price will explode in the next one, two, or even three years, only that the company's superb transition into a future mobility company means that the market continues to massively undervalue the company's future sales, earnings, cash flow, and dividends.
EVENTUALLY, the market will have no choice but to value Ford more appropriately, (Wall Street can't be stupid forever), which is why today is the perfect time for patient, long-term income investors to continue accumulating shares of one of the highest quality, yet most undervalued dividend stocks in America.
Disclosure: I am/we are long F, GM.
I wrote this article myself, and it expresses my own opinions. I am not receiving compensation for it (other than from Seeking Alpha). I have no business relationship with any company whose stock is mentioned in this article.
CommentsWrite a Reply or Comment: