8 Reasons Now Is The Time To Buy Ford – Seeking Alpha
Posted: Monday, July 17, 2017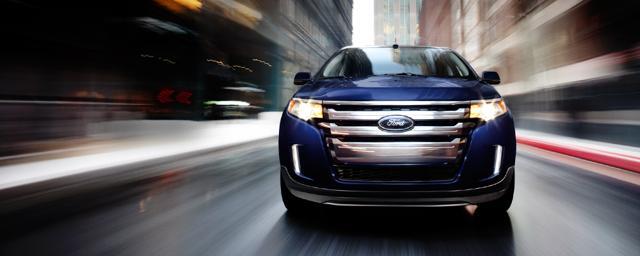 Despite the Trump rally, Ford's (NYSE:F) stock continues to slump and is slightly down year-to-date. While Ford's first quarter results showed some weakness, Ford's stock currently trades at rock-bottom levels and is a good buy in my opinion. Out of the 8 reasons I list below, the two-stage discounted cash flow analysis is the most compelling. Even in what seems to be a worst-case scenario, Ford's stock still exhibits upside potential.
1. A Massive 5.14% Yield
Ford's slumping stock price and increasing dividend payment equal one thing, a monster yield. With an annual yield of 5.14%, Ford currently has the 12th highest yield on the S&P 500. This makes Ford a great option for income oriented investors.
2. Ford Has a Low Dividend Payout Ratio
When a stock has a yield that is north of 5%, I normally expect a fairly high payout ratio. This is not true with Ford, which has achieved strong free cash flow in the last few years. There are few stocks available that have greater than a 5% yield and a payout ratio lower than 50%. However, I do believe Ford's free cash flow production in the last few years has been a bit too high and will be lower in future years. Ford has benefited from large increases in payables, accrued liabilities, and other liabilities. This has pushed operating cash flow to disproportionately high levels, so this has the potential to reverse. The good news is that Ford's dividend payout ratio is so low. Even if Ford's free cash flow is half of what it was in 2016, their payout ratio would still be just a little above 50%. Ford's dividend should be safe for the foreseeable future.

3. A Far Improved Balance Sheet
Ford's cash and debt levels have stayed pretty constant over the years, but its pension liability has gone down significantly. Since a pension obligation is a required future payment, I view it the same as debt.

Note 1 – Automotive cash only includes cash related to Ford's car business.
Note 2 – Ford has debt that's associated with its automotive business and its financing business. Automotive debt is where there is risk, so its good to see this managed appropriately over time. It's actually positive to see Ford's financing debt increase (not included in table above), since that means Ford is providing more loans to customers.
Note 3 – the large improvement in Ford's underfunded pension liability in 2013 was driven by a $5 billion cash contribution and a higher discount rate assumed. This is something to keep an eye on because companies like Ford can often manipulate their pension liability by changing discount rates, mortality rates, and asset return rates.
4. Stable Oil Prices
The price of oil is still relatively cheap, which helps the automotive industry. The good news is that oil prices are expected to stay relatively stable. The U.S. Energy Information Association projects that the average price of oil in 2017 will be $50.79/barrel (Brent) and $51.58 in 2018. This is still significantly less than oil a few years ago when prices surged above $100/barrel.
5. Ford's Price/FCF Is At A Five Year Low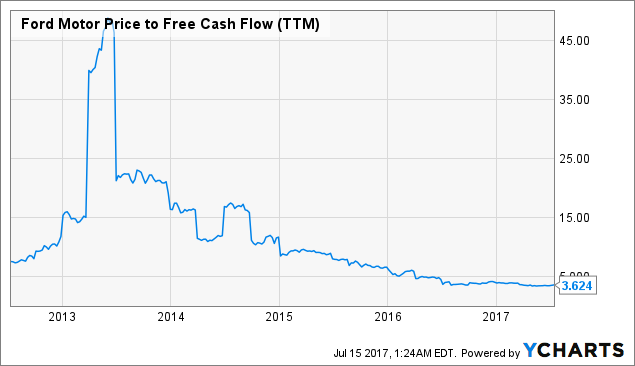 F Price to Free Cash Flow (TTM) data by YCharts
To show how ridiculously low a 3.6 Price/FCF multiple is, here's what some other companies currently trade at:
6. Conservative Two-Stage Discounted Cash Flow Analysis Shows 10% Upside Potential
I made this analysis as conservative as possible to show the possibility of car demand waning over the next 5 years. I assume that free cash flow decreases by 25% every year for 5 years (first stage). Then I assume that free cash flow increases by only 1% every year thereafter (second stage). Keep in mind that this equals approximately $3 billion in free cash flow at year 5, which is less annual free cash flow than Ford has produced over the last 6 years.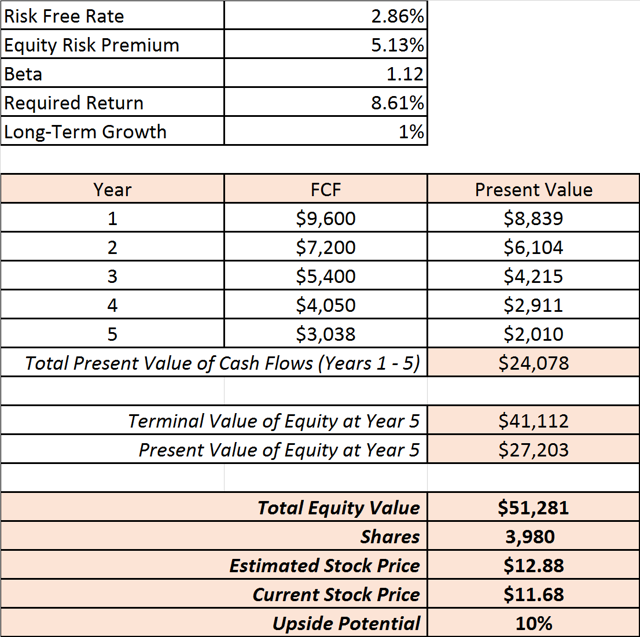 Risk Free Rate – I used the yield on a 30-year treasury bond.
Equity Risk Premium – this figure is calculated every month by Aswath Damodaran, a Stern Business School Professor.
Beta – I used Google Finance.
Required Rate of Return – calculated by multiplying the Equity Risk Premium by Beta and then adding the Risk Free Rate.
7. Wall Street Expects Upside
According to MarketWatch, 8 out of 27 analysts recommend Ford as a 'buy' (only 2 recommend as a 'sell'). The average target price is $12.70 per share. Given the current stock price of $11.71, that's 9% upside.
8. 'Peak Car Shouldn't Concern You
The main reason Ford trades at such a steep discount is fears of weakening automotive demand, especially for higher margin truck and sport-utility vehicles. However, I think Ford and other auto makers have a bright future given the following two reasons:
United States automotive demand is softening, but global demand is expected to continue growing. This is largely because of China and other emerging markets. Auto-makers like Ford will still have opportunities to snag some of this opportunity and continue growing.
Self-driving cars are likely to change the landscape of the auto industry in the next 10 years, which Ford has been spending billions of research dollars on. There could be far fewer cars on the road at that time. However, I don't necessarily see this as being negative for Ford. In this scenario, they would sell less cars, but self-driving cars are going to just be massive computers and are likely to be much higher margin (Ford doesn't currently make that much per car, only about $1,000).
Conclusion
Ford's valuation ratios are very attractive, which includes a P/FCF of 3.6 and a forward P/E of 7.35. This combined with Ford's massive 5.14% annual yield make a stock that has the potential to return a significant amount of capital from both the dividend and price appreciation. I also like the macroeconomic factors (global demand growth and stable oil) and Ford's improving balance sheet. I believe that concerns of 'peak car' are overblown and Ford has many opportunities for growth over the next decade. My discounted cash flow analysis shows that even if Ford's business does deteriorate from current levels, the stock is still attractively valued.
Disclosure: I/we have no positions in any stocks mentioned, and no plans to initiate any positions within the next 72 hours.
I wrote this article myself, and it expresses my own opinions. I am not receiving compensation for it (other than from Seeking Alpha). I have no business relationship with any company whose stock is mentioned in this article.
CommentsWrite a Reply or Comment: