A Coming Pop For Fiat Chrysler – Seeking Alpha
Posted: Tuesday, June 20, 2017
Trying to game sales trends for automakers can be very difficult and doesn't always translate to increases in share value. However, those who can find the right data points can make money trading stocks ahead of positive sales results. I suspect that could be the case with Fiat Chrysler (NYSE:FCAU) next month.
Fiat Chrysler has a series of business and legal concerns but with those aside, the company could post positive Q3 sales results that could act as a catalyst for equity appreciation.
Ramping Up Production
The company operates under the Dodge, Ram, Chrysler, Jeep, and Fiat brands in North America. In total, the company sells 2.2 million vehicles per year, or about 180,000 per month. Generally, that number increases in the summer months when dealerships offer buying incentives so an uptick is reflected in year-over-year numbers.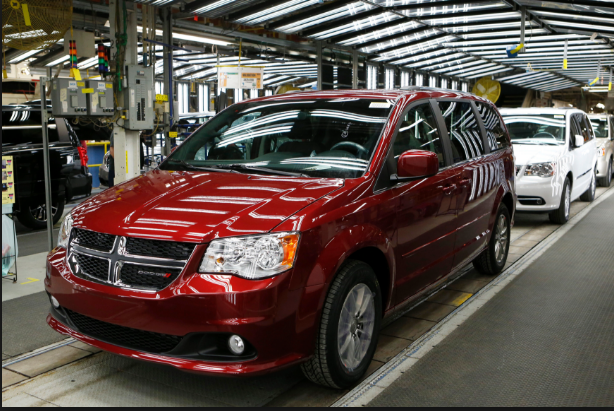 The Dodge brand sells about 500,000 vehicles per year. 25% of those sales are of the Grand Caravan. The minivan is popular with commercial customers and is the only minivan sold by the company since the Chrysler Town & Country was phased out last year and replaced with a different version of the Pacifica. The Grand Caravan is made in the company's Windsor, Ontario facility. News reports show that the company is pausing production from July until the end of the year. Because of this, the company has urged dealers to stock up on Caravan models before the production hiatus. Dealers will have to stock up on six months of inventory in the month of June. If you apply sales figures from 2016, that would equate to roughly 68,000 units. That is 13% of all Dodge sales and 3.1% of all Fiat Chrysler North American sales. An inventory boost could act as a catalyst to boost Q2 sales and provide a trading opportunity.
New Brand
In addition to the outlined scenario, Q2 will be the first full quarter to count Alfa Romeo sales in the US. Here is more information on the introduction of Alfa Romeo. The company expects US sales of 150,000 units annually by 2020. Thus far (Jan-May), they have sold 2,702 vehicles in the US. The company has expanded sales programs for the month of June. While the brand isn't a high volume seller, it is a higher margin vehicle than most Fiat Chrysler products. With a $50,000+ price point (starting price is a bit less), the Alfa Romeo can add a few basis points to the company's margins for Q2. Much of the costs associated with marketing the brand were realized in Q1, so SG&A should decline in relation to Alfa Romeo related expenses.
The Guilia, Alfa Romeo's main model, is expected to sell 3,500 units in Q3. At $50,000 a pop, that's an additional $175 million to the top line, or .06% of Q2 earnings last year. While $175 million isn't a huge amount to a company that posts $31 billion in quarterly revenue, when combined with the potential pop of $1.3 billion from dealers loading up on Grand Caravans, there could be a 4.8% increase in Q2 top line sales. Additionally the makeup of the sales could help margins. Those two factors combined could result in a small pop for FCAU trading price when the company reports results on July 26th.
Paying attention to internal company dynamics can, at times, lead investors to unique investment opportunities. That could be the case with the information outlined above. Investors could see potential short-term gains when the company releases Q2 sales figures that may have a boost from front loading minivans and the introduction of Alfa Romeo. All of this is, of course, assuming all else remains equal with the other aspects of the business. Jeep has reported strong sales and there appear to be few indications that overall sales will materially decline in Q2, so investors can be reasonably sure that the above-mentioned scenario could play out in their favor and perhaps make investors a few bucks.
Disclosure: I/we have no positions in any stocks mentioned, and no plans to initiate any positions within the next 72 hours.
I wrote this article myself, and it expresses my own opinions. I am not receiving compensation for it (other than from Seeking Alpha). I have no business relationship with any company whose stock is mentioned in this article.
CommentsWrite a Reply or Comment: