About Ford And Its Dividend In 2017 – Seeking Alpha
Posted: Wednesday, March 29, 2017
Shareholders of Ford Motor Company (NYSE:F) just can't seem to get a break. Shares have dropped and haven't found much traction over the last year or so. On March 1, shares were at $12.70, and as I write this today on March 28th, shares are at $11.58. Shares haven't been this low since 2012.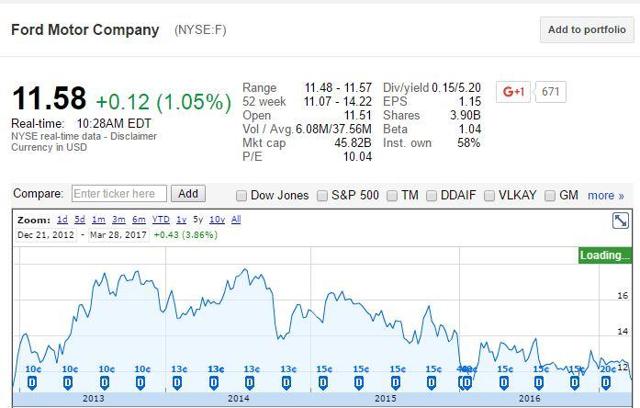 Courtesy of Google Finance
That's a pretty rough chart to look at. Yet, the income-minded investor will notice that dividends have doubled since 2013. These two factors have combined to drive up Ford's dividend yield to 5.2%. That is a nice dividend yield, but the question in many people's minds has to be whether that dividend is sustainable. This article looks to answer that question. This includes looking at full-year 2016 results and 2017, in addition to cash flow and the company's history of dividends.
A "sales plateau"
Vehicle sales in North America have been pretty robust over the last few years. However, Ford believes North America sales are "plateauing," and management is therefore expecting a lower top line and bottom line this year. Have a look.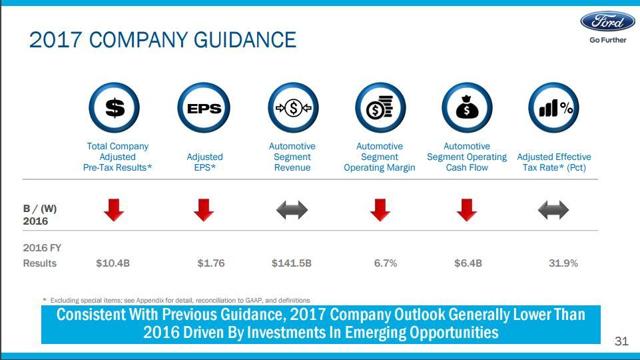 Courtesy of Ford Motor Company Investor Relations.
This year, revenue, adjusted earnings per share and automotive operating margins are expected to drop. Automotive operating cash flow is expected to drop as well. To look at this at a more granular level, Ford expects declines in North America, which make up almost two-thirds of all sales, will be led by lower volume. The bottom line in Europe is also expected to drop due to exchange rates in the UK, and also rising commodity prices of all things.
Things are expected to get better only in Asia Pacific, South America and Middle East and Africa. Ford sees rising commodity input prices, and that will put some positive momentum behind South American economies. Sales volume is expected to rise in South America and Asia, but those are comparably minor parts of the company's business.
What does all this mean for the dividend? Well, that depends upon how much sales decline by. I don't suspect the drop in revenue will be more than low single digits this year. If so, the dividend is in no danger whatsoever. Operating cash flow would have to drop quite a bit in order for that dividend to be in danger. More on that later. For now, take a look at Ford's history as a dividend payer.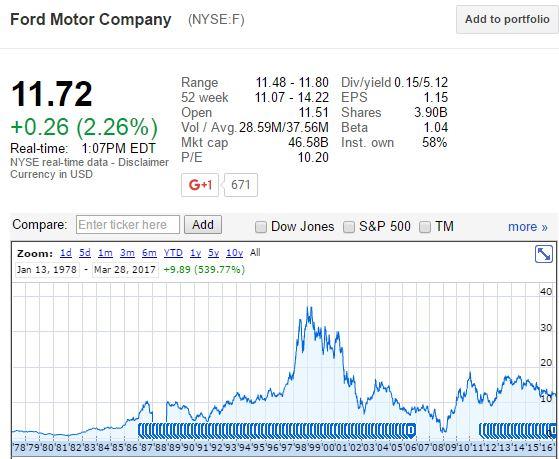 Courtesy of Google Investor Relations.
This might seem like a cumbersomely long chart, but I think it tells us a few things. As a dividend payer, Ford only re-started its dividend in 2012. What this chart doesn't show is that the company had to steadily decrease its dividend starting in the early 2000s, before ceasing entirely in 2006. So, its history as a dividend payer is pretty shaky, and I do believe that this fact is weighing down on investors even today. After all, no income investor wants to take a dividend cut.
But it's also important for investors to realize that this isn't the same company as it was in the early 2000s. Debt obligations are significantly lower and the company is a lot leaner. Ford will be much better able to maintain its dividend than in those days, in my opinion.
Cash flow numbers are pretty good too. Over the last twelve months, operating cash flow was $19.8 billion, minus about $7 billion in cash flow. That left $12.8 billion in free cash flow, with a dividend of just $3.37 billion. That is a very big cushion; dividends are a little more than a quarter of free cash flow.
Let's say operating cash flow drops by a quarter – quite a bit. If there's $15 billion in OCF and $7 billion in capex, that means $8 billion in free cash flow – still more than twice what the dividend is. Granted, if we face a massive drop in industry auto sales, like we saw in 2009, then I think we can talk about the possibility of that dividend disappearing. And, to be frank, a scenario like that is quite possible at some point. Automobile sales are highly cyclical and economically sensitive, but everything I can see right now says Ford's dividend is just fine.
Is Ford a buy?
From a valuation perspective, Ford really is a buy. Shares currently trade at just 6.7 times operating earnings, and according to data from F.A.S.T. Graphs, the company has averaged 8.8 times earnings over the last ten years. So no matter how you look at it, Ford is quite cheap.
Whether you want to get into the stock is really a judgment call. Of all the auto manufacturers, Ford is probably my favorite, particularly due to its excellent brand name recognition in North America. Though, this is quite a cyclical industry, and there are other areas I would rather invest in. However, it does make sense to buy Ford here, so call me cautiously optimistic.
If you are interested in Ford Motor Company, feel free to "Follow" me here on Seeking Alpha. I intend to follow this company, and in the future, I will write update articles when material and relevant.
Disclosure: I/we have no positions in any stocks mentioned, and no plans to initiate any positions within the next 72 hours.
I wrote this article myself, and it expresses my own opinions. I am not receiving compensation for it (other than from Seeking Alpha). I have no business relationship with any company whose stock is mentioned in this article.
CommentsWrite a Reply or Comment: