Blockbuster December Clinches Record Year for Auto Sales – Fox Business
Posted: Wednesday, January 06, 2016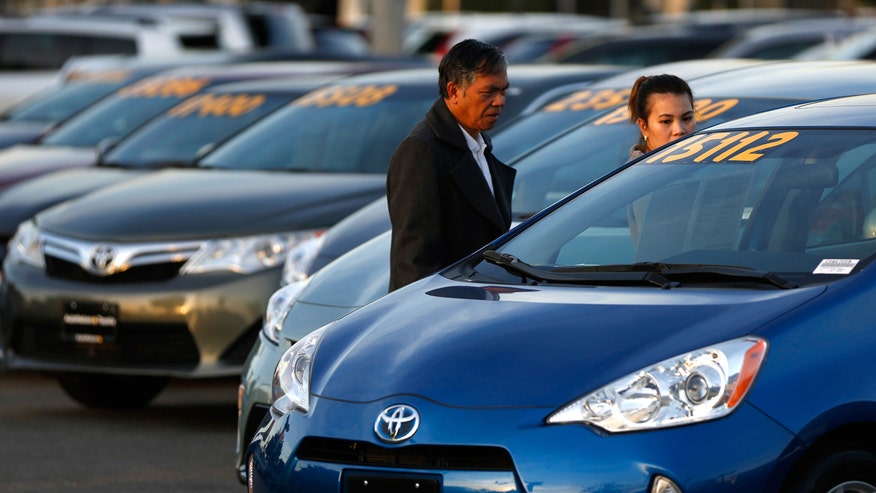 UPDATED
The auto industry ended 2015 with a blockbuster December that clinched a record sales year, riding a wave of consumer demand for sport utility vehicles and pickup trucks.
U.S. new-vehicle sales raced to 17.47 million in 2015, which toppled the previous high of 17.35 million set in 2000. Annual sales climbed 5.7% versus the prior year, according to Autodata, slightly behind the 5.9% growth seen in 2014.
Auto sales have been a bright spot in the U.S. economy. Cheaper gasoline, low interest rates, construction activity and pent-up consumer demand all contributed to rising sales. A wide array of new models, especially big sellers like Ford's (F) F-150 truck, also enticed more people to upgrade.
Ford got off to a slow start to 2015 due to a gradual transition to production of the redesigned F-150. Sales heated up through the second half. Ford sold 780,354 F-Series trucks—a segment that includes heavy-duty models—and achieved a 3.5% increase year-over-year.
Ford said it sold 8.4% more vehicles in December, while its 2015 sales rose 5.3% amid strong results for the Edge crossover and Explorer SUV.
General Motors (GM), the largest seller of new vehicles in the U.S., sold 3.08 million vehicles last year, a 5% improvement. The company's entire truck portfolio grew 14% to 1.2 million. The top sellers, the full-size Chevrolet Silverado and GMC Sierra, combined to sell 824,683 units, or roughly 1.57 trucks every minute. Silverado sales jumped 13.4%.
GM said several of its crossovers, including the Chevrolet Traverse, recorded their best sales years ever.
Buyers increasingly shifted into crossover and SUV segments last year. Sales of light trucks, which span pickups and utilities, jumped 13% based on Autodata figures. Passenger cars were down 2.2% for the year.
Kelley Blue Book analyst Alec Gutierrez said higher fuel economy numbers and more affordable models, in addition to low gasoline prices, have boosted the popularity of crossovers.
"If you look at the differences in price and fuel efficiency between crossovers and cars, the lines are blurred more than ever," Gutierrez added.
Fiat Chrysler Automobiles (FCAU) continued to benefit from the SUV boom as Jeep sales surged a whopping 42% in December and 25% for the full year. Overall, Fiat Chrysler recorded a 13% rise in monthly sales to end the year, and the Italian-American automaker's 2015 sales moved 7% higher to 2.24 million.
Ram and Chrysler each sold 5% more vehicles in 2015 to offset declines at Dodge and Fiat.
Nissan also reported a double-digit gain in December of 18.7%, noting that trucks and SUVs hit a record for the month. Toyota (TM) sales climbed 10.8%, while full-year results were up 5.3% led by Lexus. Honda (HMC), whose December sales gained 10%, said its 2015 sales rose 3% to a new annual record. Like Toyota, Honda got a boost from its luxury division, Acura.
There were two additional selling days in December 2015, while TrueCar estimated that incentive spending ticked 3.9% higher compared to the year-ago month.
Still, buyers paid $34,081 on average for new cars, trucks and SUVs last month, marking the first time that TrueCar has tracked an industry-wide average transaction price above $34,000. Monthly automotive revenue also hit a record high of $58 billion.
Mustafa Mohatarem, GM's chief economist, predicted that automakers in the U.S. will see a second consecutive year of record industry sales in 2016, saying economic tailwinds remain in place.
According to Gutierrez, the expiration of recent leases is one factor that may begin to dampen sales of new vehicles over the next few years. Leasing has grown in popularity to about 30% of all transactions in 2015. Once those vehicles return to the marketplace, prices should come down and used cars will become a more attractive option for consumers.
CommentsWrite a Reply or Comment: