China's passenger-vehicle sales accelerated the most in 17 months, as General Motors Co. and Guangzhou Automobile Group Co. boosted deliveries and dealers offering discounts helped clear inventories in the world's biggest auto market.
Retail sales of cars, sport utility and multipurpose vehicles climbed 23 percent to 1.6 million units in July, the biggest monthly percentage gain since February 2015, according to the China Passenger Car Association. Deliveries increased to 12.4 million units in the seven months through July.
Dealers offered discounts on models such as the Audi A4 of about 18 percent to help reduce stockpiles, according to Jochen Siebert, managing director of JSC Automotive Consulting. A gauge of inventory levels fell to an 11-month low and indicated contraction for the first time in that span, the China Automobile Dealer Association said. Keeping supplies in check is typically an indication carmakers can maintain pricing and production.
"It's very positive," Steve Man, an auto analyst at Bloomberg Intelligence, said of the drop in inventory levels. "If we do see an improvement in retail sales at the end of this year before the tax cut ends, we might see automakers in a better position to increase production and we'll see an improvement in their earnings."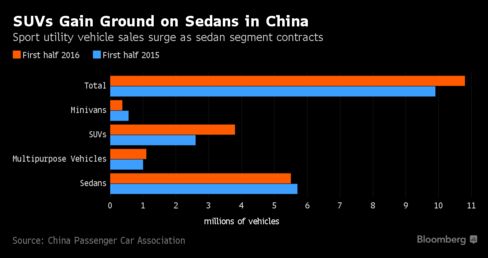 The government's purchase-tax cut on vehicles with smaller engines has helped drive demand for compact and mid-size SUVs. With increasingly affluent Chinese buyers opting for more spacious vehicles, SUVs sales grew 45 percent in July, outpacing the 15 percent expansion for sedan models.
Chinese consumers are picking SUVs over sedans as the selection of products to choose from has grown, according to Man. Pricing competition is intensifying in the sedan segment, driving down inventory levels, he said.
Deliveries for GM increased 18 percent to 270,529 units in July, while Ford Motor Co.'s rose 15 percent to 88,189 vehicles. Toyota Motor Corp.'s sales gained 5.7 percent to 97,700 units.
Guangzhou Auto's sales increased 37 percent to 131,034 units, with its SUV deliveries doubling to 64,814 units. Great Wall Motor Co. deliveries surged 49 percent to 67,295 units, while Geely Automobile Holdings Ltd.'s climbed 72 percent to 46,319 units.
— With assistance by Yan Zhang