David Einhorn: GM Battle Heats Up – Seeking Alpha
Posted: Thursday, April 20, 2017
David Einhorn of Greenlight Capital wants General Motors (NYSE:GM) to create two classes of stock, one that would pay a dividend and another that would be leveraged to GM's growth. Credit rating agencies came out against the plan, noting that it would hamper the automaker's balance sheet. In particular, the dividend shares would saddle the company with a fixed debt.
However, Einhorn notes that GM misrepresented his and Greenlight's proposal to the credit rating agencies and its shareholders. As well, GM hasn't allowed Greenlight to speak with credit rating agencies about its proposals. He and his activist investing hedge fund own 1% and have now nominated three members for the GM board.
Einhorn says that GM didn't present its two-class proposal to rating agencies, but, instead, modified it. The biggest issue that Einhorn has with the the credit-rating agencies – who say that Einhorn's plan could impact its credit rating – is that the dividend would not be fixed, as the agencies assume, but rather a flexible dividend.
Specifically, Einhorn recently noted, "The dividend is flexible. There is no inflexible cash burden. Dividends would only be owed if and when declared by the Board each quarter. That's the same as now. Undeclared dividends do not become a corporate obligation. The company has no contractual burden under our plan to pay a dividend ever."
GM altered Greenlight's term sheet and proposals before presenting to rating agencies. The dividend was framed more as a debt. In truth, Einhorn's proposal would likely have little impact on GM's credit rating or balance sheet.
Greenlight did hire its own advisers to put a blind application to credit rating agencies, without GM or Greenlight's name tied to it. Under that proposal, the agencies had no issues over the potential impact on GM's balance sheet.
But all this is just a massive distraction; selling cars should be the focus.
GM is trying to fight off Greenlight by any means necessary. The automaker has said it is worried the dual class share system would weaken its balance sheet, but the real reason is that GM just wants to focus on selling cars. Tesla (NASDAQ:TSLA), with a $48 billion market cap, is now worth more than Ford (NYSE:F) and quickly closing in on GM and Honda (NYSE:HMC) – both of which trade with market caps in the $51 billion range. With competition from the likes of Tesla's electric vehicles and the potential topping in the auto sales market, GM has more to worry about than corporate share reshuffling.
Einhorn should just buy Tesla shares and save himself the trouble. Tesla is a money-losing car maker that sells just a fraction of the cars that GM and Ford do. GM does $166 billion in revenue on 10 million in car sales, while Tesla does $7 billion in revenue and sold just under 80,000 Model S and Model X cars last year. There's an opportunity here for Einhorn to push for cost cuts and a focus on profitability? But in truth, no one will touch Tesla while Elon Musk is still in charge. An investor group is trying to push Tesla to shakeup its board, citing poor corporate governance. However, Musk has struck back, noting that this investor group should buy Ford stock given its poor corporate governance, where it has two voting classes of stock.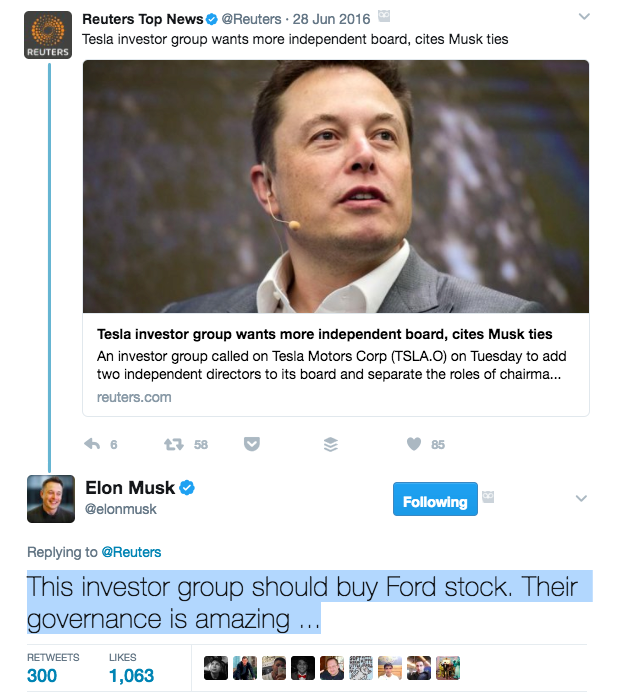 In the end, GM might be the best bet on investors looking to play the auto market. It's a solid business that sells a lot of cars. But for Einhorn, there's just not much to be done – as the dual class proposal is more a distraction for a company that makes cars. Instead, maybe there's an opportunity to overthrow Musk as Tesla or work on doing away with the dual-class structure that keeps the Ford family firmly in charge at Ford.
From a retail investor standpoint, perhaps Ford is the better play over Tesla and GM. It has plenty of profits (unlike Tesla) and doesn't have the distraction of an activist (and likely won't for a long-time given its dual-class setup). Meanwhile, Ford also has a higher dividend yield than GM. But if you believe auto sales will continue to falter, as I do, neither GM nor Ford will be safe. Instead, for investors truly looking to get exposure to the auto industry, there might be better, more diversified, bets. Best activist targets in the auto-related space look to be Starboard Value's Advance Auto Parts (NYSE:AAP) and ValueAct Capital's Allison Transmission (NYSE:ALSN).
Disclosure: I/we have no positions in any stocks mentioned, and no plans to initiate any positions within the next 72 hours.
I wrote this article myself, and it expresses my own opinions. I am not receiving compensation for it (other than from Seeking Alpha). I have no business relationship with any company whose stock is mentioned in this article.
CommentsWrite a Reply or Comment: