Fiat Chrysler: 100%-200% Upside Despite The Recent Run-Up … – Seeking Alpha
Posted: Monday, February 13, 2017
Despite the recent rally in the share price, Fiat Chrysler Automobiles (NYSE:FCAU) still offers investors a very compelling opportunity with potential upside of 100%-200% within the next 2 years, while at the same time providing a limited downside due to cheap valuation that already bakes in a recession.
Company presentation and current situation
The company is misunderstood and has been neglected for years by financial analysts who saw in Fiat Chrysler an inefficient European automobiles manufacturer, drowning in debt and over-exposed to poorly performing European markets or to emerging markets with economic difficulties.
We instead believe that Fiat Chrysler is (and has been since the Chrysler takeover) a fantastic special situation, led by the best management in the industry. Following the Chrysler takeover (bought by management basically for free, at 1x FCF), the company has transformed into a global player with various levers to improve the bottom line.
Sergio Marchionne presented a comprehensive 2014-2018 business plan that has always been considered as too ambitious and unachievable by analysts. Yet, 3 years later, the company has consistently executed on the plan, beating consensus at each publication and even raising its already ambitious financial targets.
Strategy, management and progress to date
Under Sergio Marchionne's leadership, and following the Chrysler takeover, Fiat Chrysler has developed clear initiatives to transform into an efficient and global automaker:
Develop premium and luxury brands Alfa Romeo and Maserati. This helps the company's margin expansion not only by selling higher-margin products, but also by gaining efficiency as these brands will use excess production capacity in European plants. So far, this has been a success as Maserati is now highly profitable and Alfa Romeo expanded its product line and now competes in key market segments.
Expand sales of existing brands into new markets, particularly by globalizing Jeep and Alfa Romeo. The globalization of Jeep has delivered impressive results, with the brand showing exceptional sales growth.
Develop platforms and rationalize vehicle architectures and standardize components.
Focus on cost efficiencies.
All these initiative having the same common goal of expanding margins and improving capital structure.
We also think it is important to stress that Sergio Marchionne is, in our opinion, the best CEO in the industry, with a clear focus on ROIC and performing exceptionally at capital allocation while also being a great operator. He has underlined at several occasions the need of consolidation in the automobile industry (e.g., in his "Confessions of a Capital Junkie" presentation) to achieve better efficiencies and stop the waste of capital to develop similar architectures and systems – a view we share with him, and frankly are quite puzzled that no other auto CEOs seem to agree with him.
Since taking over Chrysler, the company has achieved some impressive results and generated significant value for its shareholders:
Top-line and bottom-line have both been growing at a fast clip over the past few years, executing on the strategic pillars mentioned above.
The elimination of the Chrysler's debt ring-fencing provided the company with significant liquidity and lower interest expense.
Ferrari has been spun-off to generate cash (holding it has rewarded investors well as the decision to increase the production limit of its luxury products generated incremental earnings with almost no additional investments).
Net debt has recently been significantly reduced.
Despite all of these moves, there is still significant value to be unlocked, for instance, through the sale of the auto parts business, Magneti Marelli. While the plan laid out by Marchionne necessitated heavy investments to refresh existing products and enter new segments, the company's peak in capex is now behind it and investments should significantly be reduced in the next 2 years, allowing the company to generate some $10 billion in free cash flow.
Valuation
Investors are currently paying 6x 2016 EPS and 2x 2018e EPS for Fiat Chrysler. We acknowledge that automobile is a no-moat, capital-intensive industry; yet we do not believe that it makes sense to value automobile manufacturers as if they were going bankrupt – especially best-in-class ones.
Part of the reason for this low valuation is that analysts are worried about (1) the level of debt of the company (which we will develop later), and (2) peak SAAR in the US.
While a collapse of US auto sales is always possible, we do not see it as a likely event in the near future. As shown in the auto sales chart below, the level of sales is just back to 17-18 millions of vehicles per year, which is a level of sales the industry has consistently maintained over the 8+ years leading to the 2009 global financial crisis.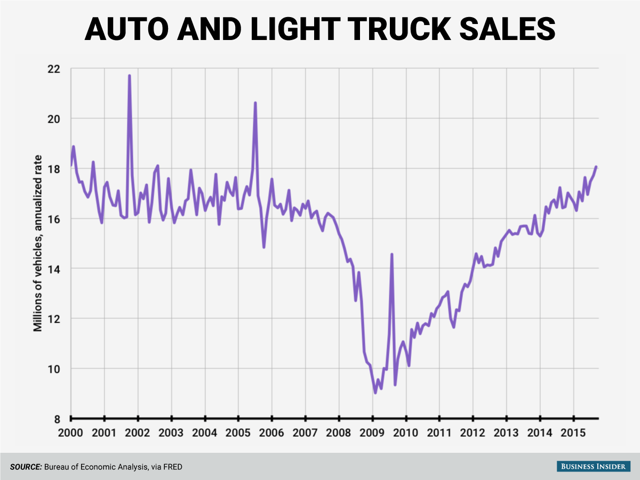 In fact, when looking at a broader horizon, the last time auto sales took a dip as important as in 2009 was in 1991. The auto market then recovered and maintained high level of sales from 1991 to 2009 – an 18-year period.
What also gives more weight to this argument is that the low auto sales level between 2009 and 2014 means that there is still a lot of catch-up to do. The average age of vehicles on the US roads keeps hitting new highs, now at 11.6 years.
While analysts think that auto sales have peaked and will significantly drop, we believe that they will plateau at 17-18 million for many years – provided of course that we do not experience a major recession such as the 2009 financial crisis.
Looking at the current valuation versus its US peers, FCAU is trading at the same level as General Motors (NYSE:GM) (which we believe is also very cheap), despite having the highest potential to develop its earnings by closing the margin gap it has with its US peers. Indeed, we think it is important to stress that the argument to invest in Fiat is not an acceleration of sales. What has been happening over the past few years under our eyes was the transformation of a local, inefficient, and mass-market manufacturer into a global, efficient player focused on higher-margin segments. The plan the company is executing is simply to close the current margin gaps versus large automakers.
Another way to look at valuation is through a simple sum-of-part analysis. Just Maserati and Magneti Marelli, which generated less than 13% of FCAU 2016 EBIT, could be worth roughly 50% of today's market capitalization (and almost 75% a few months ago). For reference, discussions for the sale of Magneti Marelli have been taking place and Sergio Marchionne is only going to sell it for more than $3 billion (almost 20% of the current market cap for a division generating only 6% of total EBIT).
If FCAU hits its €4.1 2018 EPS target, we see upside of 100%-200% at a PE of 4.0x to 6.0x – not a stretched valuation by any means, even for an automaker; particularly less so for the debt-free company Fiat Chrysler will be in 2018.
Conclusion
We expect FCAU to keep delivering on its plan and to expend its margin through a combination of volume growth (globalization of Jeep and Alfa Romeo), margin expansion (closing gap vs. US peers in North America, localizing production, and focusing on higher-margin SUVs and premium vehicles), and better balance sheet (debt reimbursement resulting in lower interest expenses).
These improvements are expected to lead to significant FCF creation over 2017 and 2018, allowing the company to eliminate its debt and be in a net cash position by 2018.
While we could see more of the same, with the stock being flat or down after handily beating expectations on quarterly release (as it has been the case for years now), we believe that investors will sooner or later have to re-rate the stock once it is debt free. If not, we can count on both Sergio Marchionne and the controlling Agnelli family to take actions that will drive the stock higher, whether through aggressively repurchasing shares or paying a dividend.
Disclosure: I am/we are long FCAU.
I wrote this article myself, and it expresses my own opinions. I am not receiving compensation for it (other than from Seeking Alpha). I have no business relationship with any company whose stock is mentioned in this article.
CommentsWrite a Reply or Comment: