Fiat Chrysler Automobiles NV is under investigation by U.S. authorities amid allegations that the maker of Dodge and Jeep vehicles inflated sales figures. 
Fiat Chrysler is cooperating with investigations by the Justice Department and the Securities and Exchange Commission into the reporting of vehicle sales to customers in the U.S., the company said in a statement Monday. 
Bloomberg News reported earlier that prosecutors had opened a criminal investigation of the company for potential securities fraud, according to people familiar with the matter. The Justice Department inquiry is in an early stage, according to two people, who asked not to be identified because the investigation is confidential.
The federal investigation follows civil lawsuits that challenged the company's sales numbers. In a suit filed in January, two Chicago-area dealerships that operate under the Napleton brand name alleged that the company inflated its U.S. car sales by paying dealers to report selling more vehicles than they actually did.
"In its annual and quarterly financial statements, FCA records revenues based on shipments to dealers and customers and not on reported vehicle unit sales to end customers," Fiat Chrysler said in the statement. Spokesmen for the Justice Department and the SEC declined to comment.
QuickTake Q&A: How Detroit Is Dealing With Cleaner Car Standards
Fiat Chrysler shares fell 1.9 percent to 6.09 euros at 9:11 a.m. in Milan. The stock has tumbled 29 percent this year, valuing the company at 7.84 billion euros ($8.67 billion).
The Federal Bureau of Investigation on July 11 visited the homes of the nine people who run Fiat Chrysler business centers across the U.S. and are the managers who directly interact with dealers, according to Steve Berman and Tom Loeser, lawyers at Hagens Berman Sobol Shapiro LLP who represent the Napleton dealerships.
"Those are the people who would've have had conversations about reporting inflated sales inventory and then getting it credited back," Loeser said.
Record Sales
A criminal investigation could deliver a blow to the company, which has posted record vehicle sales since Fiat acquired full control of Chrysler in 2014 through a government-backed bailout that brought the third-largest U.S. automaker out of bankruptcy in 2009.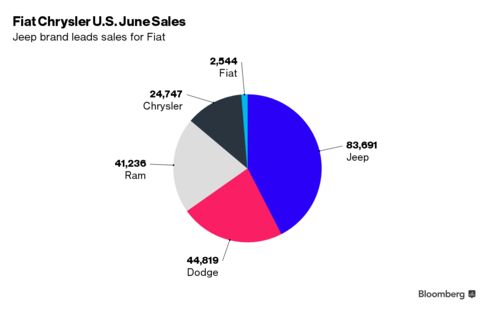 In December, Fiat Chrysler said it had the best month of U.S. sales in the company's 90-year history with 217,527 vehicles sold — recording its 69th consecutive month of year-over-year sales gains. That performance was challenged in a private lawsuit filed the following month by Napleton dealerships in Illinois and Florida. 
They alleged that the sales were padded through a scheme by which dealers — sometimes unbeknown to their owners — were paid to create false New Vehicle Delivery Reports. Similar claims were made in a 2015 lawsuit filed by a dealer of Fiat Chrysler-owned Maseratis.
The lawsuit alleges that in June 2015, a Fiat Chrysler district manager in Illinois asked one of its dealerships to falsely report 40 vehicles as sold in exchange for a $20,000 payment. The money would be credited to the dealership's account as "cooperative advertising support," according to the complaint.
Fiat Chrysler would then allow dealers to back out of the sales at the beginning of the following month before a factory warranty on the vehicles could be processed, the complaint alleges.
Fiat Chrysler, in a Jan. 14 regulatory filing, said an internal investigation had concluded that the padding allegations were baseless and that the lawsuit was "nothing more than the product of two disgruntled dealers."
A federal judge in Chicago is considering Fiat Chrysler's request to dismiss one of the lawsuits while a judge in Brooklyn is deciding whether to merge two other cases.
Similar Claims
Fiat Chrysler isn't the only carmaker accused of boosting sales numbers by getting dealers to inflate their figures. Similar claims have also been made against BMW AG for paying its dealers as much as $1,750 a vehicle in December to put new models in their service fleets, the cars that owners use when their vehicles are being worked on. Dealers booked the sales immediately, and the deliveries helped the company hit its target, people familiar with the practice told Bloomberg News in February. 
BMW beat Lexus for the year by about 1,400 cars and Daimler AG's Mercedes by almost 3,000, setting a record for its U.S. sales, according to Autodata Corp., a research company. BMW has said it sometimes gives dealers incentives to refresh their loaner fleets with new cars, which it says is an important part of its marketing plan.