Fissures At Ford Credit – Seeking Alpha
Posted: Monday, April 17, 2017
With David Einhorn taking an activist position in General Motors (GM), auto sales slowing down, Tesla (TSLA) becoming more valuable than everyone else, and sub-prime loans starting to show weakness there is significant attention being paid to the auto industry. Like housing markets, many view auto sales as a reliable indicator of the overall health of the economy.
Investors are rightfully worried about the industry, especially when it comes to auto loans. Cracks have begun to form on the surface and auto loan demand is slowing while standards are being raised.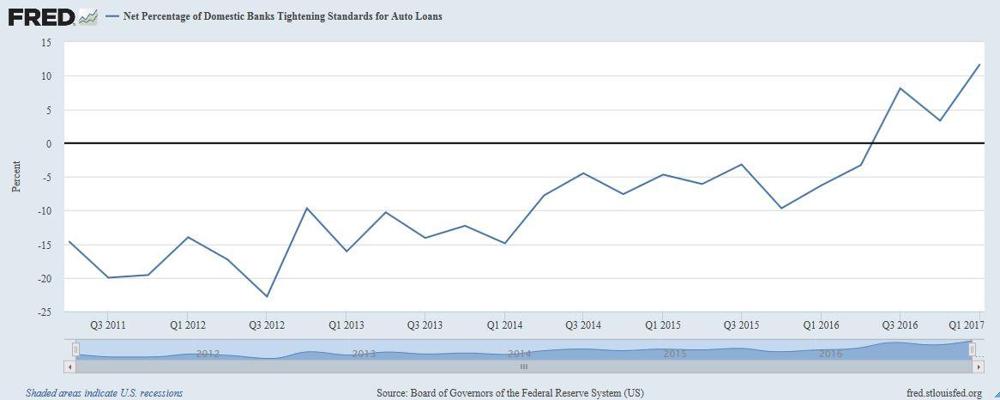 (Source: FRED St. Louis)
As demand dries up and standards are increased the next logical step is fewer cars being sold and financed and auto maker's profits falling.
This presents multiple problems for Ford Motor (F) who sells vehicles and has a captive finance arm with Ford Credit. In 2016 alone Ford Credit produced nearly $1.9 in pre-tax profit for the company, less than the $2.1 billion it generated in 2015 but a significant figure nonetheless. Sales for 2016 were also relatively strong for the industry, breaking many records. All signs point to a down 2017, and Ford is even cautioning toward that with lowered profit guidance and just $1.5 billion in pre-tax profit from Ford Credit.
This all puts Ford Credit in a seemingly precarious position. Luckily for us the company has been reporting the operating results of Ford Credit separately from Ford Motor since the first quarter of 2016 (and even before that but as "Fixed Income") and recently has been holding a separate conference call as well. This gives us a unique insight into the operation and what effect it has. Unfortunately for investors the metrics are not headed in a favorable direction.
Stressed Out
One does not have to look very hard to find some problems beginning to come to the surface for Ford Credit. Turning to the full-year 2016 and Q4 Ford Credit slide deck provides plenty of information.
The quarterly results aren't catastrophic by any stretch, but they aren't encouraging either.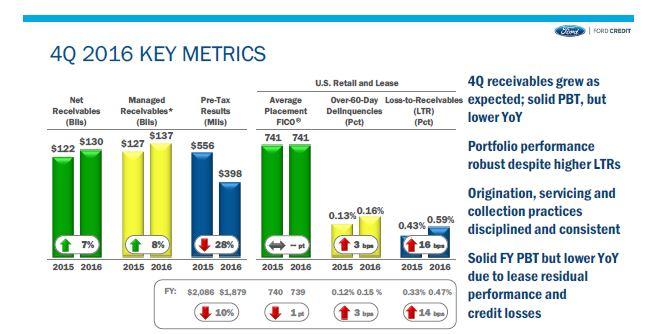 If we take a step back and look at 2016 compared to 2015 it isn't quite as drastic. Quarter over quarter will usually appear a little more lumpy, but in this case it seems like Q4 was the cause of much of the 2016 pain.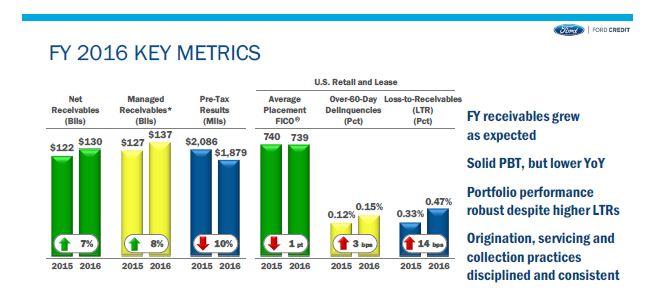 Notice the rising 60-day delinquencies and loss-to-receivables for the year. These figures are being driven higher by the poor used-car market (especially for smaller cars) and lease turn-ins picking up steam, both well known narratives being extolled today. The ball is rolling down hill, as evidenced by this next slide.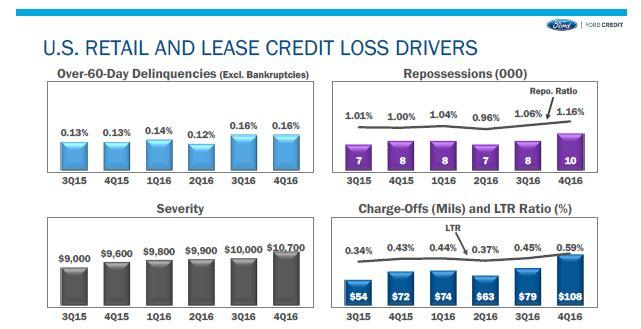 No good news unless you want to consider the stabilization of 60-day delinquencies as something good. Severities and Charge-Offs are increasing dramatically as well. Repossessions, which for so long seemed stable, have risen by ten basis points.
What is most discouraging about these metrics is that there is no reason for them to stop getting worse, in fact they appeared to have just started deteriorating in a meaningful way. Consumer credit-card debt just topped $1 trillion, and American families are leveraged more than they have been since before the financial crisis. With rates rising, albeit slowly, credit liquidity will continue to get squeezed. Those 0% APR promotions that compelled buyers into showrooms will be harder to justify as the cost of credit goes up and the company is still eating that cost on previously issued terms.
Ford Credit is planning for increased pain, and thusly have increased their worldwide Credit-Loss Reserves to $548 million compared to the $422 million they had at this time last year. That is one bright spot; Ford Credit is well capitalized with $10.8 billion in cash on their balance sheet and $27 billion in available liquidity, more than enough to get through this trough.
Is This Being "Baked In?"
Shares of Ford are hovering just above their 52-week lows at $11.11 as I finish this up. This creates an interesting prospect, considering the company also yields 5.4% now. Many investors are worried about the dividend, but with $12.8 billion in FCF in 2016 and total dividends paid of $3.4 billion it is well covered almost four times.
Other investors are worried Ford has become a value trap. Analysts estimate Ford will produce $1.57 in EPS for 2017 making today's price just 7 times those earnings. Of course we should be aware that analysts estimated about $1.80 in EPS for 2016 and the company generated just $1.15.
Looking at Ford Credit, even with the increasing issues, I'm reminded that the company is selling lots of cars and still generating more profit than loss, much more. Pessimism seems to be incredibly high as well, and the auto industry doesn't exactly have a rosy past when the going gets tough.
For my money, Ford is becoming all the more attractive especially when looking at the rest of the market and its valuation. And with Ford yielding a solid (for now) 5.4% and the 10 year yield dropping to 2.23%, that 320 basis point spread is attractive and makes the risk/reward all the more compelling. Now may be a good time to take a good look at Ford.
I hope you all got something out of this article. I do appreciate the time you took reading it. If you are one of those who follow me here, I appreciate it; if you'd like to include yourself amongst those individuals, please hit the "Follow" button next to my name as well as following other contributors whose work you enjoy. As always, please leave any feedback and questions you may have in the comments below. Best of luck to you all.
Disclosure: I am/we are long F.
I wrote this article myself, and it expresses my own opinions. I am not receiving compensation for it (other than from Seeking Alpha). I have no business relationship with any company whose stock is mentioned in this article.
CommentsWrite a Reply or Comment: