Ford: How Low Can We Go? – Seeking Alpha
Posted: Thursday, April 20, 2017
Ford Motor Co. (NYSE:F) is a stock of many colors. On the one hand, it's super cheap. It's also paying an incredible dividend of over 5%. On the other hand, auto sales and the company's own guidance indicate issues in the future.
Yield makes up for iffy sales
US auto sales fell by 1.6% year over year in March while sales incentives increased 13.4%. Of the Big 3, General Motors (NYSE:GM) was the only one that managed to avoid the slowdown with a 1.5% increase. Ford's sales fell 7.2%. In comparison, Toyota's (NYSE:TM) fell 2.1%, Honda's 0.7%, and Fiat-Chrysler fell 4.6%. Ford's decline was blamed to a degree on a falloff of Corporate and fleet sales. To me, sales are sales. The year is not starting out on the right path.
Make no mistake, I think Ford is about to have a pretty lousy year. Auto's in general are one of the most cyclical industries that exist. It's not the most shocking thing. We've had a car cycle that's included record sales in recent years; so it wouldn't be crazy to see a dip develop. In that chaos, Ford will likely present some nice opportunities for investment.
The current auto shift is interesting. It's being affected by different economic conditions and consumer demand. While small cars are taking a big hit, trucks and SUV's are going strong. That's a turn of fate from a few years back. The demand is probably due to lower fuel costs and an otherwise more stable economy. On this end, Ford stands to benefit in the F-150 department. Golly those things sell. The F-Series had a 10% increase year over year for March. Unfortunately the increasingly tough turnover in car inventory will likely affect profits regardless.
I see the auto industry as a whole, not just Ford, facing much leaner profits as they're forced to increase incentives on car segments. Even worse, discounts don't seem to be helping Ford push sedans. Sales of the Ford Fusion dipped more than 35% in March. The sedan segment is back to early 2000's. People want to buy SUV's and the dreaded crossover again. As carmakers work to shift their production to keep up with the shift in demand, these cars are going to end up selling at tough margins if they want to clear inventory.
We're not looking at a repeat of 2008. Ford, and GM for that matter, have so much cash on the books that barring some massive economic collapse, they're going to be alright. If however Ford puts out another loss like Q4'16, that already cheap stock price will get even cheaper.
As an investor
For current shareholders, I think that 5.3% dividend is enough to hold onto your position. You're in this one for the long game and with over $30 billion in cash on the balance sheet, I don't think Ford will really try to get rid of the dividend. It keeps too many investors interested in an otherwise boring stock.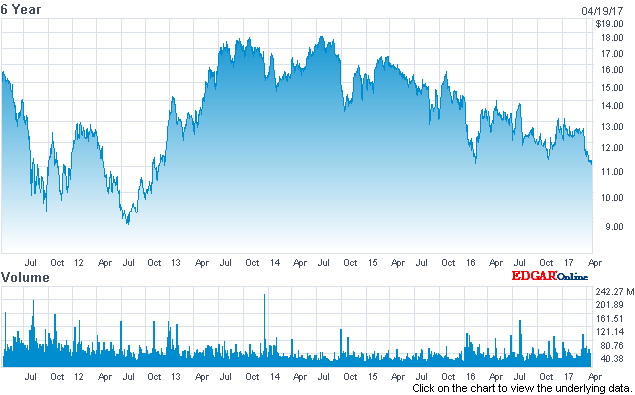 For those looking at Ford as a potential buy, I personally don't think we're there yet. The stock has showcased volatility in the last decade. I doubt will suddenly stay steady with slowing sales. Buying now for that 5.3% yield wouldn't be bad; but a lot more could happen. If things slip more then Ford's pricing could become ridiculously attractive for those looking for the ultimate "buy and hold".
Disclosure: I/we have no positions in any stocks mentioned, and no plans to initiate any positions within the next 72 hours.
I wrote this article myself, and it expresses my own opinions. I am not receiving compensation for it (other than from Seeking Alpha). I have no business relationship with any company whose stock is mentioned in this article.
CommentsWrite a Reply or Comment: