Ford Is About To Get Ugly – Seeking Alpha
Posted: Monday, April 17, 2017
One of the most important aspects of trading and investing is solid risk management. This includes admitting that you are wrong or might end up being wrong. That being said, I am afraid that my most recent Ford F breakout call is going to be revised entirely.
Article: Ford: Breakout Ahead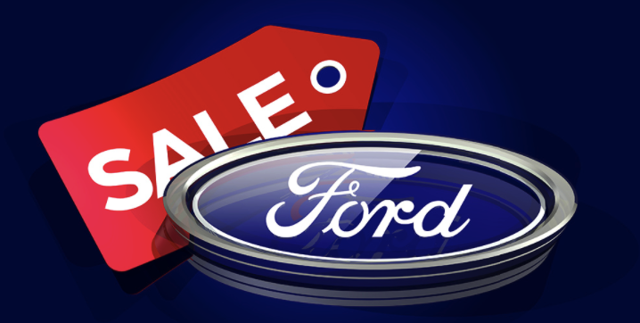 Source: Norebbo
My bull case is not turning out to be right. Major economic indicators are failing to follow leading indicators, which caused the stock to drop towards a breaking point.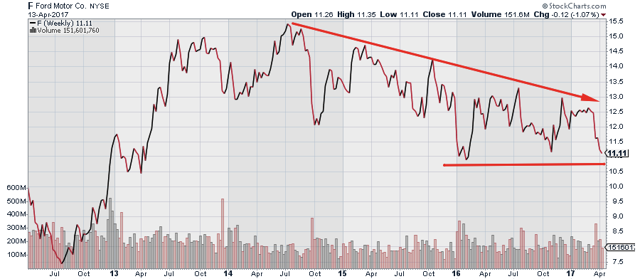 Ford is remaining within a strong downtrend since the growth peak of 2014 while ignoring growth acceleration since the third quarter of 2016. The only thing that accelerated is the stock price's speed towards the support line.
The fact that domestic auto sales are breaking down is the biggest force behind Ford's trouble. Domestic car sales are back at 2011 levels after accelerating to the downside in March.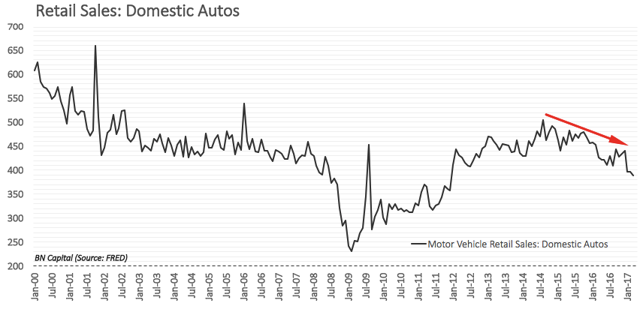 Unlike many other cyclical indicators like total retail sales, industrial production and durable goods orders, we cannot say that domestic autos are recovering unfortunately.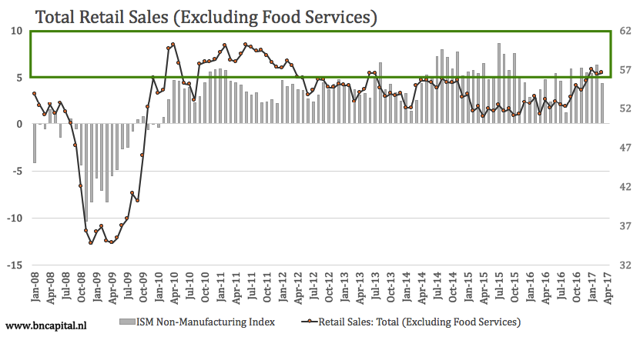 Looking at the year-on-year growth rates of domestic autos and heavyweight trucks, we see that the industry has entered contraction in the first month of January. Periods like these are toxic for stocks and often result in extended downtrends.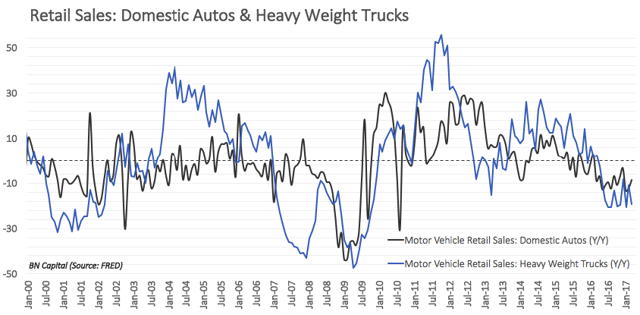 Severe breakdowns are not uncommon during these periods. Especially not because Ford is no high-valued technology stock that is expected to lead the next automotive revolution. The stock has simply no other choice than to follow the consumer. In other words, cyclical forces trump secular trends.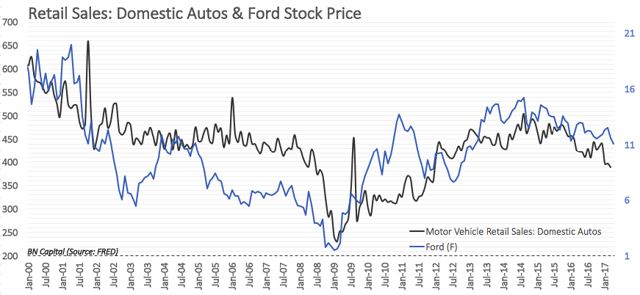 One of the reasons why car sales are weakening might be the health of the US consumer. At least in terms of high ticket items like cars. In February, Forbes wrote the following:
More Americans fell behind on their car loan payments in the fourth quarter, bringing auto delinquencies to their highest since the height of the financial crisis, Federal Reserve Bank of New York data released on Thursday showed.

Car loans delinquent by 30 days or more grew to $23.27 billion, the most since $23.46 billion in the third quarter of 2008. They were up from $22.98 billion in the prior quarter.

– Forbes (02/17/17)
Another thing that adds to these worries is the rising auto inventories/sales ratio. There are more than 3 cars in inventory for every car sold in the US. This is the highest level since the recession and could add to lower orders for car manufacturers going into the second and third quarter of this year.

Last not but least, we could see some more trouble on the demand side. Mostly when it comes to expected demand. This is because Trump's healthcare bill failed and was pulled before the actual vote even started. This means two things regarding the tax cuts and infrastructure plan as I wrote in previous articles.
less savings for the big infrastructure and tax plan and…
… a delay since he mentioned to put healthcare first.
This is bad news at a very bad time due to the fact that the consumer needs some relief from high debt to make new high ticket purchases like cars.
Conclusion
I was terribly wrong and had to cut my entire Ford position. I ignored the rising trouble in the car industry. Car loan delinquencies are rising while sales are contracting since the first month of 2016.
This in combination with a smaller and delayed tax cut program, means that car manufacturers are likely to get much lower orders over the next few months. This is also caused by the already high inventories/sales ratio for car dealerships. This environment doesn't justify an accelerating production pace.
I'm afraid that the odds are extremely high that we are going to get a stock price breakdown over the next few weeks. That being said, I advise short/mid-term traders to sell the stock. You won't make any alpha on the long side. The odds are just too low with the risk of serious losses.
However, I know that many of my readers are long-term traders. The info in this article does not mean that Ford is going bankrupt or anything close to that. Just hold the stock if you are in for the long run. You just have to expect some unrealised capital losses and see if you have handled it given your own risk management and trading plan.
Many thanks for reading my article. Please leave a comment below if you have questions, remarks or a different opinion. You can also send me a direct message or email. Also make sure to always follow your own risk management.
Disclosure: I/we have no positions in any stocks mentioned, and no plans to initiate any positions within the next 72 hours.
I wrote this article myself, and it expresses my own opinions. I am not receiving compensation for it (other than from Seeking Alpha). I have no business relationship with any company whose stock is mentioned in this article.
CommentsWrite a Reply or Comment: