Ford Is Cheap Enough To Reflect Bad News – Seeking Alpha
Posted: Tuesday, June 07, 2016
I've never been a big fan of auto stocks. High capital requirements, volatile cycles, and inflexible cost structure make them very unpredictable investments. From a macro perspective, we know that economy goes through cycles, and so it shouldn't surprise you that auto sales are slowing down. I've warned investors about a potential downturn in the auto sector before, and it would appear that the next cycle is finally taking form.
The media has been quick to call this slowdown the beginning of the next crisis. I would hesitate to call it a "crisis," but the softness in the auto market can be worrying to some.
It's not a good idea to make investment decisions based on short-term fluctuations, but we must accept that different companies react differently to downturns. If the cost structure is flexible, then a company can absorb the impact of short-term headwinds. On the other hand, if you combine Ford's (NYSE: F) inflexible cost structure with its thin margins, you've got a recipe for disaster.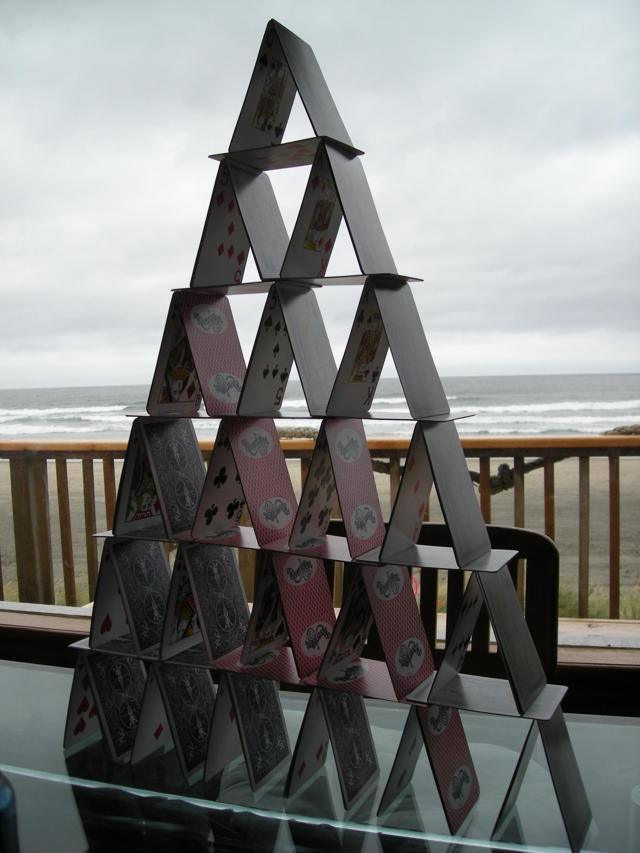 Click to enlarge
Ford's stock?
Source: Wikipedia
I know I've sounded bearish thus far, but I am not here to say "I told you so;" in fact, I believe that Ford's future sales decline should have little effect on the stock. Common sense tells us that there is nothing worse than buying at the top of a business cycle and selling at the bottom. But what if I told you that even though sales may experience negative growth in the near term as the cycle turns, the stock will not?
Auto Cycle Vs. Ford's Stock
You may be confused as to why the market has been punishing auto stocks despite strong results. By traditional metrics, Ford is cheap. It boasts a TTM P/E ratio of 6x and has a TTM ROE of 32%. Why is the market not recognizing Ford's value? I believe that the market is still spooked by what happened at the bottom of the last cycle; hence, investors are assigning a substantial discount to Ford to account for future downturns. This certainly frustrates bulls, who tend to extrapolate recent results (which were great) into future periods. However, in light of an impending "crisis," this discount may just help shareholders by reducing volatility.
In a perfect world, security prices would appreciate in a straight line, as there would be no future uncertainty. In the real world, however, there is a lot of uncertainty, which is why stocks fluctuate. However, the market tries its hardest to reflect future events in the current price. Because there is an expectation of a correction, the current discount is justified.
Very few foresaw the recession, because it came so suddenly. Now that we've learned our lesson, everyone is smarter about highly cyclical stocks like Ford. In some ways, price action following the May sales announcement shows that the market has become a lot more rational. Despite having reported one of the worst declines in recent history, the stock barely budged. Just as the stock market did not recognize the massive growth that Ford has achieved in previous months, ranging from a growth of 4% in April to a growth of 20% in February, the market did not pay attention to the significant decline in May. Since the announcement, shares have been essentially flat at $13.
Takeaway
Even though falling sales will decimate profits (read Think Twice About Ford) due to an inflexible cost structure, the current valuation is cheap enough to reflect such a scenario. However, this also means that the P/E ratio may suddenly become high or even negative. In such a case, keep in mind that short-term results should not significantly impact Ford's long-term value. If the stock does make sudden movements (though I fail to see the rationale given the market's subdued reaction to May's sales), then you should seize the opportunity and act accordingly.
Question for readers: Given all the auto stocks out there, why made you choose Ford over others? What do you think of GM (NYSE:GM)?
Click the "Follow" button beside my name on the top of the page to be updated with my latest insights. To learn more about the V20 Portfolio (+40% in 2015), whose goal is to compound capital at 20% over the long term, I encourage you to read the introduction to my investment process. Premium subscribers get full access to the V20 Portfolio. You can follow my latest updates, available to all, here.
Disclosure: I/we have no positions in any stocks mentioned, and no plans to initiate any positions within the next 72 hours.
I wrote this article myself, and it expresses my own opinions. I am not receiving compensation for it (other than from Seeking Alpha). I have no business relationship with any company whose stock is mentioned in this article.
CommentsWrite a Reply or Comment: