The union representing about 23,000 workers at the Detroit Three automakers in Canada will target the company with the best investment plans as it tries to stem dwindling production north of the border.
Unifor will choose among General Motors Co., Ford Motor Co., or Fiat Chrysler Automobiles NV in labor negotiations starting Wednesday with the aim of reaching a deal for the remaining carmakers to mimic in a process known as pattern bargaining. While the United Auto Workers union in the U.S. typically picks the strongest company first to reap better wages and benefits, Unifor President Jerry Dias said he's looking for only one thing.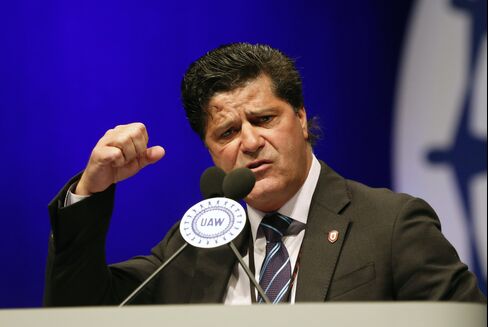 "It's plain and simple," Dias said in an interview at Bloomberg's Toronto office. "Without investment and new products for our plants, there is no future for the Canadian auto manufacturing industry. We'll negotiate with whoever can guarantee that."
The union will select a target company in early September after considering proposals from the automakers this month, it said in a statement Monday.
The negotiations come as major automakers have taken production to countries such as Mexico in recent years, where lower labor costs and access to other trade agreements make for an attractive manufacturing hub. Canada has been hit particularly hard by the shift, despite near-record North American auto sales and a weaker Canadian dollar that should boost the nation's competitiveness.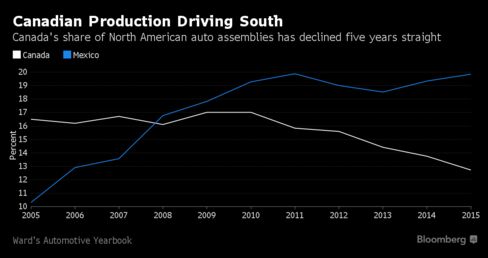 Canada auto output fell to 13 percent of North America production last year from about 17 percent in 2009 while output in Mexico has risen to about 20 percent, according to data from Ward's Automotive Yearbook. Canada lost more than 53,000 automotive jobs from 2001 to 2014, according to a study by the Automotive Policy Research Centre.
Key Plants
The negotiations cover contracts at GM's Oshawa assembly plant, Ford's Windsor engine factories and Chrysler's Brampton assembly plant, all in Ontario, which expire on Sept. 19. Those facilities are the focus of the talks, as GM's Oshawa plant plans to shutter one of its two production lines next year, trimming 1,000 jobs, and doesn't have new vehicles scheduled past 2019. Ford's Windsor factories are also running on borrowed time after losing out to Mexico on a new engine program that would have created 1,000 jobs, Dias said.
"There is no doubt in my mind that GM plans on closing its Oshawa plant and we won't let that happen," Dias said. "Our feet are set in concrete. We need to know we are getting new products for our plants." The union is prepared to strike if the two sides can't reach an agreement in the talks, he said in an interview with Bloomberg TV Canada.
Seek Concessions
While Unifor is asking for new-product mandates before leaving the table, GM Canada President Stephen Carlisle has repeatedly stated that the company will not commit to anything until the negotiations are finished.
"One key milestone is that we must complete our 2016 union contract negotiations before we can make any final decisions," Carlisle said in a statement last year. A spokesman for the company declined to comment further.
Ford and Fiat Chrysler also haven't allocated new investments or products to their Ontario plants. Both companies also declined to comment on future plans for the factories.
Don Walker, chief executive officer of Magna International Inc., North America's second-largest auto parts maker, said in an interview with Bloomberg on July 27 that GM is likely looking for concessions from the union.
Higher Costs
Canadian auto workers earn $30 per hour on average while their Mexican counterparts make less than $6 an hour, Bloomberg Intelligence auto analyst Kevin Tynan wrote in a research note earlier this year. Their peers in the U.S. made close to $28 per hour on average last year, according to data released by the Bureau of Labor Statistics.
Unifor members have not had a wage increase in almost a decade, said Dias. Considering the UAW struck a lucrative deal that saw across-the-board raises for its workers with the Detroit Three last year, "there is no room for any concessions in that area," Dias said. He added wages only make up about four percent of automaker costs.
That puts the union in a bind, said Tony Faria, co-director of the Office of Automotive and Vehicle Research at the University of Windsor. "It's a game of chicken right now and the automakers hold more of the bargaining chips," he said.
'Stunning Loss'
A strike won't meaningfully hurt the bottom line for GM or Ford because models on the assembly lines at the Oshawa factory and Windsor engine plants can be produced elsewhere and are already being shifted out of those facilities, he said.
"On the other hand, if a plant like Oshawa is closed, that would be a stunning loss for the economy and the union," Faria said. Its closure would immediately affect about 22,000 jobs in Ontario and would cost more than C$926 million ($760 million) in provincial and federal tax revenues within the first year, according to a 2015 study by the Centre for Spatial Economics, prepared for Unifor.
One thing both parties can agree on is the need for more help from the government. Industrial electricity costs in Ontario are among the highest in North America, according to the Association of Major Power Consumers in Ontario. And the lack of auto incentives from the former federal Conservative government has greatly hurt the country's competitiveness, Dias said.
"That's one area we're lacking in that all parties have been working on together," said Dias. "Everyone's got to put their best foot forward right now."
(Updated with selection date in paragraph 4)