GM Stops Following The Wrong Metrics – Seeking Alpha
Posted: Tuesday, May 30, 2017
General Motors (NYSE:GM) recently announced its retreat from another major market. The decision by GM's management to stop selling cars in India looks like a major failure on first look. However it should be noted that the company was present in India for over two decades and still had only 1% market share. India is known to be one of the most competitive markets for automakers where customers are looking for low-cost but feature-rich vehicles.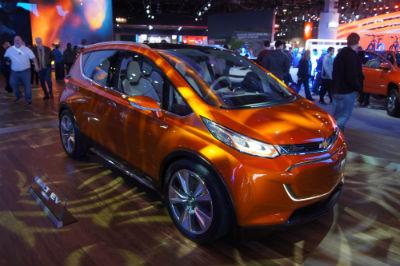 More importantly, in the past few quarters Tesla (NASDAQ:TSLA) has shown other automakers that appreciation of market cap is not directly dependent on global scale and the ability to sell millions of vehicles annually. The market is increasingly placing more importance on the level of lead an automaker has in electric vehicles, autonomous driving, ride-sharing and other newer trends. Although the Indian market is set to boom in the next decade, it is highly debatable if GM would have been able to carve a niche in this highly competitive market and more importantly if it would have led to any significant value creation for its stock.
Smart retreat or rout?
In the past two years GM has abandoned a number of markets. In 2015 it almost exited Russia, Indonesia and Thailand, focusing only on selling low-volume SUVs. In early 2017 it sold its operations in East Africa to Isuzu. In March it exited Europe by selling Opel to PSA Group. In April it exited the Venezuelan market when its factory was seized. Finally in the last week it has announced that it will stop selling cars in India and sell off the operations in South Africa by year end.
Most of these markets might look as big future opportunities but their current contribution to GM's bottom-line was minimal. In Europe it sold Opel where it had 6% market share. In comparison the market share in India was even lower at 1% even after years of patience by GM.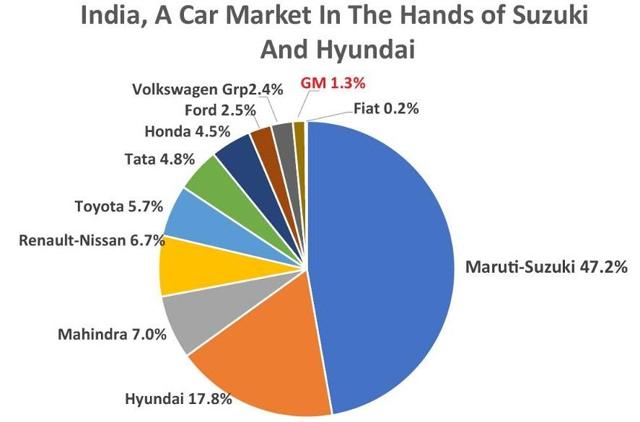 Close to two-third market share is cornered by market leader Maruti-Suzuki and Hyundai. Even domestic manufacturers like Tata Motors (NYSE:TTM) (Owner of Jaguar Land Rover) have found it difficult to increase its market share in India despite launching low cost options. Renault-Nissan has seen some success in the Indian market with the launch of models like Renault Kwid which have a starting price of $4,100. In comparison, the cheapest GM option in this market is Chevy Beat with a price tag of $6,100.
It should be noted that even after retreating from these markets the impact on sales will still be miniscule for GM. Last year it sold close to 10 million vehicles, of which three-fourths were sold in its two main markets: China and North America. The operating margin in these markets also is close to its long-term target of 9-10%. GM also sells over half a million vehicles in South America. It has over 15% market share in this region and is looking to build a new low-cost vehicle platform for this region which will help cut costs and improve profitability.
Even after exiting all these markets, GM will still boast of sales of over 8.5 million vehicles. It also will see improvement in its margin as it leaves the unprofitable markets of India, Africa and Europe.
Focus on future trends
Exiting markets is a tough decision for the management as it leads to a lot of questions about their ability to bring future growth. The rapidity with which GM has exited these markets shows the change of focus by GM's management. Instead of trying to patiently gain market share in other geographies, a leaner GM would be more successful by bringing newer auto trends to its main markets.
Putting too much faith in dividends and buybacks will not be sufficient for GM to give a bullish momentum to its depressed stock. Its management would need to take decisive steps within EV market and also aggressively push on the autonomous driving front. Sales of Bolt have fluctuated between 900 and 1,300 in the last four months. We should see a jump in the sale as it is rolled out in other states by the end of next quarter. It would also be important to see how it performs against Model 3.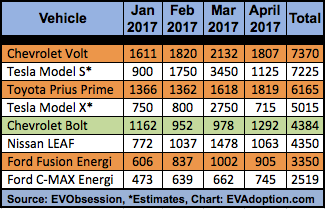 Currently the market is valuing GM for a worst-case scenario. This scenario would include rapid decrease in sales volume, negligible growth in the EV market, poor performance of its autonomous driving efforts and poor management strategies. The company has made decent progress in both EV and autonomous driving.
Although exiting from a few markets will certainly reduce their sales volume, but the impact on the bottom-line will be minimal as they were unprofitable markets. GM stock looks like a good bet considering the low valuation, high yield, buybacks and aggressive efforts by the company to invest in future growth areas.
Investor Takeaway
GM has rapidly exited several markets in the past few months. This can be profitable for GM as it will allow the management to focus on key markets and future trends. GM's market share in India was close to 1% despite having put over two decades of effort in this highly competitive market.
As Tesla has raced past GM in the terms of market capitalization in the last year, we can see that the market is putting premium on technological lead and future EV growth instead of current earnings. In this scenario it was ideal for GM to focus on only key markets where it has sizable market share and invest in future technologies rather than waiting and investing for years in other geographies. At the current valuation GM has a lot of room for growth especially as it ramps up the production of Bolt and catches up with its competitors in autonomous driving.
Disclosure: I/we have no positions in any stocks mentioned, and no plans to initiate any positions within the next 72 hours.
I wrote this article myself, and it expresses my own opinions. I am not receiving compensation for it (other than from Seeking Alpha). I have no business relationship with any company whose stock is mentioned in this article.
CommentsWrite a Reply or Comment: