Great News For Ford Shareholders – Seeking Alpha
Posted: Tuesday, December 08, 2015
Summary
We have been monitoring Ford's progress nonstop for more then the last year.
We believe the company's success will be determined by its international expansion and eventual profitability.
November metrics from China show that the rubber may finally be meeting the road.
By Parke Shall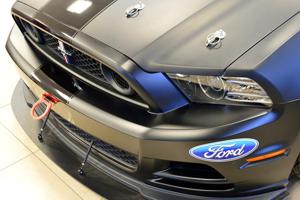 If you're a Ford (NYSE:F) long and you're looking for some good news, look no further. The automaker continues to head in the right direction moving into the end of 2015 and getting ready to start the new year.
We have been bullish on Ford for the better part of the last year, and we have laid out our keys for the company in numerous articles that we've written, following the company's performance in between its scheduled quarterly financial results. We have looked at auto registrations and we have looked at monthly sales, both domestically and internationally painting picture of how Ford's business operates on a month by month basis.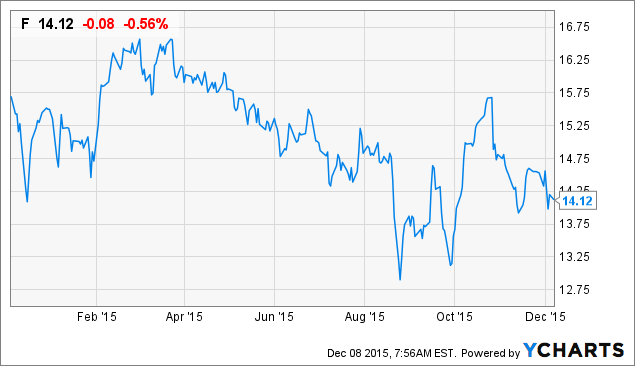 F data by YCharts
From a overview standpoint, we think that Ford stock will appreciate meaningfully once some of the company's international investments begin to pay off and the company sees the affects in its bottom line. Right now, the company is still at a stage where it is investing considerably in itself, as opposed to return capital to shareholders or building up cash. This is easily confirmed with the company's recent spending initiatives in both India and China, two extremely densely populated areas that will play huge role in Ford becoming an international success.
As Ford continues to invest in China, the returns are starting to show progress. Yesterday, Ford bulls received positive reiteration that the company's plan is working, as Ford's November auto sales for China were record-setting and gaining ground on competitor General Motors. Here is what the report from Business Financial News said,
Ford Motor Company (F) is reaching $1 million in revenue having sold 106,283 vehicles in China over the past month.

Year-to-date (YTD) deliveries in came in at 990,356 units. Sales during the month surged 9% year-over-year (YoY) with 22% growth in Changan Ford Automobile (CAF). CAF deliveries reached 84,546 up from 69,189 units last year. YTD sales for CAF climbed 3% to 739,465 vehicles from 715,320 last year.

Ford CEO John Lawler said: "We are pleased that more and more customers are relying on Ford to provide them with vehicles they both want and value."
And here's the company's progress, from the same sourced link, in chart form,
(click to enlarge)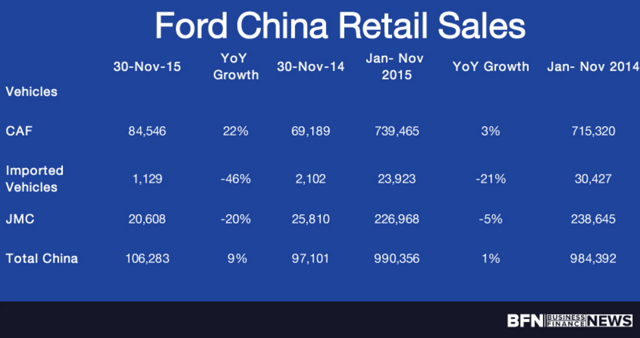 We think that Ford is going to eventually surpass General Motors (NYSE:GM) in China because Ford has recently entered into spending initiatives to try and help develop the smart car market, which is predicted to be the next cash cow in Asia.
We wrote an article a few weeks ago about a $1.3 billion program that Ford was putting into place in order to help develop and produce smart cars in China. General Motors is taking the strategy of returning more of its capital to shareholders, a strategy that we think works well now but will cost them in the long term battle with Ford overseas.
All the while, as this occurs, Ford remains in great demand in the United States as we have talked about in our last few articles. Not only do the company's products remain in demand, but Ford's truck line continues to gain strength and the company's margins continue to look favorable.
As we have said all along, an investment in Ford today should be looked at as a 5 to 10 year commitment, where the investor could happily collect and reinvest dividends moving forward. It looks like the company is just starting to hit its growth stride overseas. We think that with little appreciation in the stock price recently, today's price could still represent an opportunity for investors who are looking to share in Ford's long-term success, which we believe to be the direction the company is heading.
CommentsWrite a Reply or Comment: