Harrison Ford
certainly has a good sense of humor – the actor kept it light while speaking about his
near-fatal March plane crash
during an appearance on
The Ellen DeGeneres Show
on Monday.
When DeGeneres asked how Ford crashed his World War II vintage plane, the Star Wars: The Force Awakens actor retorted, "I was aboard the plane and it crashed."
He also detailed how he landed the plane on a golf course ("I would have preferred to land on the airport") before revealing the full scope of his injuries: "a dislocated right ankle, a shattered pelvis and a broken back, and a serious bump on the head with major lacerations."
DeGeneres later referenced a time when Ford once flew her in a helicopter, 12 years ago, during the filming of Six Days Seven Nights.

"I remember when you were flying I was like, 'We are so close to the water,' " she shared. "And then someone just told me that you didn't even have your license then."
Ford laughed, admitting that he was only a student at the time. "I said, 'I don't know what they were doing in the helicopter, I didn't even have a license,' " he added.
The 73-year-old, who also answered a series of rapid-fire questions during the show (no, unfortunately, he's not a member of the mile-high club), has spent much of the month promoting his reprisal of character Han Solo.
See exclusive photos, get a first look at new characters and learn more secrets from the cast and crew of Star Wars: The Force Awakens in PEOPLE's Star Wars collector's edition, on newsstands Dec. 9. And for more exclusive Star Wars news, come back to PEOPLE.com every day until it hits theaters Dec. 18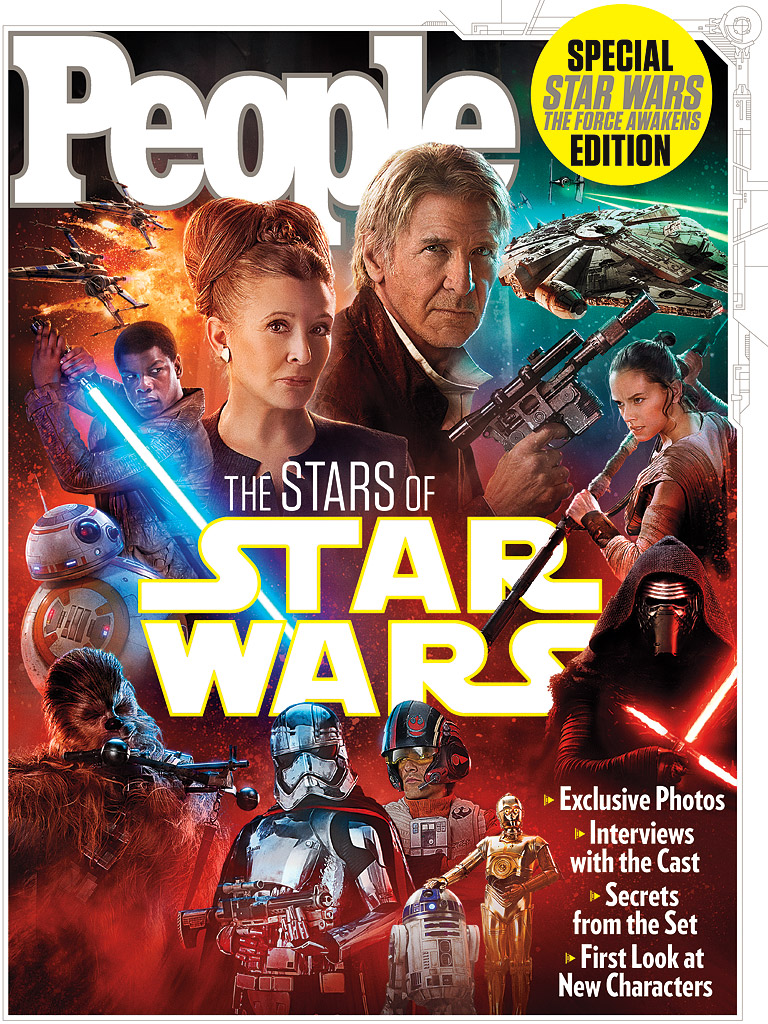 Ford, who is one of the few original Star Wars stars to appear in the upcoming installment, has been candid about his young, new castmates – and the perks they can expect from new fame.
"Daisy asked directly about how it felt and we had a conversation about it," Ford told The Hollywood Reporter of costar Daisy Ridley's new celebrity. "I did tell her it was going to help her get a last-minute dentist's appointment."
As for John Boyega, who stars as Finn in The Force Awakens, Ford joked that the Brit is "an interesting character."
"He will tell you that I am his best friend – that is how full of s— he is – but he is fun to be around and brings a real energy to the part," the actor added.
He contended that both stars are "wonderful in the movie" and were "brilliantly cast."
And while he's happy to give some advice to the new generation, Ford insisted that he won't give them a road map to a career in Hollywood.
"I'm not going to tell them how to navigate this very personal space of trying to figure out the careers that they've chosen for themselves," he told reporters during a Star Wars press conference Sunday in Los Angeles. "It is bizarrely individual how you navigate the space between where they're at now and the rest of your useful professional life. But they're in for a big ride. And they know it, I think. I hope they know it."
•Reporting by SCOTT HUVER