Price: £29,995
Top speed: 168mph
0-62mph: 5.7 seconds
CO2: 170g/km
MPG: 38.7
Everything about Honda's sizzlingly hot hatch seems designed to make me feel old. It should have a "generational warning". The styling is so extreme, so brazenly out there, it's as if the Type R has raided the dressing-up box to create its own version of what a full-on racer looks like. In this case: Power Ranger meets Mortal Kombat warrior. Sitting at the wheel, the car's panels swooping with curves, vents and intakes, all topped off with a huge wing and enough pipework to build an organ, I felt… well, slightly ridiculous. In the watery sunshine of a Sunday morning, it was like doing the walk of shame after a raucous Saturday night – with all eyes on me.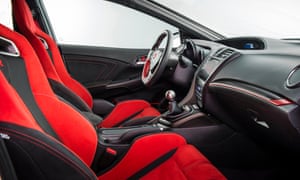 Yet it's a sensible Honda Civic with four doors and a practical boot. There's room for five people and their baggage. But this is no ordinary Civic. Honda have gone to extraordinary lengths to turn their much-loved family car into an all-out track star. They've stripped away almost everything and rebuilt it to create the most high-functioning Type R in the model's 23-year history.
It's fabulously quick thanks to an all-new 2-litre 4-cylinder direct injection turbo. The drive, when you want to hammer it, is unbelievable. Hit the accelerator and the oooomph is so immediate you feel like a cowboy who's lassoed a wild horse and is plucked out of his boots. The suspension has been re-engineered and features "magnetorheological" dampers (try saying that quickly with a mouthful of dry crackers). This means the Type R is 177% stiffer than the standard Civic. Various aerodynamic funnels and warps, the result of relentless testing in Honda's F1 wind tunnel in Sakura, mean handling is precise and sticky. Its grip makes limpets cry with envy.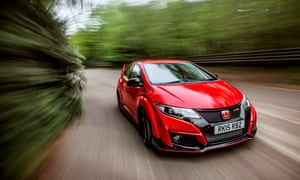 But why do people want to blend road and track into one vehicle? They're two extremes of the driving spectrum. It's like designing a stiletto you can run marathons in. And this "track readiness" has implications for "road usefulness". The huge wing means you can't see out the back, there is no rear wiper; the bucket seats are fantastic but clambering in and out is tricky – and almost impossible in a skirt (so my wife said). The snowplough grill means you skin every speed bump. When it comes to acceleration, the Type R is deadly, but on a long haul the low whine of the engine and the noisy road rumble from the low-pro wheels really start to irritate.
It's an extraordinary car, but it makes ordinary life a struggle.
Email Martin at martin.love@observer.co.uk or follow him on Twitter @MartinLove166