Indonesia's tax amnesty could boost industrywide car sales in the country by a fifth as people spend their newly declared wealth on big-ticket items, according to the local unit of Honda Motor Co.
"The car ownership ratio in Indonesia is relatively low and there's enough room for producers to sell more," Jonfis Fandy, head of sales and marketing at PT Honda Prospect Motor, said in an interview Friday at the Gaikindo Indonesia International Motor Show. "If the tax amnesty program proves to be a success, we could see an increase of as much as 20 percent next year," he said as people crowded around the latest models at the annual expo in Jakarta.
Indonesia's central bank estimates the reprieve, which runs through March 2017, could lure as much as 560 trillion rupiah ($43 billion) of undeclared income back to the country from overseas. If the amnesty lives up to those projections, it will lift economic growth and enable the government to continue with an ambitious infrastructure program. With a population of 256 million, Indonesia is Honda's third-biggest overseas market after the U.S. and China.
Japan-based Honda, which is No. 2 in the Indonesian car market behind Toyota Motor Corp., posted 35 percent sales growth in the first half, official data show, compared with 1.2 percent expansion for the industry as a whole. Some of Honda's fastest expansion is occurring in outlying areas of the archipelago, such as Sulawesi in eastern Indonesia, said Fandy. If the 20 percent growth estimate comes to pass in 2017, that would be the sharpest growth since 2012.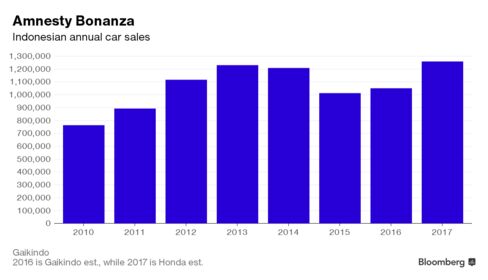 Total car sales will rise to 1.05 million units in 2016 from 1.01 million last year, Yohannes Nangoi, chairman of Indonesia's automotive industry association, known as Gaikindo, told reporters on Aug. 11. PT Astra International, which manufactures and distributes Toyota cars in Indonesia, recorded a 4.1 percent expansion in sales in the first half, Gaikindo figures show. Toyota controls 33 percent of the market, with Honda at 21 percent.
Astra International shares rose 0.6 percent as of 11:30 a.m. in Jakarta after being up as much as 1.3 percent earlier. Honda Motor fell 0.4 percent in Tokyo, swinging from a 1 percent gain.
"The comeback of the Indonesian market is extremely good for Japanese automakers" struggling with a shrinking home market, said Koji Endo, a Tokyo-based analyst at SBI Securities Co. "Honda may benefit the most as it has a big share in the motorcycle market there and people tend to step up to vehicles of the same brand."
Southeast Asia's largest economy beat estimates to expand 5.18 percent in the second quarter from 4.92 percent in the previous three months. Bank Indonesia is forecasting full-year growth of 5.4 percent, including an estimated 0.3 percentage point increase from the amnesty.
Too Early
While the tax reprieve could boost automotive sales, it's too early to tell how successful it will be and if Honda's projection is achievable, said Isnaputra Iskandar, an analyst at PT Maybank Kim Eng Securities in Jakarta. Iskandar raised Astra International to a buy this month, citing the improving economy and a recent rule reducing the minimum level for hire-purchase deposits for vehicle purchases. Honda's Indonesian unit isn't listed.
Honda sold 109,662 cars in Indonesia in the first half and is targeting 180,000 for the full year, said Fandy, who oversaw an almost quadrupling of sales in the 10 years through 2015. The company has the capacity to produce 200,000 cars a year at its manufacturing plant in Karawang, east of Jakarta, and has the flexibility to increase that to 240,000, he said.
"Indonesia is among the few countries in the world with a bright future for the automotive industry," said Fandy.