House panel tells CEO that GM's not fixed yet – USA TODAY
Posted: Thursday, June 19, 2014
WASHINGTON — General Motors CEO Mary Barra acknowledged to a Congressional subcommittee Wednesday that GM "failed to handle a complex safety issue in a responsible way" when it delayed the recall of millions of cars with a fatally flawed ignition switch.
It was Barra's second appearance before the House panel, which this time also questioned former U.S. prosecutor Anton Valukas, who just completed a report commissioned by GM to untangle how the switch problem was mishandled.
"I know some of you are wondering about my commitment to solve the deep underlying cultural problems uncovered in this report," Barra said as victims' family members looked on from the back of the hearing room, displaying large photos of relatives they say were killed because of the GM switch defect.
"The answer is, I will not rest until these problems are resolved," Barra said.
Comments from the panel indicated many don't think GM is in the clear.
"It looks like a lot more than 15 people should have been terminated," said Rep. Michael Burgess, R-Texas, a comment that reflected the sentiments of many on the subcommittee. Barra terminated 15 lawyers and engineers for their actions — or inaction — concerning the switch problem.
"I would strongly suggest you bring in some fresh blood," said Rep. G.K. Butterfield, D-N.C.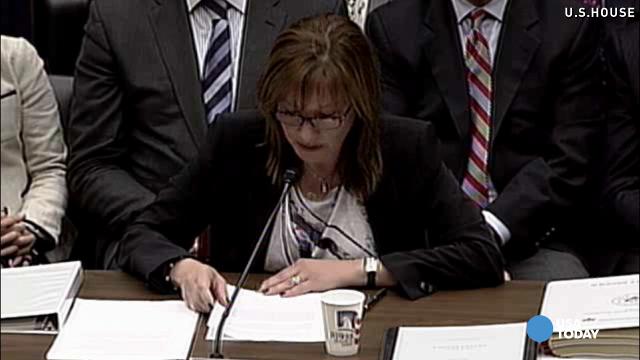 General Motors CEO Mary Barra acknowledged to a Congressional subcommittee Wednesday that the automaker "failed to handle a complex safety issue in a responsible way" and vowed to fix those failures.

Butterfield said that would be a more effective way to overhaul the company's bureaucratic culture than what he saw as Barra's tendency to rely on long-time GM people, such as herself, to try to change how GM handles such matters as safety reviews.
Barra told reporters after the hearing that she believes GM veterans know the company best and know where and how to make changes.
Barra first testified April 1 before the House Energy and Commerce Committee's Oversight and Investigations subcommittee about about GM's delay in recalling what grew to be 2.19 million U.S. small cars for defective ignition switches. GM links the defect to 13 deaths and 54 accidents.
The defective switch first was reported within GM in 2001. Now-fired switch engineer Ray DeGiorgio approved it in 2002, then tried to quietly replace it with a modified switch in 2006, according to GM documents. But the cars weren't recalled until February and March of this year, which earned GM the maximum $35 million fine for recall delay.
In her April 1 appearance, Barra aggravated, even infuriated, some members of Congress by refusing to give detailed answer to some questions. She said she would wait for the results of the internal study by Valukas.
His damning report, given to GM's board on June 2 and made public by Barra on June 5, exposed what Valukas called "failures throughout the company — including individual errors, poor management, byzantine committee structures, lack of training and inadequate policies."
Barra told the House members she found the report "brutally tough and deeply troubling."
Valukas sat next to Barra at the witness table and testified after she did, making his first public comments on his report.
In a running exchange, subcommittee members probed Valukas' definition of a "cover-up" — which he said he didn't find at GM in his switch investigation.
Rep. Tim Murphy, the Pennsylvania Republican who chairs the House subcommittee, said in a prepared statement before testimony Wednesday that he's "unconvinced there wasn't an effort to 'cover up' bad decisions to avoid liability."
He added, "After reading Mr. Valukas's report and conducting this investigation, I still have questions about whether GM employees knowingly withheld information during previous liability lawsuits — information that could have led to an earlier recall and prevented some of these tragedies from occurring."
Valukas told Murphy and others that a "cover-up" would have taken place if "any individuals knew they had a safety issue and didn't report it."
But his report showed emphatically that GM considered the faulty switch a "customer convenience" problem, not a safety issue. Thus, rather than being covered up, it failed to get the urgent attention it should have gotten.
Murphy said after the hearing that he is not sure whether his committee will hold additional GM hearings. Separately, the Senate Consumer Protection subcommittee, which also held a GM hearing in April, says it plans a second hearing this summer.
Contributing: Todd Spangler, Detroit Free Press
CommentsWrite a Reply or Comment: