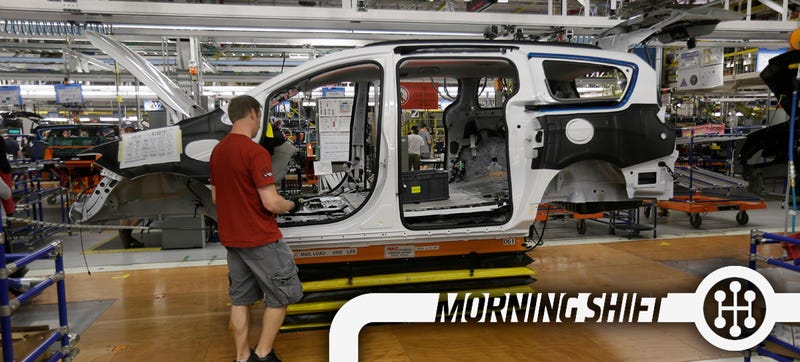 Good morning! Welcome to The Morning Shift, your roundup of the auto news you crave, all in one place every weekday morning. Here are the important stories you need to know.
1st Gear: Globalization Is A Motherfucker Sometimes
Negotiations between Canada's auto workers union, Unifor, and the Big Three automakers commenced with a great deal of tension right out of the gate. That's because workers increasingly fear Canada's auto industry is at risk of disappearing as jobs and production get shipped to cheaper Mexico.
Here's The Detroit News to sum up the situation:
Ford Motor Co., Fiat Chrysler Automobiles and General Motors Co. have invested billions in Mexico in recent years to build new plants and vehicles. Those automakers promised the United Auto Workers in last fall's labor negotiations that they would invest $23 billion in the United States over the next four years.

That means Canada, which has much higher labor costs than Mexico, is left fighting for scraps. But union executives hope a cooperative liberal government and a record of high quality and strong productivity will be enough to stop that trend.

"The headlines are coming across all too often — whether it's Ford, Chrysler or GM that are making investments in Mexico — and that always brings a sense of nervousness to our members," said Chris Taylor, chairman of the Unifor labor union's Ford Master Bargaining Committee. "Mexico has been very aggressive, and they've been winning out a lot over Canada and the U.S. At some point, we have to stem that tide or we're just in a dying industry."
The paper notes Canada's auto industry lost more than 53,000 jobs between 2001 and 2014, but workers there say their country has many benefits over Mexico, like better security and infrastructure and a more skilled workforce. Canadian workers' hourly wages also translate to slightly less than those of U.S. workers, but they still earn far more than workers in Mexico.
In the end, it's just going to come down to cost.
2nd Gear: What's At Stake In Canada
Besides the sedans and crossovers that roll off the assembly line at GM Oshawa, our neighbor to the north produces several other vehicle lines at its Ford and Fiat Chrysler plants. Ford has an engine factory and makes the Edge, Flex, Lincoln MKT and MKX in Canada; Fiat Chrysler produces the Pacifica minvan and the Challenger, Charger and 300 at its plants.
Word on the street is that last batch of cars—based on a solid but dated platform—will eventually be replaced by ones on an Alfa Romeo/Maserati rear-drive platform. Where that leaves Canada and its thousands of auto workers remains to be seen. From The Detroit News again:
Steve Majer, Ford of Canada's vice president of human resources, said in a statement Thursday that the two sides have a shared goal of long-term viability in Canada.

"The global landscape has significantly changed in four years, and through our discussions we'll need to find innovative ways to be competitive and support our employees' quality of life," he said. "This will take new thinking, new approaches and new solutions, and we've proven in the past that together we can do it."
3rd Gear: More Karma In The Works
Yesterday we showed you the Karma Revero, the reborn Fisker Karma. I'm glad the company kept the old car's looks, as it was always a striking and interesting sedan. It just had… other problems.
Anyway, Bloomberg reports that Karma plans to build more models down the line:
As Karma rolls out its electric-drive technology, it wants to add smaller plug-in hybrids and fully electric cars to its lineup, Taylor said.

Similar to Tesla's strategy with low-volume sellers like the early Roadster and Model S, Karma wants to use the Revero to start building its capabilities and intellectual property so the company can eventually build cars in higher volume, Taylor said.

The predecessor company sold 2,000 cars, Taylor said. Those owners will get the first chance to reserve and buy the new model this week, he said. Karma, based in Costa Mesa, Calif., will make about 900 Reveros in the first year and boost production later, Taylor said.

"Those owners are so passionate, borderline fanatical," he said. "We want to give them first crack at it."
It's being positioned as a "Tesla fighter," although Audi, Porsche, Mercedes, BMW and more have their own versions of those coming soon too. Can Karma pull it off?
4th Gear: China Considering The Carbon Credit Thing
China may propose carbon credit rules, the same kind of rules that help Tesla make a lot of its money in the U.S. Via Bloomberg:
The proposed rules will mandate that certain automakers produce or import new-energy vehicles in proportion to the number of fuel-burning autos they sell, according to a draft document prepared by the National Development and Reform Commission. Companies that fail to achieve carbon dioxide emission reduction targets would be required to buy credits or pay fines of as much as five-times the average price of the credits, the country's top industry regulator and policy maker said.

China has encouraged consumers to switch from fossil-fuel burning vehicles to electric cars and plug-in hybrids, with the dual aim of reducing pollution and supporting companies in developing what it sees as the dominant auto technology of the future. The latest proposal was prepared after studying California's zero-emission vehicle mandate, which has gone further than any other U.S. state to promote adoption of electric cars.
5th Gear: Fuel Cells, Not Just For Honda Anymore!
Some see hydrogen fuel cells as the future of automotive energy, but critics say it's a pipe dream. Ford just got a big grant to see if they can pull it off, reports The Detroit Free Press:
The U.S. Department of Energy has approved $6 million to be shared by Ford and the Los Alamos National Laboratory to accelerate development of hydrogen fuel cell technology.

U.S. Rep. Debbie Dingell, D-Dearborn, announced the grant Thursday.

"Ford is helping lead the nation in the research and development of next-generation technologies that will make our cars cleaner, safer and more fuel efficient," Dingell said in a statement. "This announcement will help accelerate American innovation in clean energy technologies, and keep Michigan and the U.S. at the forefront of developing the cars and trucks of the future."
Reverse: Tucker, The Movie
Neutral: Can Karma Succeed?
How can the resurrected automaker become viable this time? At least they're building cars in the U.S. this go-around.