Is Ford Cheap? – Seeking Alpha
Posted: Friday, February 17, 2017
Ford (NYSE:F) is cheap at current price levels. The company has an immensely strong financial position and robust profitability which are not reflected by the stock price. A few tweaks in the business strategy can push it higher and I believe the management will likely want to take these steps in the next few quarters. First of all, the financial position and profitability analysis.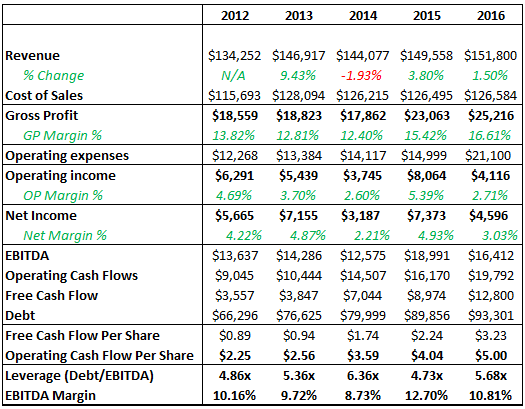 Data sourced from the SEC filings
A cursory look at the table and it becomes clear that the profitability and the financial condition of the business have improved considerably in the last five years. Revenue has grown in four out of the five years and gross margin has followed. Gross margin is now at its highest level. The trend in cost of sales shows tight control over manufacturing costs. Operating and net margin declined in 2016 due to some non-cash charges. EBITDA margin has been between 8.75-12.75%, which is quite strong for a company operating in the automotive industry. The graph below shows the profitability metrics of the company.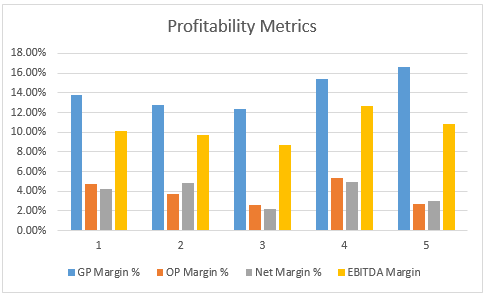 Ford's cash generation capacity is quite strong. The company is now generating about $5 of operating cash flow per share. The ratio of operating cash flow per share to the share price is 2.5x. This is quite attractive. The same is true for the free cash flows. Ford generates $3.23 of free cash flow per share. Keep in mind that these calculations are based on the diluted share count. The ratio of free cash flow per share to the stock price is 3.9x. It is quite cheap based on this ratio as well. General Motors' (NYSE:GM) operating cash flow per share was $10.5 but the ratio to the stock price was 3.7x, considerably higher than that of Ford. Other multiples, like forward P/E of 7x and P/B ratio of 1.7x, also make Ford a cheap pick in the automotive sector. Robust profitability, strong financial position, healthy leverage and favorable macro-economic conditions make Ford an extremely attractive long-term investment at a reasonable price.
We have established that Ford is cheap based on its fundamental strength. Management can focus on following measures to unlock value, in my opinion. The Chinese market is going through an interesting change. Spending on luxury and high-end cars/SUVs is rising. As the Chinese middle class grows their wealth, their penchant to show off their wealth is far stronger than that of some of their neighbors. This chart shows how their spending on luxury cars/SUVs has changed in the 8/9 years.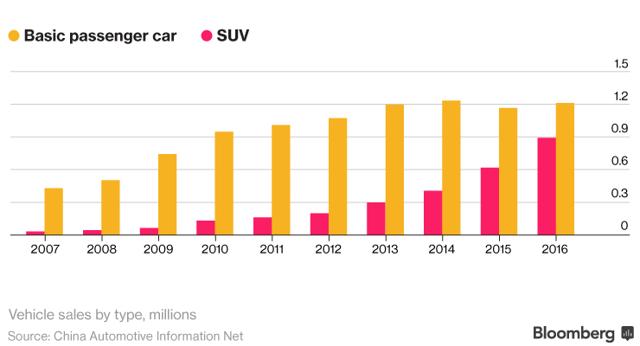 There has been a consistent increase in SUV purchases in the last 8 years and it is now looking like the SUV sales figures will take over those of basic passenger cars in the next two years. This opens an opportunity for Ford. The company has already been working hard to grow its SUVs and luxury car sales in China, and this effort has been fruitful as well. However, keeping in mind this trend, Ford should solely focus on its luxury SUVs as it is now looking a hot segment in China. As this trend is yet to gather truly gather pace, I believe if Ford can capture this growth then we will see a substantial jump in earnings and that the stock price will follow. After North America, Asia-Pacific is the region with the highest operating margin (5.2%) for the company and any high-end product growth will further push this operating margin towards the North American figure of 9.7%. Along with the Chinese market, Ford should also keep an eye on India as this economy will also soon see a transition. At the moment, the focus is on smaller passenger cars in India, but it can change in the next 3-5 years. China and India can become two of the largest market for Ford if targeted wisely.
Returning cash to the shareholders will also not be a bad idea. Ford already has an attractive yield. The company pays almost $3.4 billion in annual dividends and for the last two years, a supplemental dividend has also been paid. However, this year, the supplemental dividend was just 5 cents which added about $200 million to the total dividend payout. For a company with almost $16 billion in cash, this supplemental dividend is peanuts. Ford easily covers its capital spending, dividend payments and working capital requirements from its internally generated cash. The management can be a little more ambitious when it comes to returning the cash to its shareholders. A share buyback plan will also help in two ways. First, it will appease the shareholders and secondly, it will reduce the number of shares which should be better for future earnings per share numbers. The company has an extremely strong balance sheet (cash reserves, manageable debt) and robust cash flow. Management should be a little adventurous in order to stimulate the stock price.
On the business front, there is a big opportunity in China and Asia-Pacific. The company will certainly benefit from the growth in these markets. However, the management needs to also use other stimuli to push the stock price higher. It has been a laggard for the past two years despite strong profitability. It might be a good time to buy Ford. It is looking increasingly likely that the fundamental growth from Asia-Pacific and a possible turnaround in Europe will finally push the stock price higher.
Disclosure: I/we have no positions in any stocks mentioned, and no plans to initiate any positions within the next 72 hours.
I wrote this article myself, and it expresses my own opinions. I am not receiving compensation for it (other than from Seeking Alpha). I have no business relationship with any company whose stock is mentioned in this article.
CommentsWrite a Reply or Comment: