Is Ford Crashing? – Seeking Alpha
Posted: Friday, April 07, 2017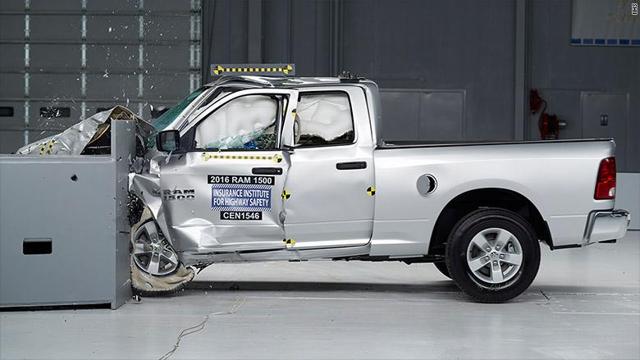 In our last article on Ford (NYSE:F) titled "Short Ford" we gave readers a virtually perfect call to short Ford before this recent string of bad news pummeled the company.
Short Ford came out on March 17, and the stock simply cratered afterward following disappointing guidance, sales slumps, and several recalls on key products.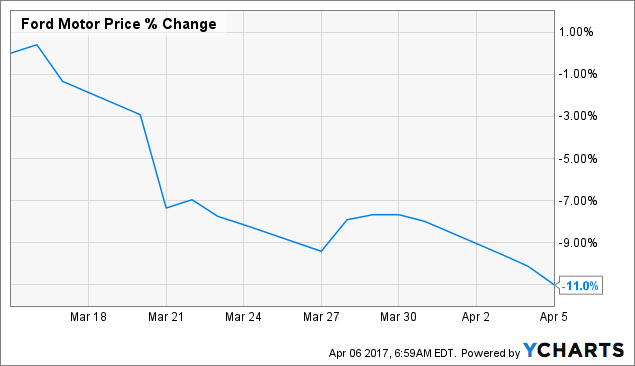 F data by YCharts
The timing of that article was perfect, but the thesis did not come to full fruition. The bear case for Ford is predicted to sub-prime lending and cyclical industry decline. In light of these challenges, Ford's stock should be avoided. But investors who go short now are late to the party and may be trading on priced-in information.
Sub-Prime Auto Lending
Ford's is an automaker and a financier through its 'bank' Ford Credit. Ford Credit helps customers finance their vehicle purchases through in-house lending. General Motors (NYSE:GM) is heavily involved in this type of lending as well.
Analysts have been calling a "subprime auto lending bubble" since the beginning of the year. But the problem is becoming too big to ignore. Not only is the total of U.S automobile debt growing, but its quality is decreasing. The loans are being increasingly made up of sub-prime borrowers. And the delinquency rate on these loans has upticked sharply.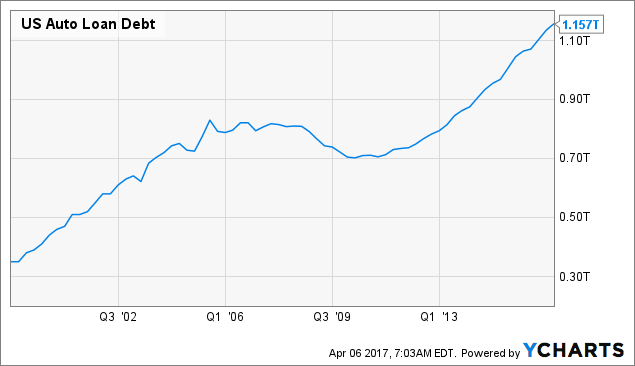 US Auto Loan Debt data by YCharts
Further evidence that automotives are entering a cyclical downturn can be found in the used car market. Prices have been declining significantly. And the pain has even been felt in the rental car space. Investors are demanding higher premiums for bonds issued by Hertz (NYSE:HRI) and Avis (NASDAQ:CAR). The market seems to be bracing for a severe decline that will leave no one untouched.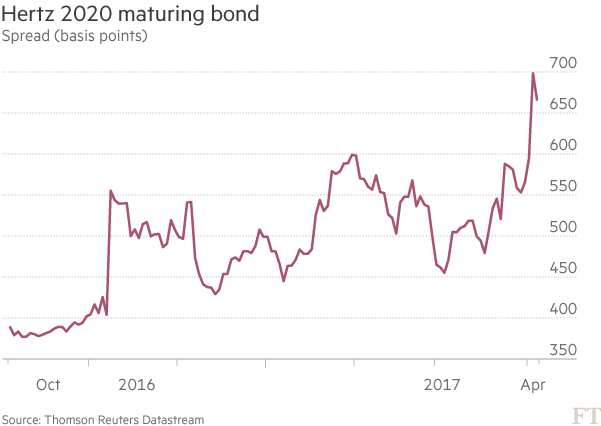 Conclusion
Ford faces headwinds in the U.S auto industry. The full extent of this trouble remains to be seen, but the market appears to be bracing for a cyclical downturn in the automotive industry.
Ford is uniquely impacted because of its usage of subprime lending through Ford Credit. If subprime delinquencies continue to rise while auto sales continue to fall, Ford will be crushed on both sides of its business.
Are we witnessing the bursting of the "subprime auto bubble"? How much downside is left in the stock?
We previously made the call to short Ford, but while we still see significant headwinds for the company, the news is late. And reactionary investment advice is usually useless because it's impossible to know how much of Ford's bad news is already priced into the stock price.
This article is not a recommendation to buy or sell any security.
Disclosure: I/we have no positions in any stocks mentioned, and no plans to initiate any positions within the next 72 hours.
I wrote this article myself, and it expresses my own opinions. I am not receiving compensation for it (other than from Seeking Alpha). I have no business relationship with any company whose stock is mentioned in this article.
CommentsWrite a Reply or Comment: