Kerry announces planned Paris trip, says criticism for missing march 'quibbling' – Fox News
Posted: Monday, January 12, 2015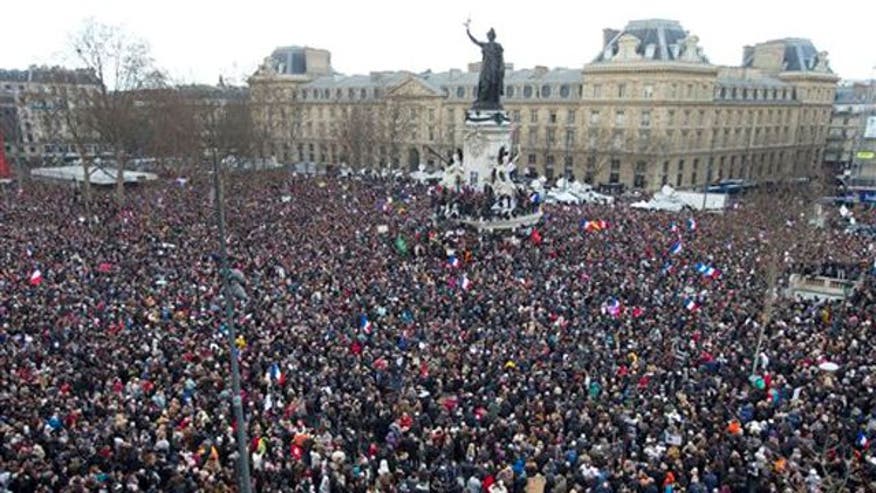 Secretary of State John Kerry called criticism that no top U.S. officials attended Sunday's massive march against terrorism in Paris "quibbling" Monday, even as he announced a trip to the French capital later this week for talks on countering Islamist violence. 
Kerry announced his plans at a press conference in the Indian city of Ahmedabad, where he had made a long-scheduled appearance at an international investment conference Sunday ahead of President Barack Obama's planned visit to that country later this month. 
"I would have personally very much wanted to have been [in Paris]," Kerry said, "but couldn't do so because of the commitment that I had here and it is important to keep these kinds of commitments."
When asked about criticism directed at the Obama administration for not sending a high-ranking official to take part in the march, Kerry said, "I really think that this is sort of quibbling a little bit in the sense that our Assistant Secretary of State Victoria Nuland was there and marched, our ambassador [to France Jane Hartley] was there and marched, many people from the embassy were there and marched."
Nuland, in fact, attended a march in Washington.
Kerry also said at a news conference that U.S. officials, including himself and President Barack Obama, had been "deeply engaged" with French authorities almost immediately after the first attack occurred Wednesday and had offered intelligence assistance.
More than 40 world leaders, along with more than a million ordinary French citizens, marched arm in arm through the streets of Paris Sunday to rally for unity and freedom of expression and to honor the 17 victims killed in three separate terror attacks last week. 
Among the world leaders who did march, under heavy security, were French President Francois Hollande, British Prime Minister David Cameron, German Chancellor Angela Merkel, Israeli Prime Minister Benjamin Netanyahu and Palestinian President Mahmoud Abbas. Attorney General Eric Holder did not take part, despite being in Paris for meetings on counterterrorism.
 Kerry said he is going to France to reaffirm U.S. solidarity with America's oldest ally. He said as soon as he heard about the march, he asked his team what the earliest time was that he could go.
"That is why I am going there on the way home and to make it crystal clear how passionately we feel about the events that have taken place there," he said. "I don't think he people of France have any doubt about America's understanding about what happened, about our personal sense of loss and our deep commitment to the people of France in this moment of trial."
Kerry will arrive in Paris on Thursday after stops in Sofia, Bulgaria and Geneva, Switzerland. In Geneva, on Wednesday Kerry will he meeting with Iranian Foreign Minister Mohammed Javad Zarif to discuss the status of nuclear negotiations that are to resume the following day.
Kerry will be the highest-ranking U.S. official to visit France since the terrorist attacks on a French newspaper and a kosher supermarket. Authorities say one of those involved in the attacks pledged allegiance to the Islamic State group in a video. He and two other suspected extremists were killed during police raids.
"I want to emphasize that the relationship with France is not about one day or one particular moment," Kerry said. "It is an ongoing longtime relationship that is deeply, deeply based in the shared values, and particularly the commitment that we share to freedom of expression."
"No single act of terror, no two people with  a AK-47s, no hostage-taking at a grocery store is ever going to prevent those who are committed to the march for freedom to continue to march and to ultimately see all people enjoy their rights, to be able to enjoy the protections that come with that freedom," he added.
The Associated Press contributed to this report. 
CommentsWrite a Reply or Comment: