McLaren F1 team seeks progress from Honda on hybrid technology – autosport.com
Posted: Tuesday, October 06, 2015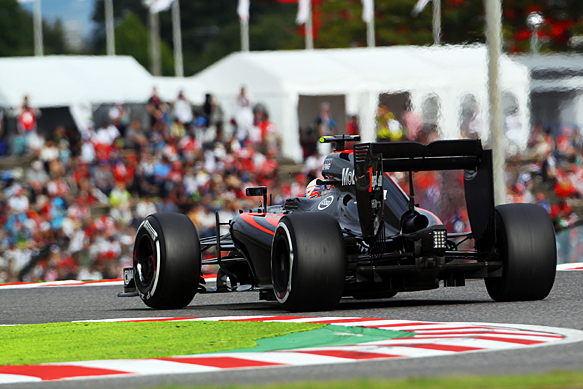 Eric Boullier wants Honda to rectify its 'immature' hybrid system, which he claims has cost McLaren two seconds per lap at some grands prix, for the 2016 Formula 1 season.
On its return to F1, Honda has encountered numerous issues with its engine, resulting in poor performance and miserable results for drivers Jenson Button and Fernando Alonso.

GARY ANDERSON: McLaren-Honda negativity is catching on
McLaren racing director Boullier insists Honda is aware of the key area of concern, and it has the resources to resolve it over the winter, albeit with no guarantees for 2016.
"Honda has done nothing wrong," Boullier told AUTOSPORT.
"It's mainly because they decided to come into F1 a couple of years ago, and starting from scratch.
"With the other three manufacturers it has taken them more than three years to do a decent package.
"You could see last year Renault and Ferrari struggling, and this year Renault is still struggling.
"Where we are suffering most is with the hybrid part. There is a lack of maturity in the project from Honda.
"But they are on it, and Honda itself has the resources to deal with it. They can do many things, so there is no reason why we won't get there."
Asked whether that would be next season, Boullier replied: "They could [make progress].
"With the hybrid issue we are suffering from this year, it's not just [costing us] a couple of tenths [of a second], it's nearly a couple of seconds at some tracks, so I'll let you calculate the gap to the front.
"We know where we have to go, what the objectives are on the different parts of the engine, and the chassis as well.
"I'm not going to say they [Honda] will, obviously I hope they will, but as I say, they could be on top of it."
Honda will at least be on a par with Mercedes, Ferrari and Renault in terms of tokens allowed for development over the course of the winter as it works on its new engine.
"It's never enough, but it's a good step," added Boullier.
"We need to make sure we put things in place because I definitely do not want to be in the same situation next year as this year."
CommentsWrite a Reply or Comment: