NFL Coaching, GM Changes Tracker: Latest hirings, firings, candidates – CBSSports.com
Posted: Monday, January 04, 2016
The NFL's most awkward annual tradition is Black Monday, when (mostly) struggling teams clean house and reboot both the front offices and coaching staff.
This go-around promises to be particularly wild on this front, with three head coaches already fired before the season even ended. Miami and Tennessee canned Joe Philbin and Ken Whisenhunt, respectively, before November, while Chip Kelly was let go in a stunning Tuesday night announcement before Week 17.
Those three won't be the only names hitting the unemployment line in coming days, with several coaches and GMs expected to be relieved of their duties across the league and plenty of situations sitting firmly in the touch-and-go department as we head into the offseason.
We'll track all the latest firings, hirings and latest NFL coaching candidates below. So make sure and bookmark this page for the future.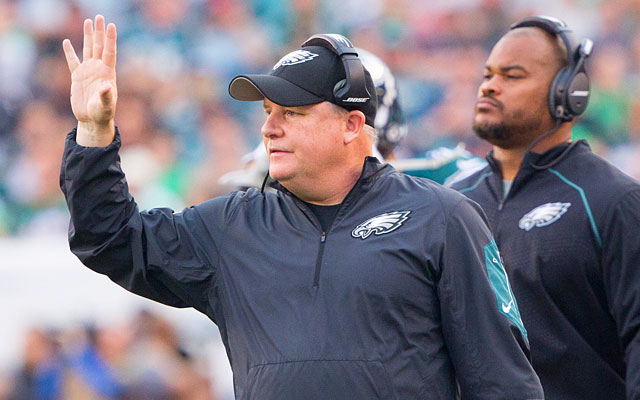 Here are all the latest moves:
---

Cleveland Browns
Out: GM Ray Farmer, Coach Mike Pettine
In: TBD
What we think: Time is a flat circle and the Browns are going to reboot the franchise. CBS Sports NFL Insider Jason La Canfora reported the Browns fired GM Ray Farmer from his position almost immediately after their loss to Pittsburgh Sunday.
Mike Pettine was also fired by the Browns on Sunday night shortly after meeting with owner Jimmy Haslam at 7 p.m. ET.
You can absolutely justify firing both guys — the Browns won 3 games this year and Farmer's tenure has been an absolute disaster — but now the question about whether Cleveland can successfully pursue a quality candidate is raised.
One report has Cleveland making a hard push for Bears assistant Adam Gase, who rebuffed the Browns previously.
Potential Candidates: Chip Kelly, Doug Marrone, Josh McDaniels, Adam Gase
---

San Francisco 49ers
Out: TBD
Likely Out: Coach Jim Tomsula
Likely In: GM Trent Baalke
What we think: A report emerged Sunday morning the 49ers will part ways with Tomsula after just one season while Baalke will remain safe. The logic here is the 49ers were bad in 2015 and there are plenty of big-name head coaching candidates out there. The lack of logic here is the 49ers chased off Jim Harbaugh (who crushed it at Michigan) and replaced him with Tomsula, who's been with San Francisco for nearly eight years. If you're trying to take a team from first to worst, the handling of the Niners in 2015 is a good blueprint to follow.
Potential Candidates: Chip Kelly, David Shaw, Josh McDaniels, Adam Gase, Hue Jackson
---

Philadelphia Eagles
Out: Coach Chip Kelly
In: OC Pat Shurmur named interim head coach for Week 17
What we think: Things went south quickly between owner Jeffrey Lurie and Kelly, with the two meeting before Week 17 and a stunner of a firing going down on Tuesday night before the final week of games. It wouldn't be surprising to see Kelly end up in Tennessee, Cleveland or Indianapolis. Kelly will likely be a top candidate for almost any NFL job that opens up. As for the Eagles job, it's suddenly not a terribly attractive one considering Kelly was tossed after winning 26 games in three years and anyone taking over will be facing a situation without a franchise quarterback and with a lot of Kelly's personnel. The team announced it interviewed former running back and current running backs coach Duce Staley on Saturday.
Potential Candidates: Sean McDermott, Teryl Austin, Hue Jackson, Adam Gase, Duce Staley
---

Indianapolis Colts
Out: TBD
Likely Out: Coach Chuck Pagano
Possibly Out: GM Ryan Grigson
In: TBD
What we think: The only thing more surprising in Indy than the Colts making the playoffs would be Indy keeping Pagano, who's likely been finished since before the season began barring a Super Bowl run. The real question here is whether or not GM Ryan Grigson survives. This is a highly attractive job despite the dysfunction, because of Andrew Luck's presence on the roster. If Jim Irsay lands a big name who wants personnel power (or choice of a GM), it's possible Grigson is out, although he'll reportedly assist in the search for the coach. So, yeah, things should be totally calm in Indianapolis this offseason.
Potential Candidates: Chip Kelly, Sean Payton, Adam Gase, Josh McDaniels, Nick Saban
---

Tennessee Titans
Out: Coach Ken Whisenhunt
Likely Out: Interim coach Mike Mularkey, GM Ruston Webster (expiring contract)
In: TBD
What we think: The Titans let Whisenhunt draft Marcus Mariota and then inexplicably fired Whisenhunt after four games with his new quarterback. Regardless of his record, it was a questionable decision. Mike Mularkey took over but hasn't done a ton to suggest he'll get an extended look. The obvious connection with Mariota is former Eagles coach Chip Kelly, now a free agent and potentially capable of running the show with his former pupil and in a place with far less media intensity than Philly. Jason La Canfora's reported multiple times about the rumblings involving Peyton Manning in a front-office role, which would probably mean bringing on someone with Manning/Polian connections, like Adam Gase. With a studly young quarterback in the fold, there's no reason for the Titans not to land the candidate of their choice.
Potential Candidates: Chip Kelly, Adam Gase, Josh McDaniels, Hue Jackson, Dirk Koetter
---

Miami Dolphins
Out: Coach Joe Philbin, GM Dennis Hickey
Likely Out: Interim coach Dan Campbell
In: TBD
What we think: It would be a stunner if the Dolphins decided to give Campbell the full-time gig after the Dolphins struggled down the stretch, even though, as La Canfora reported, some who have Stephen Ross' ear are telling him to consider keeping Campbell. He did an admirable job considering his previous experience and what he had to work with but this feels like an opportunity for Ross to try and hit a home run or for Mike Tannenbaum to hand-select a coach.
The Dolphins announced Saturday night they were going to "part ways" with Hickey and have already appointed Chris Grier, their director of college scouting, to replace him.
Potential Candidates: Jim Mora, Sean Payton, Adam Gase, Mike Shula, Hue Jackson
---

New Orleans Saints
Out: TBD
Possibly Out: Coach Sean Payton
In: TBD
What we think: New Orleans is one of the true wild cards of the offseason. Sean Payton has a Super Bowl ring with the Saints, so he's probably not getting released from his job (read: fired). But it is possible either a) Payton and the Saints part ways when he doesn't want to deal with a rebuild, or b) the Saints trade Payton elsewhere. He's a big-name head coach who might interest someone like Jim Irsay or Stephen Ross (perpetual big-game hunters). So much of what they do with Drew Brees will impact the interest in this job, although it wouldn't be shocking to see a defensive-type coach brought in to try and fix one of the league's worst defenses.
Potential Candidates: Doug Marrone, Sean McDermott, Josh McDaniels, Adam Gase, Teryl Austin
---

New York Giants
Out: TBD
Possibly Out: Coach Tom Coughlin, GM Jerry Reese
In: TBD
What we think: There's no telling how the Giants situation shakes out, with the Mara/Tisch families being nothing but patient in their management of both the front office and coaching staff. It feels like Tom Coughlin could be headed towards a sunset-filled walk away from the place he won two Super Bowls. This has been a disastrous season for the Giants, with undisciplined play and an inability to win a terrible NFC East despite being maybe the best team. Alternately, the roster could've been terrible and Coughlin might've gotten more out of them than we knew. Which is why Jerry Reese can't be considered safe at this juncture either.
Potential Candidates: Doug Marrone, Sean McDermott, Josh McDaniels, Adam Gase, Teryl Austin
---

San Diego Chargers
Out: TBD
Possibly Out: Coach Mike McCoy
In: TBD
What we think: Weird situation for the Chargers here, with GM Tom Telesco quietly getting an extension during the season and the team potentially moving to Los Angeles. Rumors started swirling this weekend about Mike McCoy getting the boot — he might very well need a road upset of the Broncos on Sunday to save his job. Winning four games with Philip Rivers under center isn't a good look. If this gig opens up, it would be attractive thanks to Rivers being under contract and the presence of Keenan Allen (and maybe Antonio Gates).
Potential Candidates: Josh McDaniels, Adam Gase, Jim Mora, Chuck Pagano, Teryl Austin
CommentsWrite a Reply or Comment: